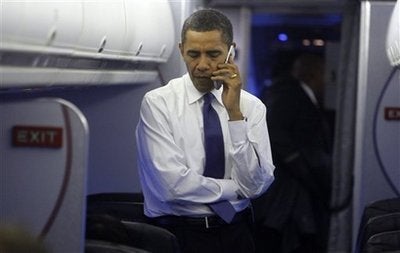 Barack Obama's transition team pushed back on Wednesday morning against an AP report claiming that former Sen. Sam Nunn and former Secretary of State Warren Christopher are playing an integral role in the presidential transition.
"Senator Sam Nunn will play an informal senior adviser role throughout the defense transition process. His expertise and the respect he has earned will be invaluable to ensure a smooth transition," Obama-Biden Presidential Transition Spokesperson Stephanie Cutter said in a statement.
"Secretary Christopher is deeply respected in the United States and throughout the international community. However, he is not playing a role in the transition process. There's a lot of disinformation out there. We're working hard to put the agency review teams together and expect they'll be announced this week and inside the agencies by the end of the week."
Nunn's role has been described by others, speaking anonymously because the transition teams have not been announced, as the leader of Obama's defense transition. Similarly, a senior administration official said former Secretary of State Warren Christopher would advise Obama on his State Department transition...

Nunn and Christopher would be part of a national security brain trust for Obama that is heavy on former Clinton administration officials, including possible national security adviser James Steinberg, a former State Department official.
The wire service has since updated their story to include Cutter's response.
The fact that disinformation is creeping out is not terribly surprising. With literally thousands of journalists attempting to ferret out snippets of news from what appears to be a highly disciplined and tight-lipped transition team, half-true rumors and innuendo can be easily magnified beyond their importance.
Popular in the Community