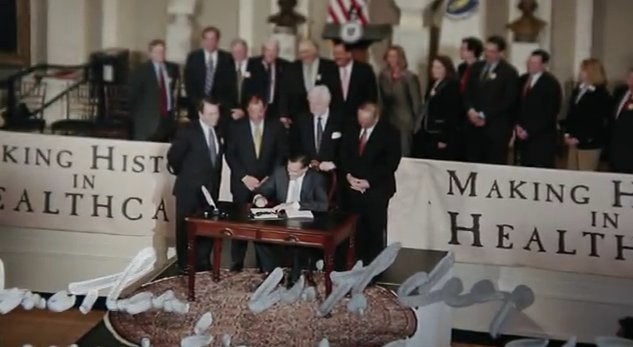 The Obama campaign isn't about to let Mitt Romney forget about his health care law -- or that the president used it as a model for the Affordable Care Act.
Obama for America released a video on Thursday for the sixth anniversary of "Romneycare," the health care law signed by the then-Massachusetts governor. The three-minute video highlights some of the men who helped craft both "Romneycare" and "Obamacare," as well as the first woman to enroll in the Massachusetts program.
"[Romney] believed what we were doing in Massachusetts could be a good national model," John McDonough, who helped create both health care plans, says in the video.
"Massachusetts is a model for getting everybody insured," Romney then says in a news clip.
The Obama campaign is on the offense over health care, one of the biggest areas of conservative ire. The campaign launched an effort last month to reclaim the term "Obamacare," often used perjoritatively by the right, with a website where people can announce they "like Obamacare."
Romney has said he would repeal the law as soon as possible, insisting that his support for an individual mandate in Massachusetts does not contradict his current stance.
Other groups also have plans for the "Romneycare" anniversary. Keystone Progress, a progressive organization in Pennsylvania, plans to deliver a cake to the Romney campaign headquarters in Harrisburg, Pa., and a New Mexico progressive group launched a "Thanks, Romneycare" website.
UPDATE: 10:25 a.m. -- The Romney campaign responded on Thursday by doubling down in its statements about the president's health care law:
"President Obama was wrong to impose a one-size-fits-all plan for the nation on health care," said Romney spokeswoman Andrea Saul. "Obamacare is bad policy and it's bad law. What is important is that states should be free to pursue their own solutions, and we look forward to celebrating the day Obamacare is overturned and that power is returned to the states."
Calling all HuffPost superfans!
Sign up for membership to become a founding member and help shape HuffPost's next chapter