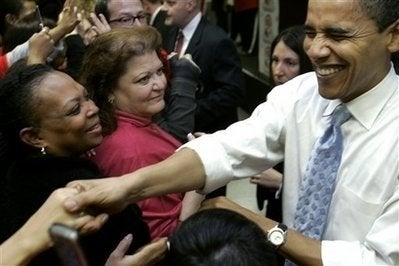 Sen. Barack Obama's presidential campaign has prepared a detailed memo listing various instances in which it perceived Sen. Hillary Clinton's campaign to have deliberately played the race card in the Democratic primary. [See the full memo here.]
The memo, which was obtained by the Huffington Post and has been made public elsewhere, is believed to have been given to an activist and contains mostly excerpts from different media reports. It lists the contact info and name of Obama's South Carolina press secretary, Amaya Smith, and is broken down into five incidents in which either Clinton, her husband Bill, or campaign surrogates made comments that could be interpreted as racially insensitive.
The document provides an indication that, in private, the Obama campaign is seeking to capitalize on the view - and push the narrative - that the Clintons are using race-related issues for political leverage. In public, the Obama campaign has denied that they are trying to propagate such a perception, noting that the document never was sent to the press.
But irrespective of the memo, the image of the Clinton campaign sowing racial discord did bubble to the surface following a series of comments made this past week. On Friday, Bill Clinton called into multiple African American radio shows, including one hosted by Al Sharpton, to tamp down backlash against him for calling Obama's candidacy a "fairy tale."
In the memo, the Obama campaign highlights these "fairy tale" remarks and notes that Donna Brazile, Al Gore's 2000 campaign manager, "lashed into Bill Clinton" for them. The Clinton campaignhas said that the former president was referring to Obama's position on the Iraq. And indeed, Clinton made his remarks in the context of discussing criticism of the war.
"It is wrong that Senator Obama got to go through 15 debates trumpeting his superior judgment and how he had been against the war in every year," said Clinton, "and never got asked one time, not once, 'Well, how could you say, that when you said in 2004 you didn't know how you would have voted on the resolution? You said in 2004 there was no difference between you and George Bush on the war and you took that speech you're now running on off your website in 2004 and there's no difference in your voting record and Hillary's ever since?' Give me a break.
"This whole thing is the biggest fairy tale I've ever seen..."

Other incidents cited in the Obama memo include remarks made by Sen. Clinton, that, in regards to civil rights legislation, "It took a president [Lyndon Johnson] to get it done"; and comments made by Clinton supporter and New York Attorney General Andrew Cuomo that, "you can't shuck and jive at a press conference." In the memo, the Obama campaign says Cuomo was referring to the Illinois senator. Cuomo's spokesperson Jeffrey Lerner has argued that Cuomo was "clearly saying that Iowa and New Hampshire were important primaries because the candidates could not duck the tough questions."
The document also says that "Bill Clinton Implied Hillary Clinton Is Stronger Than Nelson Mandela," when the former president declared, "I go to Nelson Mandela's birthday party every year and we're still very close. [...] But if you said to me, 'You've got one last job for your country but it's hazardous and you may not get out with life and limb intact and you have to do it alone except I'll let you take one other person, and I had to pick one person whom I knew who would never blink, who would never turn back, who would make great decisions [...] I would pick Hillary.'"
Finally, the memo notes that on several occasions the Clinton campaign and its surrogates have raised the issue of Obama's youthful drug use.
In putting together a memo on these comments, the Obama campaign is seemingly implying that they are part of a larger, ugly pattern of the Clintons trying to politicize the issue of race. Prominent African-American figures have argued as much. This past week Rep. James Clyburn, D-SC, said he would reconsider his decision to not make an endorsement should the questionable undertones of the campaign dialogue continue.
The memo also underscores the growing testiness of the Democratic primary campaign. Following Obama's victory in the Iowa caucus, Sen. Clinton promised a more aggressive strategy in the New Hampshire primary. And, to a large extent, she delivered, calling Obama to task on his voting record, his connection to a New Hampshire lobbyist, and the idea that he was more rhetoric than substance. Obama did hit back, criticizing Clinton for saying that the he was offering "false hope."
The Obama camp did not return repeated requests for comment. But campaign spokesperson Candice Tolliver told Politico that, in regards to the race-based comment: "Folks are beginning to wonder: Is this really an isolated situation or is there something bigger behind all of this?"
Subject: MUST READ: Key S.C. figure takes issue with Clintons
Clinton Supporter Andrew Cuomo, Referring To Obama, Said "You Can't Shuck
And Jive At A Press Conference. All Those Moves You Can Make With The Press
Don't Work When You're In Someone's Living Room." Clinton-supporting New
York Attorney General Andrew Cuomo said the thing that's great about New
Hampshire is that you have to go out and meet people rather than "shuck and
jive" through press conferences there. Cuomo said of New Hampshire on an
Albany radio station: "It's not a TV-crazed race. Frankly, you can't buy
your way into it. You can't shuck and jive at a press conference. All those
moves you can make with the press don't work when you're in someone's living
room." [Newsday, 1/11/08]
MARTIN LUTHER KING / LYNDON JOHNSON COMPARISON
Clinton, Criticizing Obama For Promising "False Hope" Said That While MLK
Jr. Spoke On Behalf Of Civil Rights, President Lyndon Johnson Was The One
Who Got Legislation Passed: "It Took A President To Get It Done." Clinton
rejoined the running argument over hope and "false hope" in an interview in
Dover this afternoon, reminding Fox's Major Garrett that while Martin Luther
King Jr. spoke on behalf of civil rights, President Lyndon Johnson was the
one who got the legislation passed. Hillary was asked about Obama's
rejoinder that there's something vaguely un-American about dismissing hopes
as false, and that it doesn't jibe with the careers of figures like John F.
Kennedy and King. "Dr. King's dream began to be realized when President
Johnson passed the Civil Rights Act," Clinton said. "It took a president to
get it done." [Politico, 1/7/08; Video]
Clinton Introducer Said JFK Gave Hope, But Was Assassinated. Clinton
introducer: "If you look back, some people have been comparing one of the
other candidates to JFK and he was a wonderful leader, he gave us a lot of
hope but he was assassinated and Lyndon Baines Johnson actually did all his
work and got the republicans to pass all those measures." [HRC, Dover, NH,
1/7/08] AUDIO ATTACHED
Bill Clinton Implied Hillary Clinton Is Stronger Than Nelson Mandela. "I
have been blessed in my life to know some of the greatest figures of the
last hundred years. [...] I go to Nelson Mandela's birthday party every year
and we're still very close. [...] But if you said to me, 'You've got one last
job for your country but it's hazardous and you may not get out with life
and limb intact and you have to do it alone except I'll let you take one
other person, and I had to pick one person whom I knew who would never
blink, who would never turn back, who would make great decisions [...] I would
pick Hillary.'" [ABC News, 1/7/08; Audio]
Clinton's NH Campaign Chair Raised The Youthful Drug Use Of Obama And Said
It Would "Open The Door To Further Queries On The Matter." Clinton's
Campaign Issued A Statement Distancing Themselves From Shaheen's Comments
And Shaheen Issued A Statement Saying That He "Deeply Regret[s] The
Comments." The Democratic presidential race took on a decidedly nasty and
personal turn, with the New Hampshire co-chair for Clinton, raising the
youthful drug use of Obama. Shaheen said Obama's having been so open -- as
opposed to then-Gov. George W. Bush, who refused to detail his past drug use
during his 2000 presidential campaign -- will "open the door to further
queries on the matter. It'll be, 'When was the last time? Did you ever give
drugs to anyone? Did you sell them to anyone?'" Shaheen said. "There are so
many openings for Republican dirty tricks. It's hard to overcome." By the
end of the day, Clinton campaign spokesman Phil Singer had issued a
statement asserting that "these comments were not authorized or condoned by
the campaign in any way." And Shaheen himself issued a statement: "I deeply
regret the comments I made today and they were not authorized by the
campaign in any way." [ABC News, 12/12/07]
Mark Penn, In Trying To Defend His Campaign Over Bill Shaheen's Obama Drug
Use Comments, Used The Word "Cocaine," Drawing A Rebuke From Edwards Adviser
Joe Trippi. Mark Penn, defending the Clinton campaign in light of Bill
Shaheen's comments about Obama's drug use, repeatedly referenced Obama's
cocaine use. Edwards adviser Joe Trippi accused Penn of dropping the word
"cocaine" deliberately. Mark Penn said "Well, I think we have made clear
that the -- the issue related to cocaine use is not something that the
campaign was in any way raising. And I think that has been made clear. I
think this kindergarten thing was a joke after Senator." Joe Trippie
responded and said "I think he just did it again. He just did it again. ...
This guy's been filibustering on this. He just said cocaine again."
[Politico, 12/13/07; Video]
Donna Brazile Lashed Into Bill Clinton For Comparing Obama To A "Fairy Tale"
And Said "It's An Insult... As An African-American" And That His Tone And
Words Are "Very Depressing." Donna Brazile lit into Bill Clinton over his
insulting comments of Obama, where he called him a "fairy tale" and said "I
could understand his frustration at this moment. But, look, he shouldn't
take out all his pain on Barack Obama. It's time that they regroup. Figure
out what Hillary needs to do to get her campaign back on track. It sounds
like sour grapes coming from the former commander in chief. Someone that
many Democrats hold in high esteem. For him to go after Obama, using a fairy
tale, calling him as he did last week. It's an insult. And I will tell you,
as an African-American, I find his tone and his words to be very depressing.
... I think his tone, I think calling Barack Obama a kid, he is a United
States senator." [Politico, 1/8/08]
Amaya Smith
South Carolina Press Secretary
Obama for America
REAL LIFE. REAL NEWS. REAL VOICES.
Help us tell more of the stories that matter from voices that too often remain unheard.