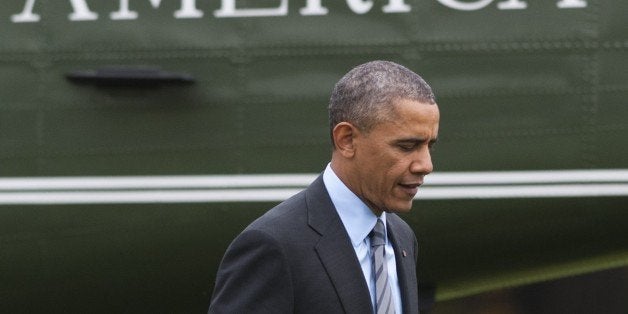 WASHINGTON, Nov 5 (Reuters) - The Obama administration, under pressure over the botched opening of its healthcare website, scrambled on Tuesday to try to appease hundreds of thousands of people whose coverage is being cancelled as insurers prepare for reforms in 2014.
President Barack Obama and his top officials are trying to contain the fallout from people angry they have lost their insurance and frustrated with being unable to shop easily for alternatives on the malfunctioning website, HealthCare.gov.
Obama had repeatedly promised that under the new signature law, people with insurance would be able to keep their existing plans if they wanted to - a pledge that glossed over details of which policies would be protected from new minimum benefit requirements.
"The president, as awesomely powerful as the office is, can't go back in time," White House spokesman Jay Carney told reporters when asked whether Obama would use the same words to describe the grandfathering provision.
Obama's Chief of Staff Denis McDonough urged a group of insurance executives on Tuesday to tell consumers in cancellation notices that they could qualify for premium tax credits through the new online marketplaces.
Some cancellation victims hear only about costly replacement plans from their insurers and not about options available through the marketplaces, including the subsidies.
"He's saying that we all need to do the best we can in getting information that consumers need," Carney said.
OBAMA TO DALLAS, SEBELIUS ON THE HILL
On Wednesday, Obama will visit volunteers in Dallas who are helping people sign up for health insurance - part of a push for senior officials to highlight the program in cities with the highest number of uninsured residents.
In Dallas County, more than 670,000 people or 28 percent of the total population do not have insurance, the White House said. Texas has the nation's highest percentage of uninsured people.
Meanwhile, Health and Human Services Secretary Kathleen Sebelius will face tough questions at a Senate Finance Committee hearing on Wednesday, both from Republicans who oppose Obamacare as an unwarranted expansion of the federal government, and from Democrats dismayed at how poorly the launch has gone.
Marilyn Tavenner, the head of the federal agency responsible for the Obamacare rollout told lawmakers on Tuesday that her staff is working on a plan to get more information to people with canceled plans.
"This is actually a conversation we're having today ... Is there a way we can actively engage to reach out to people who have been canceled?" Tavenner, administrator of the Centers for Medicare and Medicaid Services, told the Senate Health Education Labor and Pensions Committee.
In California, officials announced that a major insurer - Blue Shield of California Life and Health Insurance Co - has agreed to allow 115,000 state consumers who had been notified of cancellations to keep their lower-priced policies through the first quarter of next year.
Under Obamacare, it is mandatory for everyone to have health insurance or pay a fine. The Patient Protection and Affordable Care Act was passed in 2010 and upheld by the U.S. Supreme Court last year.
The Congressional Budget Office estimated that 7 million Americans would sign up for insurance in the first year.
The administration had expected about 800,000 enrollees in October and November. But the problems reduced that to a trickle. The government will release the month's enrollment figures next week.
On Tuesday, a U.S. House of Representatives oversight panel subpoenaed the Obama administration for internal reports on enrollment.
Officials are racing to fix the website's problems by the end of November in hopes that people will be able to enroll by Dec. 15.
Two hospital operators - Tenet Healthcare Corp and HCA Holdings Inc - said on Tuesday that HealthCare.gov's technical problems were gradually diminishing.
The law calls for new coverage to kick in on Jan. 1, although the ultimate deadline for signing up without penalty is March 31.
During a 2-1/2 hour hearing in the Senate on Tuesday, even members of Obama's Democratic party made plain their concerns.
"There's been fear, doubt and a crisis of confidence," said Senator Barbara Mikulski, a Maryland Democrat. "What I worry about is that there's such a crisis of confidence that people won't enroll."
Tavenner said the administration plans to start a four-month media campaign in selected markets next month aimed at bringing back uninsured Americans, particularly young adults, who were unable to enroll.
The administration also will continue to try to shame state Republican governments which have opted out of expanding Medicaid programs for the poor such as Texas - part of what Obama's visit to the state will highlight on Wednesday.
"These are the folks who do not have the access to healthcare, and if they do, it's too expensive for them in the jobs that they have," said Garnet Coleman, a Democratic member of the Texas House of Representatives.
Expanding Medicaid in Texas would mean about $24 billion in federal revenue to Texas over three years, reducing the costs of "uncompensated care" for people who show up at emergency rooms without any insurance - costs currently covered by property taxes, said Dallas County Judge Clay Jenkins, a Democrat, who spoke to reporters on a conference call organized by the White House.
REAL LIFE. REAL NEWS. REAL VOICES.
Help us tell more of the stories that matter from voices that too often remain unheard.
BEFORE YOU GO
PHOTO GALLERY
Obamacare Haters