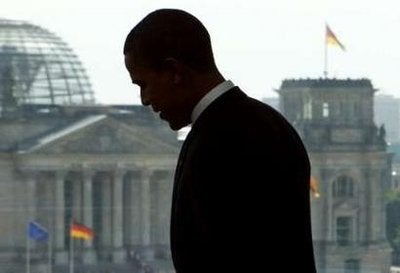 "We learned from the Pentagon last night that the visit would be viewed instead as a campaign event," the adviser, retired Air Force Maj. Gen. Scott Gration, said in a statement.

"Senator Obama did not want to have a trip to see our wounded warriors perceived as a campaign event when his visit was to show his appreciation for our troops and decided instead not to go."
The Pentagon in a statement cited longstanding Defense Department policy that prohibits military personnel or facilities from association with partisan political campaigns and elections.

"We told him he could visit Landstuhl (Regional Medical Center in western Germany) with his Senate staff, but not with his campaign staff," said Army Lt. Col. Elizabeth Hibner.
John McCain, whose spokesman said Obama was "wrong" to cancel the visit, knows about this policy. His campaign explicitly referred to it during his "Service to America" tour:

With Department of Defense rules prohibiting political campaigning on military bases, it was determined that in some cases McCain could visit the installations as a senator but could not engage in any political activity or have news media present.

McCain campaign officials said Thursday they intentionally did not campaign on military property.

"We follow the rules," said senior McCain adviser Steve Schmidt.
ABC News reports that Barack Obama was planning to visit two U.S. military bases in Germany, but decided it wasn't the right time:
The German magazine Der Spiegel is reporting on line that Sen. Barack Obama, D-Ill. has "cancelled a planned short visit to the Rammstein and Landstuhl U.S. military bases in the southwest German state of Rhineland-Palatinate. The visits were planned for Friday."

"Barack Obama will not be coming to us," a spokesperson for the U.S. military hospital in Landstuhl told Der Spiegel. "I don't know why."

Obama senior adviser Robert Gibbs told us in a statement, "During his trip as part of the CODEL to Afghanistan and Iraq, Senator Obama visited the combat support hospital in the Green Zone in Baghdad and had a number of other visits with the troops. For the second part of his trip, the senator wanted to visit the men and women at Landstuhl Regional Medical Center to express his gratitude for their service and sacrifice. The senator decided out of respect for these servicemen and women that it would be inappropriate to make a stop to visit troops at a U.S. military facility as part of a trip funded by the campaign."
John McCain's campaign has been quick to call most of Obama's activity abroad inappropriate. Now that Obama has chosen not to do something, you might think they would be pleased. But you would be mistaken:
"Barack Obama is wrong. It is never 'inappropriate' to visit our men and women in the military," McCain spokesman Brian Rogers said in response to the news.

Popular in the Community