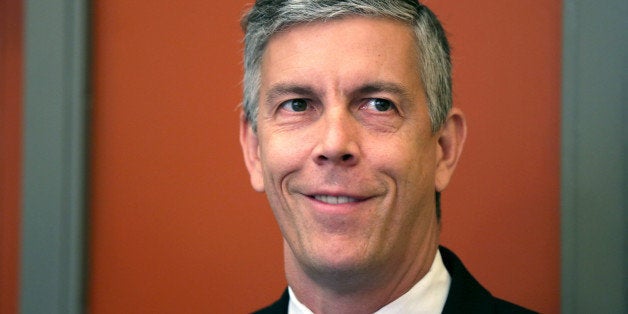 DAYTON, Ohio -- On a gusty, rainy, recent afternoon, U.S. Secretary of Education Arne Duncan sat on stage next to two students, an administrator and a teacher, at the head of a big blue auditorium that smelled faintly of pot.
Duncan said a few words before relinquishing his mic to the panel, which had assembled to discuss the impact of federal school reforms at Dunbar Early College High School. Then, he looked down and took notes as the students spoke. "It would be great to get college credits in high school, because you could graduate with a high school diploma and an associates degree," said Awanna Lowe, a student at Dunbar.
Dunbar was labeled underperforming, so in 2010, the school received money for an overhaul from the federal government, a favorite Duncan project known as "School Improvement Grants." At a later step in that transformation, Dunbar reinvented itself as an "early college" school. Soon, students will take a test that determines which college courses they're ready for, and next semester, they'll have the opportunity to take college courses.
The school -- and, eventually, the whole district -- aims to give students a two-year degree from Sinclair Community College. It's supposed to provide students with an alternative route to four-year colleges, or careers.
"There's nothing easy about this -- raising expectations, having that mental toughness, being there for the long haul," Duncan told the students, teachers and parents. "I want you to understand that the eyes of the country are on you."
The Obama administration has often been criticized for having too narrow a definition of what constitutes a useful education in the 21st-century economy. Instead of focusing on alternative routes to higher education and jobs, some charge, the White House has stressed higher academics, such as the Common Core learning standards -- at the risk of losing students who intend to pursue careers where these high-level classes aren't necessarily applicable.
But recent visits to schools such as Dunbar, and Duncan's late October visit with President Barack Obama to a New York City school run in partnership with IBM, show that this mentality is shifting, at least rhetorically. At Pathways in Technology Early College High School in New York, Obama called on Congress to fund career education programs to help bolster the economy. And on Tuesday, the Association for Career and Technical Education announced that Duncan would be speaking at its December conference.
Some advocates have long argued that vocational education -- especially in the model of European schools' apprenticeship system -- can help narrow the dropout rate by keeping practically-minded kids interested in classes more tangibly related to their fields of choice. Learning a skill through an applied curriculum might be more appealing to some American students than taking Algebra II or trigonometry -- courses that are meant to transmit the skills of critical thinking and problem solving, but whose contents are not often applicable in the real world after high school.
Duncan says the attention paid to such vocationally focused schools is nothing new. In an interview, he plugged a fall visit to Transmountain Early College High School in El Paso, Texas, and an early 2013 stop in at New York's Harbor School. "This isn't something we're just doing recently," he said. "This is just something I just absolutely believe in. … I became convinced that when young people have a chance to take college-level courses, when they're thinking of careers as well, that's just hugely important."
But some have noticed the shift. "I'm happy to see it," said Anthony Carnevale, a Georgetown University professor whose research Duncan often cites. Carnevale leads the school's Center on Education and the Workforce. "It doesn't really fit with their emphasis but I'm glad to see them open up another front here. For the most part, they've been about academic standards. ... This is a new thing for him."
In 1983, the Reagan administration's "Nation at Risk" report declared "the educational foundations of our society are presently being eroded by a rising tide of mediocrity that threatens our very future as a Nation and a people." That report put the country on the trajectory of academic reform that ultimately resulted in things like the 2001 No Child Left Behind Act and the idea that all students should take things like high-level math courses in order to graduate from high school.
"Academic reform has been too much of a good thing and we've overdone it, and moving to a point where we have only one pathway to college, which is the high school to Harvard model," Carnevale said. "That model is only applicable to the 25 percent of college-going students who attend four-year-colleges," he said. "It's the only one we understand. ... they've added another pathway here, and seem to be more and more serious about it."
Carnevale says he sees education reform floundering on subjects like Algebra II, with Texas' recent move to drop the course as a high school graduation requirement serving as a sign of things to come.
The administration has promoted the Common Core learning standards, which most states have signed onto and which aspire to leave students "college and career ready." But the career part of that equation has apparently been lacking, at least when connected to the broader initiative. According to a recent survey conducted by the Center on Education Policy, "just 13 states have established a definition of what it means for a high school student to be career- or work-ready." The survey also found that the Common Core standards have had little effect on career assessments, with only 11 states indicating that their career tests have been adjusted to align with Common Core.
"We haven't seen a whole lot of research related to career readiness," said Jennifer McMurrer, an author of the CEP report. She found that assessments are primarily being used for reporting under the Perkins Act, the federal government's limited stream of career education funding. "There's still this disconnect and the career education field isn't sure how academic assessments are going to affect what they're already doing," she said. "Common Core is much more focused on college readiness."
The administration has released a blueprint for overhauling Perkins, but has had little success in increasing its funding. Carnevale says showcasing schools like Dunbar and P-Tech is nice, but might not tangibly help students.
"What we have so far is an endorsement of an idea and the best practices, but so far there's no money behind it," he said. "IBM does a wonderful job [with P-Tech], but there are limits to that. Someone needs to invest on the education side to build the innards of the idea."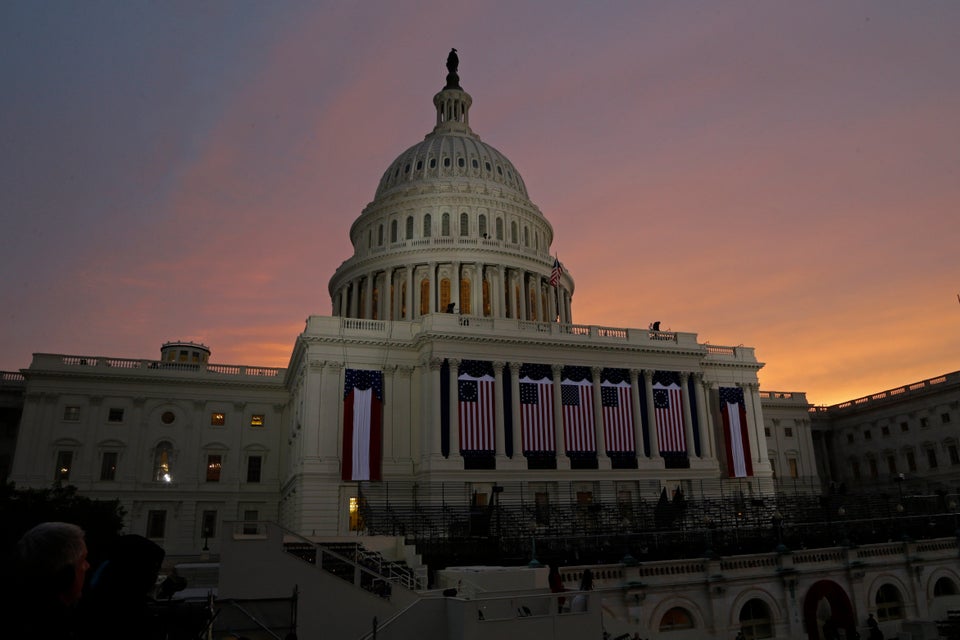 U.S. Capitol Photos
Popular in the Community