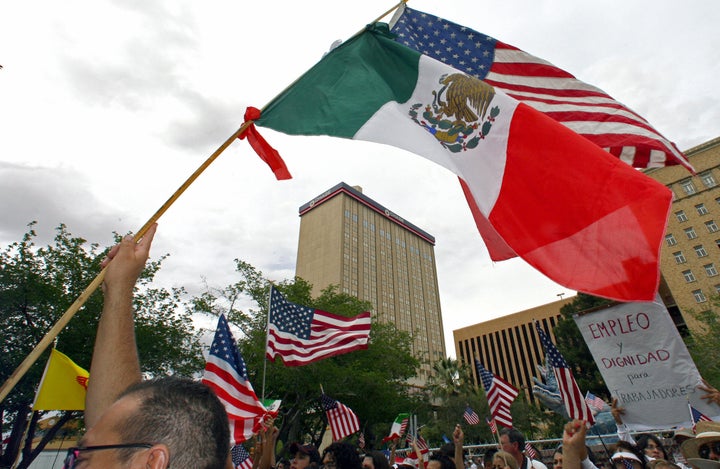 If you ask El Pasoans and Juarenses how they view the U.S.-Mexico border between El Paso, Texas and Ciudad Juarez, Mexico, they will say the same thing: the separation between the two cities is more or less a fiction. And as the mayors that represent these two cities, we agree.
It is this same message of inclusiveness that has connected our two communities, well before they were divided into two states. El Paso Del Norte, with one half in Ciudad Juarez and the other half in El Paso, is about celebrating our beautiful region.
Despite the man-made barriers that divide our communities, our constituents remain unified and proudly tout that they live in the largest binational community in the world. Collectively, our binational community is the 2 most populated in Mexico and the 3 most populated in the United States.
Issues of importance on one side of the border undoubtedly affect the other side. For example, economic prosperity of our region relies on both sides of the border, and as a region, we have traveled together to promote doing business on both sides of the border. When Pope Francis visited our border earlier this year, both sides of the Rio Grande joined the Papal in prayer on behalf of victims of violence, asking God for the gift of conversation.
And today, we write this letter asking President Obama to help in further unifying our community through designating Castner Range as a national monument. While this historical land, which dates back 10,000 years, may be located in the United States, it is about celebrating a past when there were no divisions, both physical and geographical. This is our region's history and we are asking this Administration to preserve it forever.
"We hope this Administration will join the citizens who are searching for a symbol that can bridge us together. Castner Range can be that bridge."
This mountain range has overlooked more than 500 years of El Paso history and remains a constant memory for citizens of both Mexico and the United States that life has stood well above this epicenter for ages. Explorers and travelers along the El Camino Real de Tierra Adentro National Historic Trail documented the marvels of this area in their journals and explored the mountains in search of mineral riches and cattle which once freely roamed. Decades later the Beat Generation's Jack Kerouac would drum the region's soul, as he wrote how "the most beautiful sleep of my life" occurred along the nearby foothills, between two nations and nothing but the desert mountain country and a late sinking moon.
Pictographs found at Castner Range show the beginning of cultural interaction between people in a region that would one day become one of the world's busiest international border crossings. It was here, where people developed brownware ceramic pottery now used in our homes. It was here where occupants transitioned from roaming hunters to semi-permanent villagers, and similar to the climate change challenges we face today, Castner Range provided access to water sources to a region seeking to survive.
Designating Castner Range National Monument is about recognizing the world's largest binational community's storied past and preserving such history forever. Castner Range's story is one that predates any English settlement on Virginia's coast; predates the economic struggles displayed at a rail car factory in Chicago; and predates a park that served as a refuge and platform for those searching for equal rights in New York City. Our hope is that President Obama and Secretary of Interior Jewell will embrace our story, just as they have recognized those other significant places in United States history.
Instead of talking about building more walls between our communities, we hope this Administration will join the thousands of citizens from both sides of the border who are searching for a symbol that can bridge us together. We believe Castner Range can be that bridge.
We ask that you join the 25,000 plus Borderland residents who have already asked President Obama to make this designation through letters and petitions. We ask that you join the diverse statewide and national groups who have asked President Obama to make Castner Range National Monument.
This designation is about acknowledging and celebrating our resilient community's rich past. Through such designation we can remind our future of such. We may be from two nations, but we ask for this designation as what we see ourselves – leaders of one city.
Support HuffPost
The Stakes Have Never Been Higher
Popular in the Community