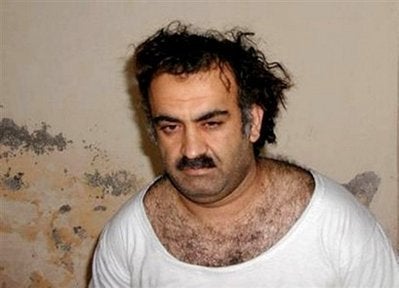 There was something pathetic about watching Attorney General Eric Holder announce this afternoon that the Obama administration will bring Khalid Sheikh Mohammed and the other alleged 9/11 plotters to trial in military commissions at Guantanamo Bay on the same day that President Obama announced the start of his presidential re-election campaign.
Although explaining, as he did back in November 2009, that federal courts are really the best place to try these five men, who've been imprisoned without trial for eight years now at Gitmo, Holder proceeded to blame Congress for the administration's complete turnaround on the issue.

Citing the transfer restrictions that temporarily prevent the administration from bringing Guantanamo detainees to the United States for trial, Holder lamented that Congress "has taken one of the most effective counterterrorism tools out of our hands" with "serious ramifications" for national security.
So this is a really bad decision, Holder said, but we're going to go ahead and make it anyway.
As if to underscore just how wrong this decision was, the Department of Justice today released the long-sealed indictment in the 9/11 case. The 81-page indictment underscores, as Jane Mayer writes, that "Holder and some of the smartest prosecutors in the country had prepared what they believed was the strongest case possible against K.S.M.," and had spent years -- in some cases, entire careers -- compiling the evidence.
But if this was a big loss for the Attorney General, it was a triumph for Obama's critics -- who managed to simultaneously praise the decision and still beat up on the president.
"It's unfortunate that it took the Obama administration more than two years to figure out what the majority of Americans already know: that 9-11 conspirator Khalid Sheikh Mohammed is not a common criminal, he's a war criminal," Rep. Lamar Smith (R-Texas) said in a release.
Keep America Safe, Liz Cheney and Bill Kristol's outlet, which just last week circulated a petition urging President Obama to try KSM and his co-conspirators in military commissions, scorned Holder's delivery of the news.
"Holder: I know better than Members of Congress and the American people," they blasted on Twitter.
The decision seems clearly a political one. But it's hard to imagine that it's really going to help President Obama in his upcoming campaign. While it's alienating his supporters, who see it as backpedaling on his longstanding promise to close Guantanamo Bay, it only makes him look weak to his critics, who can now claim it was the right decision but a sign of his failure that it took him so long to come to it.
As Mayer writes, it's a "defining moment" for the administration: "defining it, unfortunately, as incapable of standing up to the political passions still stirred by the threat of terrorism."
Holder presented today's decision as one of fairness to the 9/11 victims, who should have to wait no longer for their day in court.
True respect for the 9/11 victims would have meant bringing the men suspected of the most heinous attack on U.S. soil in American history to trial in a public U.S. federal courthouse, for the victims and all the world to see. It would have meant securing solid verdicts that wouldn't later be vulnerable to reversal by the Supreme Court, as would their convictions in a military commission. It would have meant presenting the voluminous evidence that prosecutors had amassed over the past decade detailing the crimes that each man had allegedly plotted and carried out. And it would have meant showcasing that the United States not only preaches about the importance of the rule of law around the world, but actually believes in and follows it here at home.
Holder justified his decision today by saying that "justice is long overdue."
But the administration had more than two years during which it could have transferred these men to federal courts and begun their prosecutions, and it didn't. If the administration had moved these cases forward when it had ample opportunity, the convictions and sentences would likely have already been pronounced. Military commissions trials, meanwhile, will take at least twice that time to resolve, with the very possible result that either conviction or sentences will be overturned, given the commissions' shaky legal grounding.
Given how long it's waited already, the administration could have taken a few more months to press Congress to lift its purely political and nonsensical funding restrictions, and to explain to the American public why hiding prosecutions of terror suspects in inexperienced, far-away military commissions is a bad idea. In that way, President Obama could have used this difficult moment as an opportunity for real leadership -- and ensured that true justice for the 9/11 victims would finally be done.
Popular in the Community