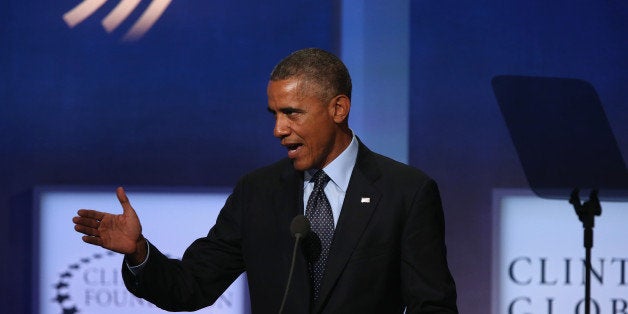 President Barack Obama announced on Tuesday the U.S. government's increased efforts to better protect and empower human rights groups and the activists who risk their lives to fulfill their missions.
While addressing a crowd of about 1,000 advocates, political leaders and nonprofit executives at the 10th annual Clinton Global Initiative in New York City on Tuesday afternoon, Obama said that he's expanding U.S. efforts beyond the State Department and USAID, and harnessing the power of every federal department to support civil society groups.
Obama vowed to push back against "onerous laws," make it easier and less costly for foundations to make grants overseas and to create new innovation centers to give groups increased access to knowledge and technology.
"As leaders, we are not the most important people here today," Obama said. "The most important title is not president or prime minister; the most important title is citizen … ordinary men and women, determined to forge their own future -- who throughout history have sparked all the great change and progress."
During his speech, Obama pointed to a number of "brave" activists in the audience who face down oppressive laws and ominous threats on a regular basis, knowing they may never get any public recognition for their work.
Miriam Canales, for example, works to give children in Honduras who are wracked by violence a safe place to grow and learn so that they can have opportunities in their own country. Sopheap Chak, an activist in Cambodia, once saw a fellow human rights activist hauled away by police, the president said, but continues to mobilize youth to demand justice. And John Gad uses poetry to help sexual assault victims in Egypt recover.
"When they're endangered or harassed, it usually doesn't surface in the news," the president said. "But they are those who are pushing the boulder up the hill to make sure that the world is a little bit of a better place."
Obama emphasized the importance of exposing abuses human rights activists face and giving them the tools to fight back.
"If they try to tell you that the world does not care and that your friends have forsaken you, do not ever believe it," the president said. "Because you are not alone ... Your fellow advocates stand with you ... The United States of America stands with you, and its president stands with you."
REAL LIFE. REAL NEWS. REAL VOICES.
Help us tell more of the stories that matter from voices that too often remain unheard.