CHICAGO — Andrea Bercos stood arm in arm with her mother Tuesday night, ready to say goodbye to President Barack Obama the same way they greeted him eight years ago in Chicago's Grant Park ― tearful, hopeful and wearing blue shirts that read "Change."
The 38-year-old social worker and her 65-year-old mother, Carol, were among the thousands of people who poured into the McCormick Place convention center Tuesday to mark the end of the Obama era. 
"It's so amazing and sad, really," Carol, a retired social worker from Libertyville, Illinois, said through tears. "I never thought I'd see a candidate like him in my lifetime." 
Carol was inspired by the inclusive message of Obama's presidency ― something reflected in the ages, identities and races of the supporters Tuesday night ― but less optimistic about what a Donald Trump administration may hold. She said she worries about the support for issues like immigration and marriage equality and laments what she called a "sexual predator mentality that is now the norm."
Seeing Obama one last time as president is something of a salve.
"I'm excited that I get to see my hero," Carol said.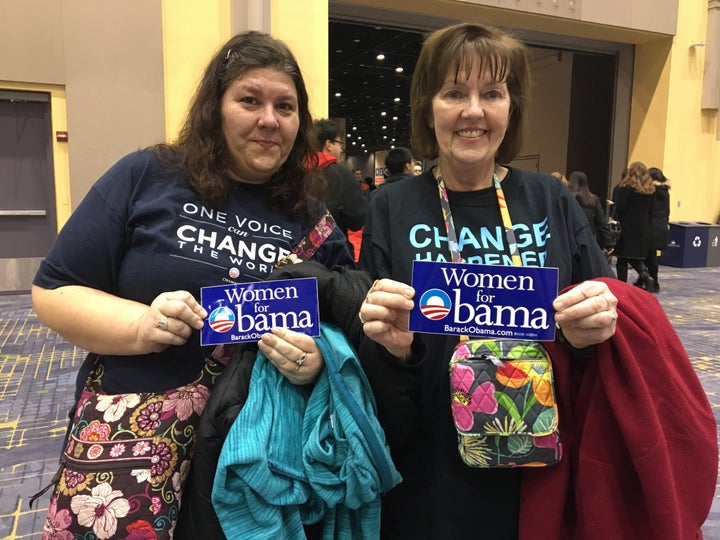 Excitement was the dominant emotion throughout the night, along with feelings of bittersweetness. Supporters considered the difference in tone and tact that a Trump presidency will likely have in contrast to Obama's, but their moods rarely darkened at the thought.
Instead, supporters like Anita President ("That's my real name!" she said), who was serving as a volunteer usher, said they were encouraged to be optimistic because of the positive tone Obama was setting as he departs. 
"I'm trying to stay hopeful and prayerful that a lot of [Trump's] talk is just rhetoric," she said as she steered attendees into lines.
President said she attended Trinity United Church of Christ in Chicago when the Obamas were parishioners, and has followed his career. Tuesday night she proudly wore an Obama T-shirt that she bought when she came to the venue on Saturday to pick up a free ticket to the event. 
"I know it's a historic thing. I know I'll never see something like this in my lifetime again," President said. 
Fatima Mohammad of Bolingbrook, Illinois, was aware of the historic nature of the event and brought her young children. The entire family wore matching T-shirts that read, "The Mohammads came to say goodbye to Obama."
"I wanted the names of two great men next to each other," the 33-year-old said, adding, "I'm very happy we got to experience him as the president." 
Mohammad said she liked Obama's message of inclusiveness and respect, and that she finds Trump more distasteful than worrisome.
"We are where we are," she said. "I'm not exactly sure what he'll be like. Is he going to treat everyone the same?"
Despite Trump's often bigoted remarks about Muslims and other groups, Mohammad suggested her outlook was more optimistic because of her faith in the strength of American democracy.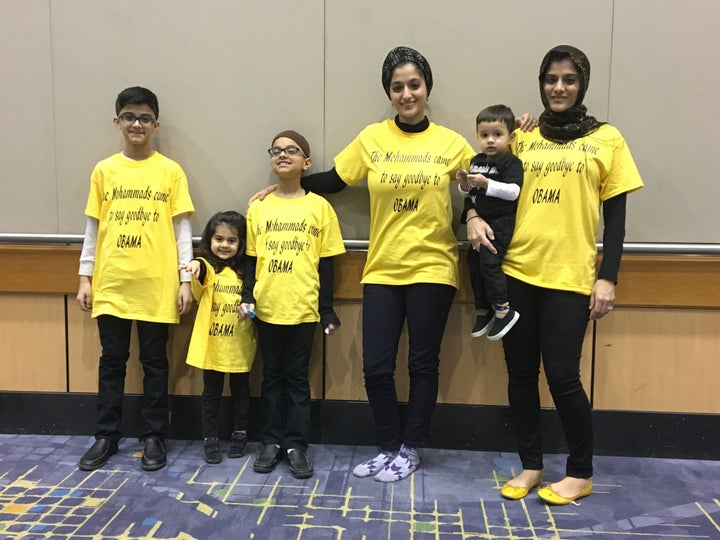 Jerry Hunt, a 25-year-old Marine from suburban University Park, Illinois, said he's trying to maintain a hopeful outlook. Hunt was just a sophomore in high school when he hopped the train to the city to see Obama's election night victory in 2008.
"It opened my eyes to a whole new world," Hunt said. "It influenced me. I wasn't always into politics, but I was spoiled — having the first African-American president so young."
He said he's saving his ticket from Tuesday's farewell address to give to his children someday.
Hunt, who said he was able to discuss political matters more freely now that he's finished his military service, said he would take a "wait and see" approach to Trump.
"I think we're gonna give him the chance Republicans didn't give Obama and see what he does," he said.
Supporters who were interviewed largely agreed that health care would be Obama's biggest legacy from a policy standpoint. They predicted that his legacy would withstand political tinkering by the new Republican-controlled Congress; they were more concerned that the law itself would not. 
Linda K., who volunteered for Obama back in 2007, noted that her grandson who was born with a pre-existing condition was able to get corrective surgery under the Affordable Care Act that he would not have had otherwise.
While she feels undeniably positive toward Obama for passing the law, she said she admires the president's behavior as much as his actions. 
"He wasn't just change ― he was change from a less-than-well-prepared president," Linda said, referring to Obama's predecessor, President George W. Bush. 
"Obama was an intelligent, wise and dignified person," she added. "That's why I wanted to be here tonight. I wanted to witness history. I wanted to hear what he had to say." 
Calling all HuffPost superfans!
Sign up for membership to become a founding member and help shape HuffPost's next chapter
BEFORE YOU GO
PHOTO GALLERY
President Barack Obama's Final Farewell