CHICAGO (AP) — Trying to make up for lost time, President Barack Obama plunged back into his re-election campaign Wednesday, urging supporters not to be discouraged by the frustrating debt negotiations that consumed Washington and kept him from raising money for his 2012 bid.
On the eve of his 50th birthday, Obama spoke to donors at two fundraisers at the historic Aragon Ballroom, and via video conference to supporters at more than 1,000 house parties from coast to coast.
The fundraisers were held as Obama's presidential campaign lowered expectations for how much money it would bring in this summer, in part because the campaign had to cancel 10 events while the president and his staff were stuck in Washington for the showdown over raising the government's debt limit. Obama's quick stop in Chicago was his first trip outside the Washington region in more than a month.
Obama didn't try to sell his supporters on the deal to raise the debt ceiling and cut spending that he signed this week after arduous negotiations with Republicans. But he did warn that the country couldn't afford another "self-inflicted wound" like it experienced this summer.
"We don't have time to play these partisan games. We've got too much work to do," Obama said. He told supporters not to be discouraged by the partisan fights in Washington, saying, "You did not elect me president to duck the tough issues. You elected me president to do the tough things."
At a high-dollar dinner fundraiser later in the night, took a swipe at his Republican adversaries, saying, "I give the other side credit. They are single-minded in their focus in wanting to cut programs and shrink government."
The Obama campaign hoped the president's Chicago events would give a boost to fundraising efforts that are expected to bring in tens of millions less this summer than the $86 million raised for the campaign and the Democratic National Committee in the spring.
"We're going to raise significantly less in the third quarter than we did in the second quarter," said Jim Messina, Obama's campaign manager. "We will not be able to replace all of these events just because of his busy schedule. We always knew that he had his job and we had to do this around his schedule, and the truth is we just have to deal with canceling a month's worth of events."
The president still holds a large fundraising advantage over his GOP rivals and has been quietly building his campaign organization while Republicans try to establish themselves with voters in Iowa, New Hampshire and other early voting states. Former Massachusetts Gov. Mitt Romney collected more than $18 million through the end of June, while Minnesota Rep. Michele Bachmann, another top contender in the GOP race, brought in $4 million.
Obama was greeted in Chicago by his former chief of staff, Rahm Emanuel, now mayor of Chicago, before heading to a fundraiser headlined by local favorites Herbie Hancock, Jennifer Hudson and the band OK Go. Donors paid between $50 and $35,800, the legal maximum, to attend.
(Scroll down for photos)

With the cloud of uncertainty that surrounded the debt debate lifted, Obama smiled brightly while the crowd of about 2,400 sang "Happy Birthday."
Earlier in the night, Obama spoke via video conference to supporters gathered at some of the 1,000 house parties being held around the country. Democratic officials and campaign aides also fanned out across the country to raise money for the president.
Democrats said the slow fundraising pace during the summer was expected because many donors are on vacation and high-dollar events don't typically resume until after Labor Day. Many donors, meanwhile, may not feel compelled to give money yet because the campaign is still in its formative stage and no clear Republican rival has emerged.
"This is not an easy time to raise money," said former Rep. Martin Frost, D-Texas, who led the House Democrats' fundraising arm. "His personal presence at events is important and he was tied up, certainly during the month of July, with the debt ceiling issue."
Republicans have called Obama the "campaigner-in-chief," and ripped his birthday fundraisers at a time of high unemployment and recent promises by Obama to reinvigorate a debate in Congress over how to boost the economy.
"He's tried all week now to play this spin that now the White House is pivoting to jobs, which they've tried many times before, and the first job the Obama is interested in saving is his own," said Republican National Committee Chairman Reince Priebus.
Obama last traveled outside the Washington region on June 30 for a fundraiser in Philadelphia. He is planning a jobs-oriented bus tour of the Midwest from Aug. 15-17 and expected to take a vacation later in the month. As a result, the campaign was expected to hold smaller gatherings headlined by Obama "surrogates," or high-profile supporters such as governors and lawmakers, during the summer.
Obama has experienced a summer lag in fundraising before. During his first presidential campaign, Obama raised about $21 million in the summer of 2007, compared with about $33 million in the spring of that year.
But now in the White House, Obama canceled two fundraisers in Southern California and events in Northern California, Seattle, New York and Washington, D.C., campaign officials said. Vice President Joe Biden skipped fundraisers in Atlanta, Nashville, Tenn., and Dallas, while White House chief of staff Bill Daley canceled an event in the nation's capital.
Check out photos from Wednesday's fundraiser here: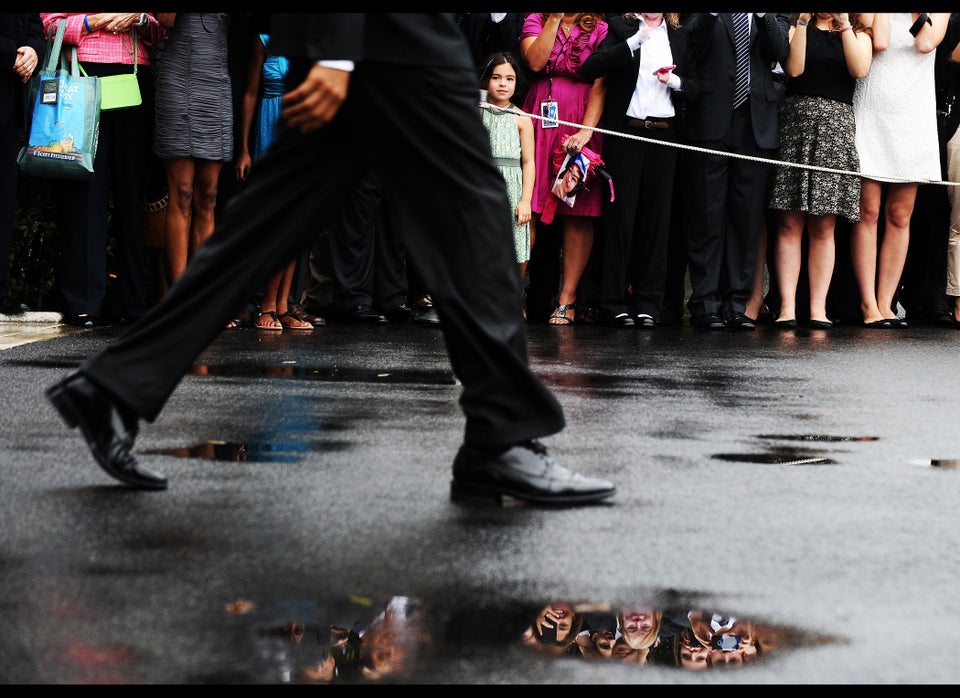 President Obama's Chicago Birthday Bash
Popular in the Community