WASHINGTON -- The Justice Department has dramatically expanded the criteria for federal inmates eligible for presidential clemency and is preparing to receive thousands of applications from prisoners caught up in the war on drugs.
Deputy Attorney General James Cole unveiled the new criteria on Wednesday at a press conference at DOJ headquarters. He also announced the resignation of U.S. Pardon Attorney Ronald L. Rodgers, who is tasked with reviewing petitions for executive clemency and preparing recommendations for the White House.
Rodgers, appointed in 2008 during the George W. Bush administration, has long been criticized by criminal justice advocates, and the DOJ Inspector General found in 2012 that he "fell substantially short of the high standards to be expected of Department of Justice employees and of the duty that he owed to the President of the United States." Rodgers previously served as the head of the Drug Intelligence Unit inside DOJ's Criminal Division. Cole said he would soon name his replacement.
The most obvious candidates for clemency under the new guidelines, Cole said, are crack offenders sentenced before the passage of the 2010 Fair Sentencing Act, which lowered the disparity between mandatory minimum sentences for those convicted of crack and powder cocaine-related crimes. The clemency guidelines won't only affect drug offenders, though that's the area where they will likely have the most impact.
Prisoners must meet the following six requirements in order to be eligible for clemency:
1) inmates who are currently serving a federal sentence in prison and, by operation of law, likely would have received a substantially lower sentence if convicted of the same offense today;

2) are non-violent, low-level offenders without significant ties to large-scale criminal organizations, gangs, or cartels;

3) have served at least 10 years of their sentence;

4) do not have a significant criminal history;

5) have demonstrated good conduct in prison; and

6) have no history of violence prior to or during their current term of imprisonment.
DOJ's Bureau of Prisons will be informing federal prisoners about the clemency guidelines next week and referring those who believe they are eligible to the Clemency Project, a joint initiative being run by several criminal justice organizations.
"We are launching this clemency initiative in order to quickly and effectively identify appropriate candidates, candidates who have a clean prison record, do not present a threat to public safety, and were sentenced under out-of-date laws that have since been changed, and are no longer seen as appropriate," Cole said in prepared remarks.
Older stringent punishments "that are out of line with sentences imposed under today's laws erode people's confidence in our criminal justice system," Cole said. "I am confident that this initiative will go far to promote the most fundamental of American ideals – equal justice under law."
Cole said that the Justice Department recognized that a good number of inmates who have served over 10 years of their sentence wouldn't meet the other criteria spelled out in the guidelines, but said DOJ was "dedicating significant time and resources to ensure that all potentially eligible petitions are reviewed and then processed quickly to ensure timely justice."
Advocates were cautiously optimistic about the clemency initiative.
"This is a momentous step toward undoing the damage done by our excessive federal sentencing laws," said Vanita Gupta of the American Civil Liberties Union. "It's not, however, a substitute for systemic reform. If we're going to truly reform our bloated federal criminal justice system, Congress needs to step up and pass the Smarter Sentencing Act."
Attorney General Eric Holder said earlier this week that dozens of DOJ attorneys could be assigned to the new clemency initiative. Holder told The Huffington Post that it was important for DOJ to "find people who are not traditionally thought of as good candidates" for clemency and "change the focus" of the Office of the Pardon Attorney.
"We have to have a process that I think works better, we need to come up with ways in which we identify people who are worthy of clemency, commutations, and not in the way I think we have traditionally done," Holder said.
Before You Go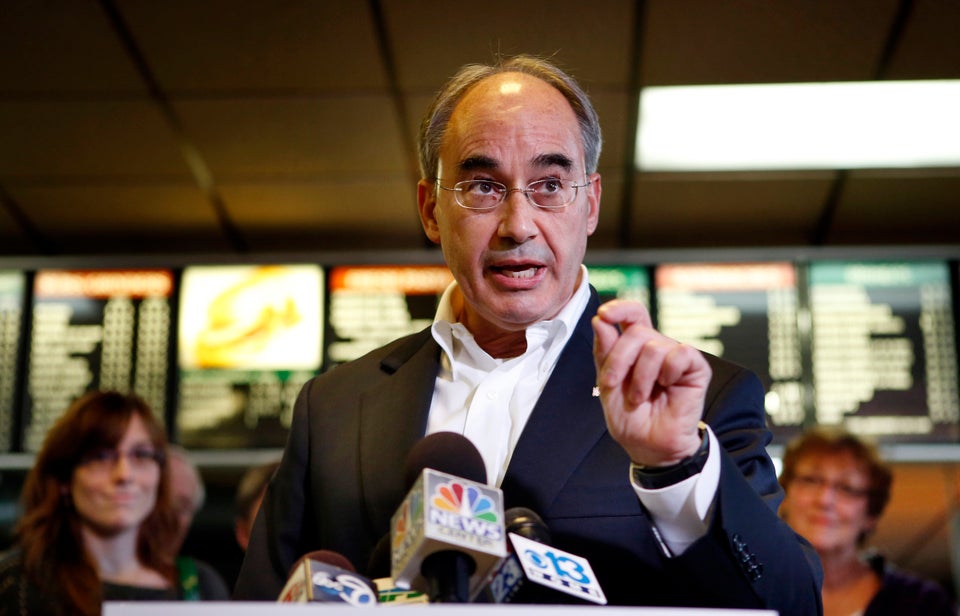 Great Political Names
Popular in the Community