WASHINGTON -- President Barack Obama plans to grant clemency to federal offenders "more aggressively" during the remainder of his presidency, he said in a sit-down interview with The Huffington Post on Friday.
Obama has faced criticism for rarely using his power to grant pardons and commutations. In December, he commuted the sentences of eight federal drug offenders, including four who had been sentenced to life. That brought his total number of commutations to 18.
Obama said he had granted clemency so infrequently because of problems in the Justice Department's Office of the Pardon Attorney. The former head of that office, who was appointed during the George W. Bush administration, resigned in April amid criticism from criminal justice advocates.
"I noticed that what I was getting was mostly small-time crimes from very long ago," Obama said. "It'd be a 65-year-old who wanted a pardon to get his gun rights back. Most of them were legitimate, but they didn't address the broader issues that we face, particularly around nonviolent drug offenses. So we've revamped now the DOJ office. We're now getting much more representative applicants."
Many of those new applications came from what's known as the Clemency Project 2014, announced when the head of the Office of the Pardon Attorney resigned. That project, which operates independently of the government, is intended to help DOJ sort through a huge number of applicants to figure out who meets specific criteria laid out by the administration.
President Barack Obama (Photo: HuffPost/Damon Dahlen)
But the process has been slow, and some criminal justice advocates are growing frustrated. Since the project was announced, more than 35,000 inmates -- roughly 16 percent of the total federal prison population -- have submitted applications, according to The Washington Post. Those applications, the Post reported, are being reviewed by more than 1,000 private attorneys in 323 law firms and organizations.
None of the thousands of federal prisoners who have applied through the clemency program so far have had their sentences reduced by the president. The Clemency Project has sent just 14 of the applications to the Office of the Pardon Attorney thus far, according to the Post.
But Obama said Friday that the public could see the results of the project soon.
"I think what you'll see is not only me exercising that pardon power and clemency power more aggressively for people who meet the criteria -- nonviolent crimes, have served already a long period of time, have shown that they're rehabilitated -- but also we're working with Democrats and Republicans around criminal justice reform issues," Obama said.
The president said it was "encouraging" to see criminal justice reform and support for the elimination of some mandatory minimum sentences as a "rare area where we're actually seeing significant bipartisan interest," with some libertarians and conservatives concerned about costs joining with Democrats.
"If we can get some action done at the federal level, that will make a difference in terms of how, I think, more and more states recognize it doesn't make sense for us to treat nonviolent drug offenses the way we do," Obama said.
Presidential pardons allow a new start for many who receive them. They do not wipe away convictions, but they can restore rights to vote, possess firearms and obtain business licenses, and may reduce barriers to some jobs. Commutations grant federal prisoners early release.
Watch The Huffington Post's full interview with President Obama here.
Before You Go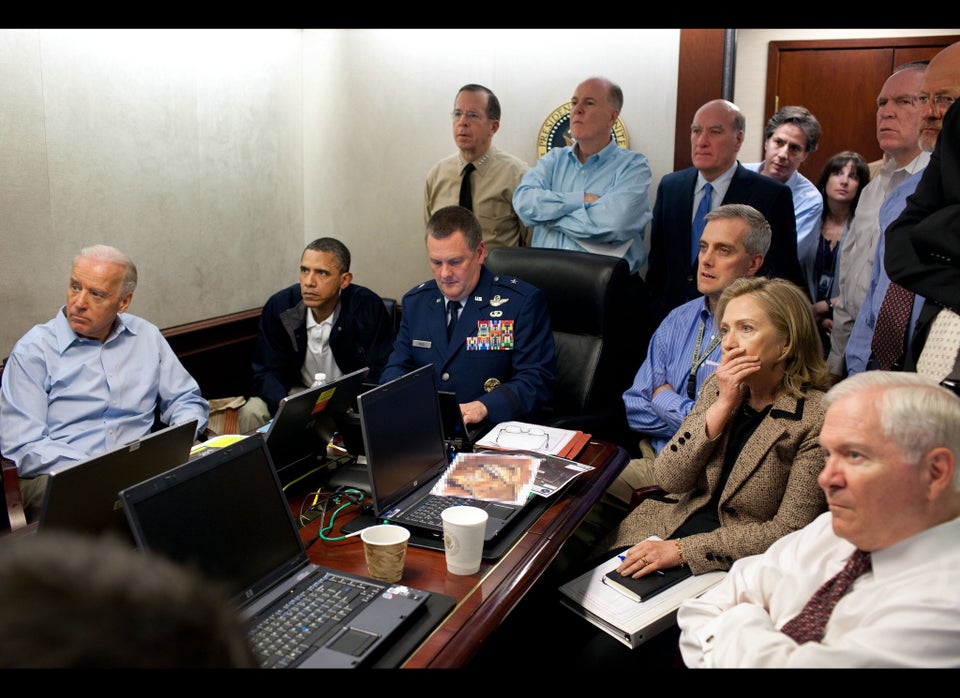 Most Iconic Photos Of Obama's First Term
Popular in the Community