WASHINGTON -- President Barack Obama on Tuesday invoked his executive authority to undertake a slew of measures aimed at curbing climate change and preparing America for its costly impacts. The speech was hailed by environmentalists who've seen their policy priorities largely ignored since the president promised to address climate change in his State of the Union address earlier this year.
"The question is not whether we need to act," Obama said in a speech at Georgetown University. "The question is whether we will have the courage to act before it's too late."
Environmental activists were particularly pleased with the president's comments on the controversial Keystone XL pipeline, which the president was not expected to discuss. In the speech Obama asked the State Department not to approve the construction of the pipeline unless it can first determine that the pipeline will not lead to a net increase in greenhouse gas emissions.
"Allowing the Keystone pipeline to be built requires a finding that doing so would be in our nation's interest," the president said. "And our national interest will be served only if this project does not significantly exacerbate the problem of carbon pollution. The net effects of the pipeline's impact on our climate will be absolutely critical to determining whether this project is allowed to go forward."
While it's unclear what precisely that means for the future of Keystone, it was an encouraging declaration for environmental advocates who've fought for years to stop the pipeline's construction. Jamie Henn of 350.org, the group that's helped to put the pipeline at the center of the national debate, could scarcely believe it.
Environmental activist Van Jones told HuffPost, "I think [the president] did what was appropriate, which was to clarify the basis of his decision making. Keystone has been sold to the American people as primarily about jobs and he made the conversation ... about climate. That is incredibly helpful to environmentalists and should be alarming to opponents of this pipeline."
Jones added, "[Obama] didn't come out wearing a 350.org T-shirt with his arm around Bill McKibben ... but he did the next best thing."
The speech, however, was much broader and encompassed more than the issue of the Keystone XL.
Obama's strategy in the second-term rests on three pillars: cutting carbon pollution in America, preparing the U.S. for the impacts of climate change, and leading international efforts to cut global emissions. Among the top-billed items are imposing the first carbon limits on existing power plants and requiring all federal projects to be able to withstand the heightened storms and sea level rise associated with climate change.
Obama also made a point to dismiss those who don't acknowledge the science behind man-made global warming, something that Organizing for Action, the advocacy arm of his administration, has featured in its climate campaign.
"We don't have time for a meeting of the Flat Earth Society," he quipped.
The policies laid out by the president signal a piecemeal approach to tackling what has proved thus far to be a difficult area for reform. Using his executive powers, Obama articulated a broad array of regulations his administration would enact that affect both government and the business sector, with many of the details still to come.
Of particular note is the president's directive to the Environmental Protection Agency to move forward with climate change regulations to limit carbon emissions from existing coal and gas-fired utilities by no later than June 2014. Less settled is exactly how the agency will accomplish that and at what cost to industry.
Some observers have noted that the timing of Obama's climate speech won't make Gina McCarthy's nomination to lead the EPA any simpler.
McCarthy, who currently heads the EPA's air and radiation office, has a history of generating bipartisan cooperation. But that hasn't stopped Republicans from holding up her confirmation process. Sen. David Vitter (R-La.) has been outspoken in his criticism of McCarthy, and Sen. Roy Blunt (R-Mo.) has placed a standing hold on her nomination. Some Democrats fear if Republicans frame her as the embodiment of the president's left-leaning agenda, she may fall short of the 60 votes necessary to avoid a filibuster.
Republicans, unsurprisingly, have been quick to dismiss the president's energy plan. "I think this is absolutely crazy," House Speaker John Boehner (R-Ohio) told Fox News ahead of Obama's speech. "Why would you want to increase the cost of energy and kill more American jobs at a time when the American people are still asking, 'Where are the jobs?'"
Some of the president's policies are new, but many build upon existing initiatives, such as a program to improve fuel-economy standards for heavy-duty trucks beyond model year 2018. And new energy efficiency standards for federal buildings and appliances have already been established in an effort to reduce carbon pollution by at least 3 billion metric tons cumulatively by 2030, in combination with existing measures. The president has also called for the expansion of his so-called Better Building Challenge, which focuses on helping commercial, industrial and multi-family buildings cut waste and become at least 20 percent more energy efficient by 2020.
New clean energy initiatives include the president's goal for the Interior Department to issue permits for 10 gigawatts of renewables on public lands by the end of the year, and for the U.S. to work with trading partners to launch negotiations at the World Trade Organization aimed at creating global free trade in clean energy technologies such as solar, wind and geothermal.
"President Obama is finally putting action behind his words, which is exactly what the Sierra Club, our 2.1 million members and supporters, and coalition partners have worked mightily to achieve," said Sierra Club Executive Director Michael Brune in a statement. "Today, we applaud him for taking a giant step forward toward meeting that goal."
Before You Go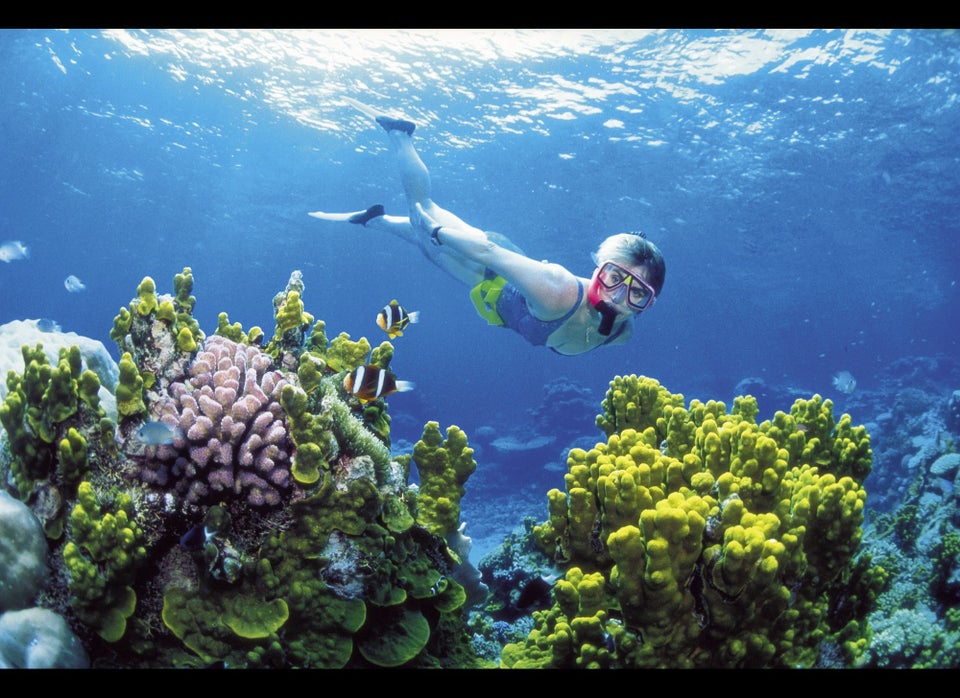 What Climate Change Just Might Ruin
Popular in the Community