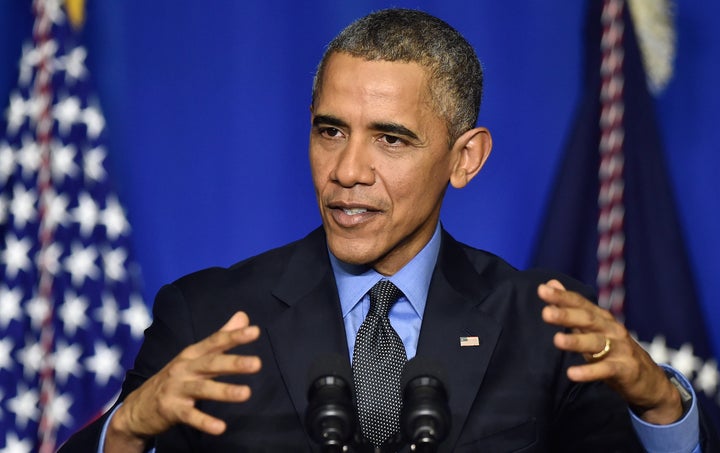 WASHINGTON -- President Barack Obama said Tuesday that world leaders are united behind the science of climate change, and whoever succeeds him in the White House must do the same if he or she expects any credibility.
"Everybody else has taken climate really seriously," Obama said during a press conference in Paris, where he's attending a global climate change summit.
"It spans political parties," he continued. "You travel around Europe and you talk to leaders of governments and the opposition, and they are arguing about a whole bunch of things. One thing they're not arguing about is whether the science of climate change is real and whether or not we have to do something about it."
It's at the point where it's not just 99.5 percent of scientists who say it's serious, he said, but also 99 percent of world leaders. He took a subtle jab at Republican presidential candidates who have dismissed the issue in their campaigns.
"I think the president of the United States is going to need to think this is really important," Obama said. "Your credibility and America's ability to influence events depends on taking seriously what other countries care about."
Several GOP candidates have downplayed the seriousness of the issue. Donald Trump said Monday that Obama calling climate change one of the greatest threats facing the country was "one of the dumbest things" he's heard. Ben Carson has said it's just temperatures naturally fluctuating, and Jeb Bush has said it's "just really arrogant" to say the science is decided on climate change. Sen. Marco Rubio (Fla.) says he's not a climate skeptic, but that U.S. efforts to reduce climate change won't amount to anything because "America is not a planet."
Not that Obama expects any of those guys to be the next president.
"I'm anticipating a Democrat succeeding me," he said with a smile. "I'm confident in the wisdom of the American people on that front."
Popular in the Community