Democratic presidential candidates Sen. Hillary Rodham Clinton (D-NY) and Sen. Barack Obama (D-IL) will host competing fundraisers Thursday night at swank West Hollywood nightspots in an attempt to line up backers among L.A.'s large gay and lesbian community.
The pair of parties, less than a mile apart, are scheduled to follow Thursday's presidential forum on GLBT issues hosted by the Human Rights Campaign and MTV's Logo network.
Two men, nightlife impresarios Sam Nazarian and David Cooley, are listed as hosts for both events.
It is not unusual this early in the presidential race for donors to spread their support among several candidates. But it is unusual to have two events co-hosted by two people on the same night for two competing candidates.
Actress Jessica Biel, director F. Gary Gray and film producer Lawrence Bender are also among the 48 co-hosts listed for Obama's party at Area, one of L.A.'s hottest nightclubs. Tickets are selling for $250, with co-hosts expected to raise $5,000.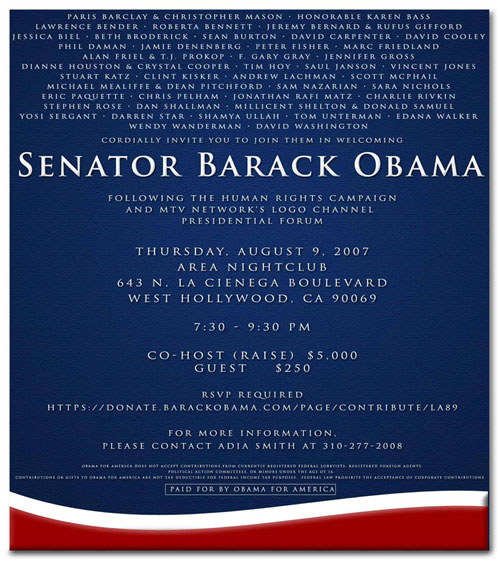 Although not a gay bar, Area plays host every other weekend to one of the most exclusive Sunday night parties on the West Hollywood gay nightclub circuit.
Hillary's event is a viewing party for the presidential forum at The Abbey, one of the top gay bars in America. Tickets are being sold for $50. Her hosts for the evening are three titans of the West Hollywood nightlife scene: Nazarian, Cooley and Brent Bolthouse.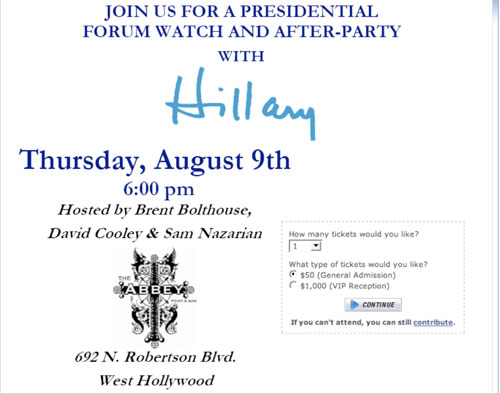 Cooley founded The Abbey in 1991, and the trio help run the SBE Entertainment Group. SBE owns a plethora of A-List bars whose usual patrons are more likely to grace the pages of US Weekly than Roll Call.
In fact, both Area and The Abbey are part of the SBE Family. That might explain why Cooley and Nazarian are listed as co-hosts for both events. According to the Huffington Post's FundRace 2008, Bolthouse - the only one of the three not named on both invitations - has already donated $3,300 to Clinton's campaign.
Another boldface name tagged as a co-host for the Obama event is Sex And The City creator Darren Star. In April former Sen. John Edwards' camp issued a press release touting Star as a "prominent LGBT" leader endorsing Edwards. Campaign records show Star has given $2,300 to Edwards.
Edwards is holding his own event a few doors down from Obama. Billed as "Small Change for Big Change," tickets for Edwards' bash at the Republic nightclub are $15, or roughly the cost of a Gin & Tonic in West Hollywood.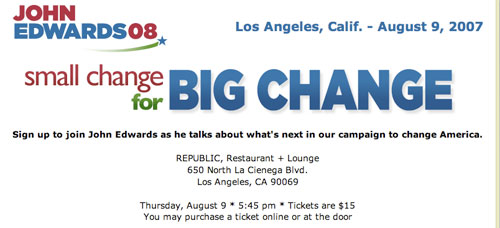 Each of the Democratic candidates for the presidential nomination - with the exception of Delaware Sen. Joe Biden - are slated to attend Thursday's forum.
Viewers can watch the candidates live on the Logo website at 9pm Eastern time. Bloomberg News columnist Margaret Carlson will moderate the discussion, alongside HRC chief Joe Solomonese, rocker Melissa Ethridge and Washington Post reporter Jonathan Capehart.
Support HuffPost
The Stakes Have Never Been Higher
Popular in the Community