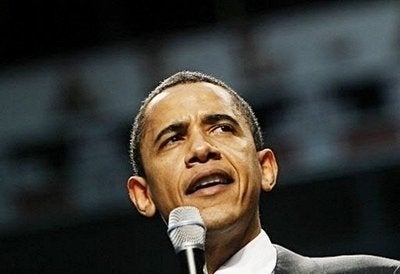 Over the past year, Sen. Barack Obama has been a vocal supporter of the Feingold-Reid Iraq legislation that sets a strict timeline for the withdrawal of U.S. troops from Iraq. But when a version of that bill was introduced this past week without a final date for troop removal, the Illinois senator chose not to attach his name to the list of co-sponsors.
Yesterday, Sen. Russ Feingold succeeded for the first time in getting the Senate to begin debating his measure to begin withdrawing troops in 120 days (with exceptions for certain specified missions). Neither of the Democratic presidential candidates was in D.C. to vote in favor of cloture, which allowed the bill to ultimately come to the floor. But only one -- Sen. Hillary Clinton -- co-sponsored the legislation.
A change in Feingold's bill -- the removal of an end date for troop redeployment in an effort to win wider support -- persuaded Obama to not co-sponsor the measure.
"Senator Obama has long said that he would only support Iraq legislation that has an end date for the removal of troops," an Obama aide told the Huffington Post. As for whether the Senator would ultimately support the bill, the aide said, "it will depend on the final version."
The potential divergence of Clinton and Obama on Feingold's bill represents how, when looking at the nuance of legislation, the two candidates can have differences on Iraq policy. Throughout much of the campaign, Clinton has stressed that, despite Obama's opposition to the launch of the war, the two basically share the same outlook on America's presence in Iraq.
"He's to be commended for having given the speech," Clinton said in last night's debate. "When he came to the Senate he and I have voted exactly the same. When we both had responsibility, when it wasn't just a speech it was action where is the difference?"
In Feingold's four previous troop-withdrawal bills, which have represented the most aggressive attempts to ensure pullouts from Iraq, Obama has missed one vote, voted in favor of three, and cosponsored one. Obama's record, except for the missed vote, had been identical to that of Clinton.
"This is the best policy for our troops, and for pressing Iraq's leaders to finally get serious about resolving their differences," Obama said about the Feingold-Reid legislation introduced in September 2007, which included a firm exit date. "I have opposed this war from the beginning. I will continue to urge my colleagues to support legislation that sets a direction out of Iraq, and a deadline to complete our drawdown. I will continue to urge Americans to press their Senators and Representatives to come together to end this war."
But unlike those past measures, none of which received more than 30 votes to end debate, the current Feingold bill actually made it to the Senate floor. On Tuesday, Republican leadership surprisingly voted in favor of cloture, ostensibly to highlight the recent "security improvements" in Iraq. Not a single Republican had previously supported any of Feingold's withdrawal bills. When the measure comes to a vote, it is not expected to pass.
In addition to requiring troops to begin leaving Iraq within 120 days of becoming law, the Feingold bill permits funds to be spent only for the purposes of counterterrorism operations, training Iraqi forces, protecting the U.S. Embassy in Baghdad, and U.S. troop redeployment.
Popular in the Community