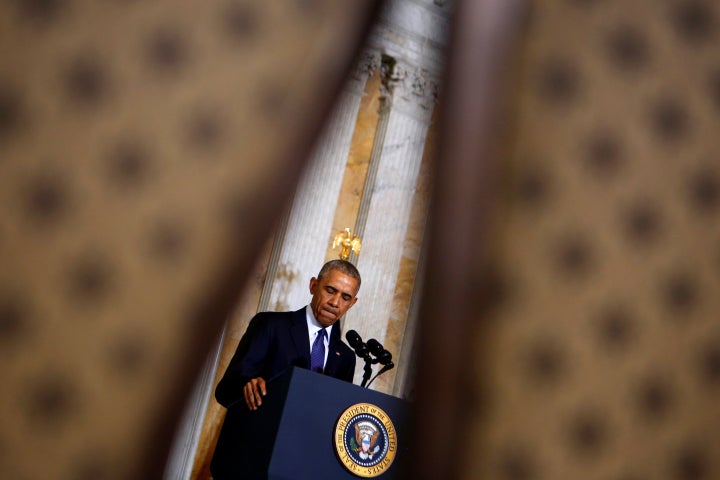 In a new HuffPost/YouGov survey, just 14 percent of voters say Obama's endorsement makes them more likely to support Clinton. Twenty-two percent say it makes them less likely to do so, and 62 percent say it doesn't make any difference.
The results are, unsurprisingly, largely divided along party lines, although a majority of people said Obama throwing his support behind Clinton didn't change their opinion on the presumptive Democratic nominee. Thirty-one percent of Democratic voters, compared to just 8 percent of independents and 1 percent of Republicans, say the endorsement tipped them toward Clinton; 40 percent of Republicans, but just 22 percent of independents and 6 percent of Democrats, say it steered them away from her.
It makes sense to be wary of questions like this. People aren't necessarily reliable narrators of their own motivations for voting, and, more than anything, their responses may reflect their pre-existing feelings about both politicians.
The voters who distrust Obama the most aren't likely to be considering voting for Clinton in the first place, while people who take the president's words to heart are probably the kind of staunch partisans who are already in Clinton's camp. A notable exception could be supporters of Sen. Bernie Sanders (I-Vt.), many of whom have higher opinions of Obama than of Clinton. Although Sanders' backers tend to like Obama, they're not nearly as strong in that sentiment as other Democratic voters.
But there's an interesting contradiction at work: While opinions of Obama's presidency are on the upswing, opinions about the country as a whole haven't followed suit. As survey after survey has showed this year, Americans are dissatisfied, distrusting of their national institutions and ready for a change. On average, two-thirds believe the nation is on the wrong track.
A 59 percent majority of voters in the HuffPost/YouGov poll want the next president to take the country in a different direction, rather than continuing Obama's policies. And, trickily for Clinton, the vast majority of voters — 79 percent — expect her to mostly follow in his footsteps.
Although voters are ready for a change, they're not sure if electing either Clinton or Trump would be a step in the right direction. Few voters expect either candidate to be a better president than Obama.
Just 13 percent of voters think Clinton will be an improvement, while 48 percent say she'd do about the same as Obama, and 13 percent say she would be worse.
Trump fares more poorly on that metric, with a majority of voters saying he would be a step down. Fifty-one percent say he'd be a worse president than Obama, while 38 percent say he'd be better, and 3 percent believe he'd be about the same.
The HuffPost/YouGov poll consisted of 1,000 completed interviews conducted June 9 through June 13 among U.S. adults, using a sample selected from YouGov's opt-in online panel to match the demographics and other characteristics of the adult U.S. population.
The Huffington Post has teamed up with YouGov to conduct daily opinion polls.You can learn more about this project and take part in YouGov's nationally representative opinion polling. Data from all HuffPost/YouGov polls can be found here. More details on the polls' methodology are available here.
Most surveys report a margin of error that represents some, but not all, potential survey errors. YouGov's reports include a model-based margin of error, which rests on a specific set of statistical assumptions about the selected sample, rather than the standard methodology for random probability sampling. If these assumptions are wrong, the model-based margin of error may also be inaccurate. Click here for a more detailed explanation of the model-based margin of error.
REAL LIFE. REAL NEWS. REAL VOICES.
Help us tell more of the stories that matter from voices that too often remain unheard.
BEFORE YOU GO