WASHINGTON -- Hillary Clinton and President Barack Obama teamed up for the first time during the 2016 presidential campaign to rally against Donald Trump, lauding each other's accomplishments and warning voters about the presumptive GOP nominee's temperament and lack of qualifications for the White House.
The joint rally on Tuesday in North Carolina was largely a love fest between the two former rivals -- and couldn't have come at a better time for Clinton, who was admonished just several hours earlier by FBI Director James Comey for her email practices at the State Department. Comey criticized Clinton for being "extremely careless" in handling sensitive, classified information, yet he did not recommend bringing criminal charges against her.
The president and the presumptive Democratic nominee took the stage at Charlotte Convention Center to the tune of "Fight Song," Clinton's campaign song, as several thousand spectators cheered them on.
Clinton took the lectern first, calling her former boss someone who's never forgotten where he comes from. "And Donald, if you're out there tweeting, it's Hawaii," she cracked in reference to Trump's disproven claims that Obama wasn't born in the U.S.
"He knows a thing or two about winning elections, take it from me," Clinton said of the president, alluding to the bitter 2008 Democratic primary. "And he also knows that despite all the progress we've made under his leadership -- and yes, we have -- we still have a lot of work to do."
Clinton piled compliment after compliment on Obama, who is markedly more popular than she is in the battleground state of North Carolina.
She credited the Obamas for successfully raising their daughters in the White House, calling it the "most impressive accomplishment of all." She said Obama "saved us from a second Great Depression," lamenting that he did not get enough credit for doing so. She invoked Obama's campaign speeches, saying that, as president, she would work to do things "not as red states and blue states, but as the United States." And she touted Obama's foreign policy achievements with Iran, Cuba and China. "This, my friends, is a president who knows how to keep us safe and strong. Compare that to Donald Trump. Can you imagine him sitting in the Oval Office?"
"The fact is, Hillary is steady, and Hillary is true."
When the president took the lectern, he led the crowd in a "Hillary!" chant. "I'm fired up. Hillary got me fired up. She's got me ready to do some work," Obama said to applause.
"I'm here today because I believe in Hillary Clinton," he added, praising the former secretary of state's passion, temperament, qualifications and work ethic.
"She's the energizer bunny. She was like Ginger Rogers, she had to go backwards in heels," he said of Clinton's 2008 primary, before complimenting her for the "grace and the energy" she displayed while campaigning for Obama against Sen. John McCain (R-Ariz.).
"My faith in Hillary Clinton has always been rewarded," the president continued, telling the crowd he "had a front-row seat to her judgment and her commitment" to public service.
Comparing Clinton favorably to Trump, Obama said he "never heard Hillary Clinton demonize other people," and noted that even Republicans in the Senate "liked working with her."
"You can't be reckless. You don't have the luxury of saying just whatever pops in your head. You can't just kick out reporters. You can't go to another country and just say 'kick them out,'" he said, referring to the Trump campaign's blacklist of multiple news organizations. "You gotta apply steady judgment, even when things don't go your way."
As terror attacks at home and abroad increase, Obama also portrayed his would-be successor as someone who could defend America, noting she wouldn't "hesitate to use force to protect us."
"The fact is, Hillary is steady, and Hillary is true," he added, striving to bolster Clinton's marred image, which has suffered from the Benghazi terror attacks and her email practices at the State Department.
Obama closed with a regretful note about the end of his campaigning, noting he was "enjoying it too much."
"[I] couldn't be prouder of the things we've done together," he said. "I am ready to pass the baton. I know that Hillary Clinton is going to take it and I know she's going to run that race."
Before You Go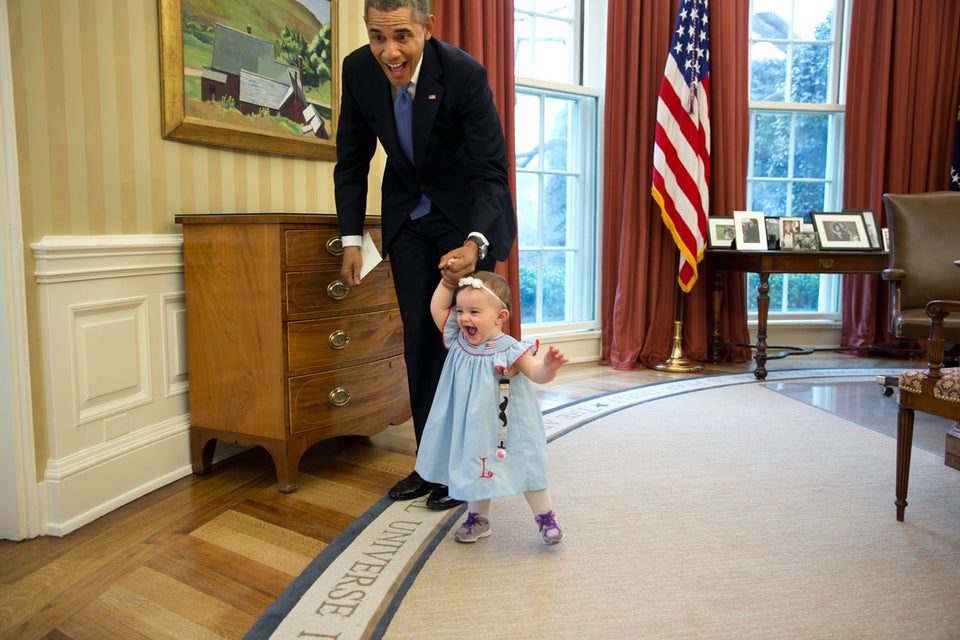 Obama With Kids
Popular in the Community