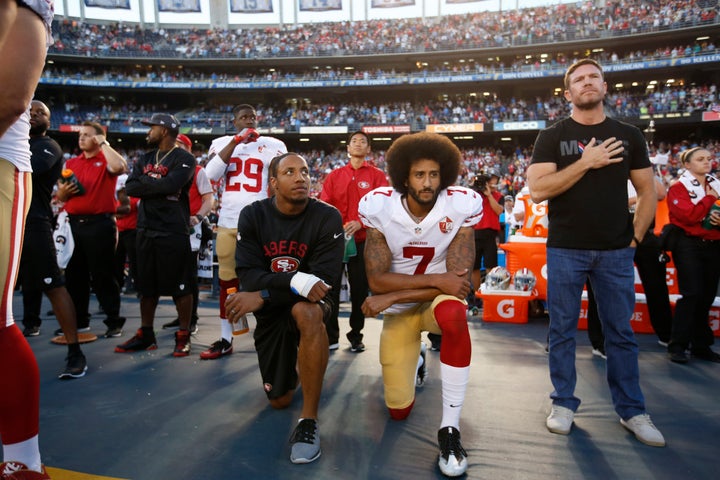 During a press conference on Monday at the G20 Summit, President Barack Obama defended NFL star Colin Kaepernick's recent protest of the National Anthem.
The San Fransisco 49ers quarterback on Friday refused to stand for the Star Spangled Banner, saying that he was "not going to stand up to show pride in a flag for a country that oppresses black people and people of color."
While Kaepernick's protest has generated both praise and condemnation, the president framed the issue as one of free expression. "He's exercising his constitutional right to make a statement," Obama said on Monday. "I think there is a long history of sports figures doing so."
"I don't doubt his sincerity," he added. "I think he cares about some real legitimate issues that have to be talked about." Obama continued, "If nothing else, what he's done is he's generated more conversation around some topics that need to be talked about."
Expressing the need for an "active citizenry", the president said, "I'd rather have young people who are engaged in the argument and trying to think through how they can be part of our democratic process than people who are just sitting on the sidelines and not paying attention at all."
On those condemning Kaepernick, Obama stated, "my suspicion is, is that over time he's gonna refine how he's thinking about it, and maybe some of his critics will start seeing that he has a point around certain concerns about justice and equality, and that's how we move forward. Sometimes it's messy, but, you know, that's the way democracy works."
Other athletes have also recently weighed in on issues of race in the United States. LeBron James and other NBA stars paid tribute to Black Lives Matter earlier this summer when they opened July's ESPY awards with a speech decrying racial inequality in the U.S.
"We asked to start the show tonight this way, the four of us talking to our fellow athletes with the country watching because we cannot ignore the current state of America," the New York Knicks' Carmelo Anthony said. "The system is broken."
In 2014, players from both the NBA and the NFL practiced in shirts that quoted the last words of Eric Garner, a black man who died after being placed in a chokehold by police in New York: "I can't breathe."
Popular in the Community