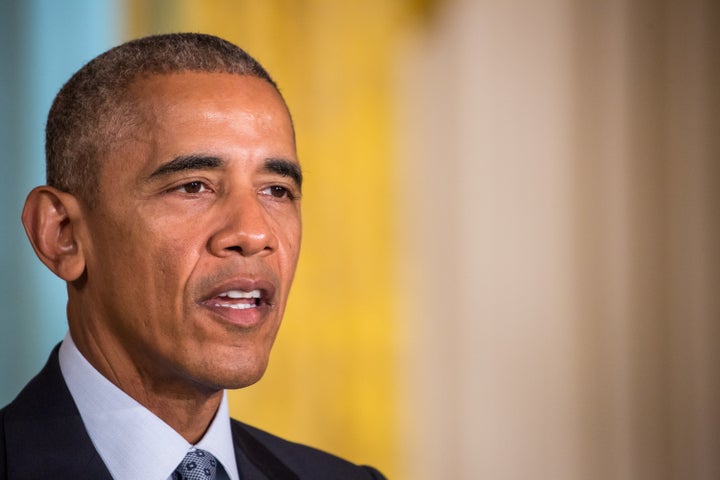 WASHINGTON -- President Barack Obama will commute the sentence of 42 federal prisoners on Friday, a senior administration official told The Huffington Post.
All told, Obama has now issued 348 commutations -- more than the amount issued by the past seven presidents combined -- though advocates have encouraged him to be even bolder.
In addition to using the power of commutation more freely than past presidents, Obama has also focused his efforts on a certain subset of federal prisoner: people with drug offenses who face disproportionately long sentences. Among the 42 people who received commutations on Friday, nearly half (20) were serving life sentences. Of his 348 career commutations, 130 were in prison for life.
In a blog post on Friday, White House lead counsel Neil Eggleston said the president "remains committed to using his clemency power throughout the remainder of the Administration to give more deserving individuals that same second chance." But he added that legislation from Congress would be needed to "bring about lasting change to the federal system."
"There remain thousands of men and women in federal prison serving sentences longer than necessary, often due to overly harsh mandatory minimum sentences," Eggleston said.
Even without such legislation, some had expected Obama to have done even more by this point in his presidency. When former Pardon Attorney Deborah Leff stepped down earlier this year, she wrote in her resignation letter that the Justice Department had not dedicated adequate resources to the clemency initiative. An official with the Clemency Project 2014, which brings together lawyers to prioritize cases involving federal prisoners eligible for clemency, said in March that the organization hoped the Obama administration "will make the exercise of its clemency power ever more robust." And Charles Koch, a billionaire Republican donor who has backed criminal justice reform, has pushed the Obama administration to speed up the clemency process.
Former Attorney General Eric Holder told The Washington Post he initially believed as many as 10,000 federal prisoners could be released under the initiative. The number of prisoners who meet the criteria is now believed to be between 1,000 and 2,000.
Deputy Attorney General Sally Yates said Friday that she was "confident that there will be many more commutations in the months to come."
Obama has already granted clemency to nearly as many individuals so far this year as he did in all of 2015. But Rachel Barkow, a professor at New York University, said it "isn't the right metric" to speak of grant numbers in absolute terms.
"The real question for President Obama is whether he grants commutations to all the people who meet his stated criteria," she said. "And he's short of that number right now, which should be more like 1,500 grants."
Barkow and others also say the Obama administration's commutations pale in comparison to the approximately 14,000 granted in a single year by former President Gerald Ford. He commuted the sentences of anyone who had deserted or dodged the draft during the Vietnam War. When comparing Obama's commutations to presidents of the past, the White House doesn't mention those from Ford because they applied to an entire category of individuals.
Many of the people who did receive commutations on Friday will be getting out of prison in October, although some are set to be released next year or in 2018. Nearly all had been sentenced for drug offenses, with the vast majority convicted for the distribution of crack cocaine.
Some of the individuals granted clemency on Friday had received attention from advocacy organizations and coverage from media outlets. Douglas Ray Dunkins Jr. was convicted of crack cocaine charges in 1992, when he was 26. His judge said the sentencing guidelines were "unfair" and that putting Dunkins behind bars for life troubled him. Had he been convicted of a crime involving powder cocaine instead of crack, he would have been out of prison a long time ago. In a piece in The Guardian last year, Dunkins wrote about the declining health of his parents and missing out on seeing his daughters grow up. Being granted clemency, he said, would "be like a breath of a new life." He'll be released in October.
Another recipient of a commutation on Friday was Teresa Mechell Griffin, who served as a drug mule for an abusive boyfriend and in 1994 and was sentenced to a life prison at the age of 26. She was six months pregnant when she was arrested. The daughter she gave birth to is now an adult with a severe disability.
"I would give anything to turn back the hands of time. Just to be able to make different decisions," Griffin told the American Civil Liberties Union in 2013. "I know I did something wrong, but not enough to take away my life." She'll now be released in October.
At least two of the individuals granted clemency on Friday had been rejected before. Gary Allen Lott of Oklahoma City, who was sentenced to life in prison in 2000 on meth charges, had been denied clemency by the Obama administration in 2011. He will now be released in 2018. Sherman Ray Meirovitz, who was sentenced to life in prison on cocaine charges in 1990, was also previously rejected. He'll now be released in 2017.
Prisoners whose sentences have been commuted now face difficult emotional adjustments.
Jason Hernandez, whose life sentence was commuted in 2013, told HuffPost that he'd been worried he'd find out a family member had died when he was summoned to the warden's office. Instead, he was told the good news.
"I started crying right there, I started shaking," Hernandez said. "I still couldn't believe it. I asked, could you show me on the computer where it says this, because maybe somebody is playing a hoax on us, on you? I said, I don't think this is true. The lady looked it up, and it said I had 20 years. I had a release date."
But Hernandez had expected the moment to be more joyful. He had imagined jumping, hollering, dancing and singing. In reality, his heart raced. He had trouble breathing. Guilt sank in.
"There's more inmates like me, probably more deserving than me, who didn't believe that such things could happen," Hernandez said. "When I received my reduction, I couldn't even look at the guys no more, I just felt bad for them. I couldn't look at them in the eyes. I told them that, look, when I get out there, I'm not going to stop fighting, I'm going to continue doing what I'm doing."
Stephanie George, who was sentenced to life in prison in a drug case, said she was so confused by Facebook that she set up five different accounts, not realizing that she was creating an entirely new page each time and not just signing in. Norman Brown, whose life sentence was commuted last summer, joked that he was used to cellphones "as big as computers" when he was first arrested.
Reynolds Wintersmith, who was sentenced to life in prison on a crack charge when he was still a teenager, said he was amazed to see how many people were staring at their smartphones on the street. "You know how much you missing?" he asked.
This article has been updated to include comments from Sally Yates and Rachel Barkow.
Popular in the Community