WASHINGTON -- President Barack Obama said Monday that Congress can still get a handful of things done in the coming weeks to boost the economy, even though lawmakers are now almost entirely focused on campaigning.
"I would love to say that when Congress comes back -- they've got a week or 10 days before they go out and start campaigning again -- that we're going to see a flurry of action. I can't guarantee that," Obama said during a surprise appearance at the White House briefing. "I do think there's some specific things they could do that would make a big difference."
Lawmakers will be back in session on Sept. 8, but they won't be in session for long and, more generally, aren't expected to get much done until after the November elections. Still, the president said lawmakers should immediately pass a continuing resolution to keep the government funded through the end of the year. Government funding is currently set to run out at the end of September.
A continuing resolution would ensure that "we don't have any disruptions and government shutdowns over the next couple of months," Obama said. "That's important. It appears that there's an agreement on that but we want to make sure that gets done."
Secondly, he said Congress should pass his housing refinancing package.
"We've got historically low interest rates now. The housing market is beginning to tick back up but it's still not at all where it needs to be," Obama said. The administration's proposal "puts $3,000 in the pockets of the average family who hasn't yet refinanced their mortgage. That's a big deal. That $3,000 can be used to strengthen the equity in that person's home."
Still, the biggest thing Congress could do for the economy is to reach a deal on "a sensible approach" to reducing the deficit, he said. Obama specifically urged congressional leaders to revisit the revenues and spending cuts that were on the table during last year's negotiations on the debt.
"I continue to be open to seeing Congress approach this with a balanced plan that has tough spending cuts, building on the $1 trillion worth of spending cuts we've already made, but also asks for additional revenue from folks like me, folks in the top 1 or 2 percent," said the president. That would give more "certainty" to families and small businesses.
Obama also pushed Congress to extend the Bush-era tax cuts on people's first $250,000 in income, but he acknowledged that proposal may be dead in the water, at least for now. Republicans have been pushing hard to extend all of the Bush-era tax cuts, including those for millionaires and billionaires. All of the cuts are set to expire at the end of the year.
Extending some of the tax cuts "would definitely strengthen the economy," Obama said. "Obviously, the Republicans have voted that down already once. It's not likely, realistically, they they're going to bring it up again before Election Day. But my hope is after the election, people will step back and recognize that's a sensible way to bring down our deficit and allows us to still invest in things like education that are going to help the economy grow."
Before You Go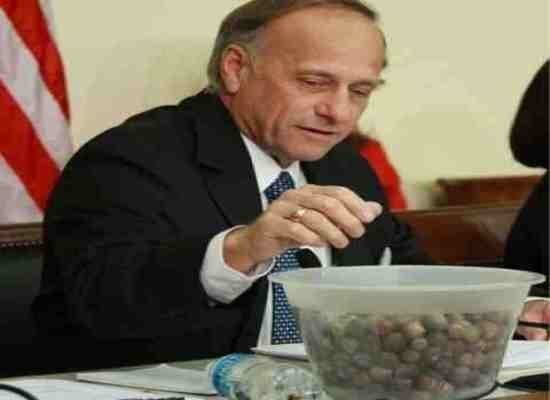 More Crazy Examples of Congressional Theatrics
Popular in the Community