WASHINGTON -- Even with a visit to Capitol Hill, it appears President Barack Obama's case for a strike against Syria got more help from the Russians than from the United States Senate on Tuesday.
With support among lawmakers dwindling for a resolution to let Obama launch a bombing campaign aimed at curbing Syrian President Bashar Assad's alleged use of chemical weapons, Senate leaders agreed to delay a Wednesday vote on the authorization, in order to wait and see if a Russian effort to solve the standoff bears fruit.
Russian leaders said Tuesday they would work with Syria and the United Nations to determine whether Assad -- who allegedly killed some 1,400 Syrians in an Aug. 21 gas attack -- could hand over his chemical weapons to international forces.
Nevertheless, while lawmakers said they welcomed the new effort, few who opposed granting Obama authority for military strikes seemed inclined to change their positions, even if the authorization to use force is somehow tied to the international effort.
"As far as I'm concerned, that wouldn't move me in any way," said Sen. Jim Risch (R-Idaho).
"I think bombing Syria will destabilize the area, it makes it more likely that chemical weapons could be used on other countries, or fall into the hands of terrorists," said Sen. Rand Paul (R-Ky.), who guessed that 25 Republicans -- a majority of the Senate conference -- would vote against a resolution to use force. "I don't see a valid American interest in supporting a side of the war that's allied with al Qaeda."
According to sources in the room, Paul confronted the president on whether Obama would use military force even if Congress voted against it. In recent weeks, the Kentucky Republican has accused the president of reducing Congress's role to "constitutional theater" by leaving the window open to act in Syria regardless of how lawmakers vote.
Sen. Dean Heller (R-Nev.) told reporters that Obama did not give Paul a "definitive answer."
While Obama may not have answered Paul, Senate Majority Leader Harry Reid (D-Nev.) said the president was clear in his talk to Democrats that the White House believes it can take unilateral action. The president "made it very clear that he will act if he must. That's the message he gave us," Reid said.
Heller, who is against military strikes, said the president's key request from Republicans was for time to pursue negotiations with Russia.
"What he wants us to do basically is give him room to see if this diplomacy with Russia works out," Heller said.
Asked if there was a feeling that Republicans would be willing to do so, Heller said Obama's request wasn't met with a response -- although he pointed out that many lawmakers don't trust Russian President Vladimir Putin.
"To this moment, everyone's trying to figure out whether or not Putin's serious about this," he said.
The GOP senators met with Obama for more than an hour Tuesday, emerging to say the only new information was that any vote on the use of force authorization will be postponed until after United Nations inspectors deliver a report on Syria next week.
"If and when we have a vote, I intend to vote against authorizing military force in Syria, unless there are very significant changes in conditions on the ground," said Sen. Ted Cruz (R-Texas), another adamant opponent of intervention. He allowed that though he was skeptical of Putin, a Russian diplomatic success "would be a very beneficial outcome for the United States."
Senate Democrats characterized their 90-minute talk with Obama as productive, though many said members continued to express major concerns to the president about possible military intervention.
"Some of us are concerned about getting involved in a Syrian civil war which is bloody and complicated," Vermont Sen. Bernie Sanders, an independent who caucuses with the Democrats, told reporters after the meeting.
While Obama did not seem to garner much support, he didn't seem to lose any either, with backers also pointing to the Russian effort.
Sen. Mark Kirk (R-Ill.), who has supported the use of military force in Syria, emerged from the meeting confident that a diplomatic resolution with both Syria and Russia could be achieved.
"If we get the [chemical weapons] physically out of Syria and know that it is outside of Assad's jurisdiction, I would chalk that as a win for the president," Kirk said.
Sen. Mark Begich (D-Alaska) said the president seemed "anxious" to see if Russia's proposal offered a viable pathway forward.
"It seems that this solution solves the problem of chemical weapons that are held by Syria," he said.
Sen Carl Levin (D-Mich.) argued that the Senate should still pass a resolution to put some muscle behind the diplomatic effort.
"In my own view you have to have a realistic prospect of force in order for a political settlement to be achievable," Levin said. "I believe it is useful to connect the authorization to a refusal by Syria to disgorge their chemical weapons."
After making the pitch to senators, Obama went to prepare for an address to the nation. Kirk said the president was candid about his prospects of swaying public opinion, which is strongly against military intervention.
"He said, 'I'm good, but I'm not that good," Kirk said. "I took that as a good dose of political reality. The politics on this is upside-down."
Before You Go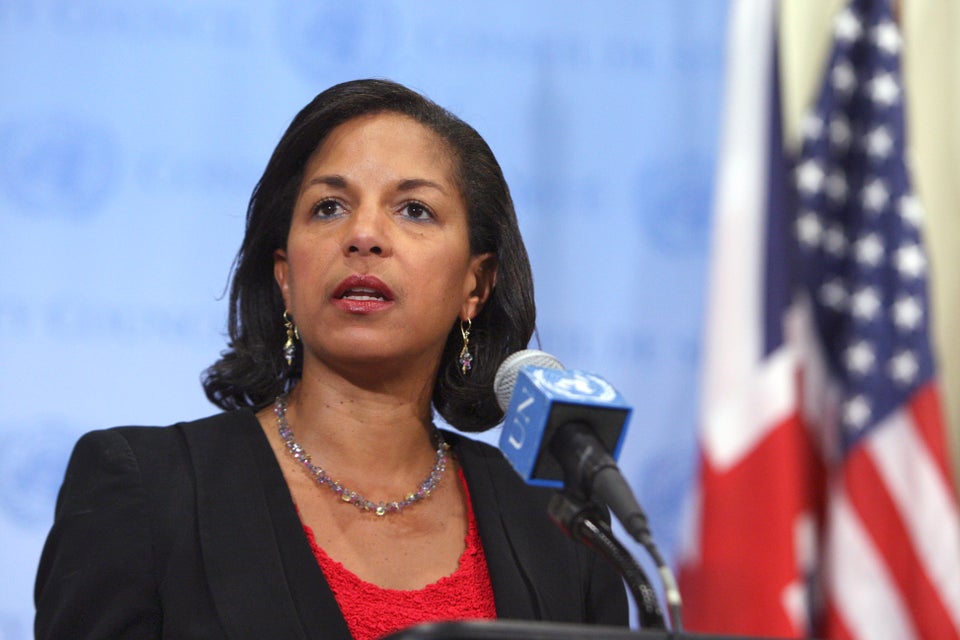 Here's What Politicians Have Said About Syria
Popular in the Community