 President Barack Obama imagines a country where teachers know what's happening in their students' brains.
He wants "teachers to have an ability to assess learning hour by hour and day by day," a senior White House official said Wednesday. "That vision ... is really not possible with the connectivity we have today."
That's why on Thursday Obama will speak at a school in Mooresville, N.C., to unveil an initiative that aims to give 99 percent of America's public schools high-speed connectivity over the next five years.
The project, called ConnectED, also seeks to get devices into the hands of teachers and students so they can experience digital lessons and software designed for the classroom. Districts will be in control of their own purchasing. The plan would also use existing money within the Elementary and Secondary Education Act to fund professional development to "help teachers keep pace with changing ... demands," according to a background memo provided by the White House.
Senior administration officials called the project "transformative," saying that fully digitized classrooms will prevent students from being bored, prepare them to eventually compete in the modern-day economy, help teachers keep better track of their students' learning and also spur improvements in educational product development.
The move to digitize classrooms comes just in time for states that are slated to implement assessments tied to the Common Core, a set of learning standards adopted by most U.S. states. The tests tied to the Core are primarily digital, a situation that poses a problem for rural schools that don't have the computers or the bandwidth to test entire classes at once.
Only one-fifth of educators say their school's Internet connection can support their lesson plans. Though schools are, on average, as well-connected as private homes, they have 200 times the number of Internet users.
"This is huge," said Sara Schapiro, who oversees the Digital Promise League of Innovative Schools, a coalition of districts in 21 states. "At the current rate, the average Internet speed that schools have is not enough to support the assessments. ... We should deliver on the promise, a high level of connectivity that would let schools do the assessments the way they were meant to rather than printing them out."
The White House says the initiative will rely on expanding the Federal Communications Commission's E-Rate program to give schools high-speed Internet and computer access. Officials estimate that over a limited period of time, ConnectED could cost an additional 40 cents per month, or $5 a year, on home phone bills.
The E-Rate program, launched in 1996, was supposed to offer high-speed Internet to schools and libraries for lower rates. But it has faced criticism for not delivering on its promise. A 2002 FCC Inspector General report cited the program's "inadequate competitive bidding requirements" and a lack of sanctions for schools and libraries found to be fraudulent. A Pro Publica analysis in 2012 concluded that "there is growing evidence that the program's crucial low-price requirement has been widely neglected by federal regulators and at least one telecom giant." The report found that 10 years after the program launched, AT&T was not teaching its employees to offer school districts these rates.
While many see potential in digital learning, school districts meanwhile face an almost Wild West of unregulated purchasing options in a new market. Digital learning initiatives are sometimes so unpalatable that Idaho's voters used a referendum on November's ballot to shut down the governor's one-to-one computer program for schools -- in part because it gave Hewlett-Packard a $180 million contract. On the other hand, Los Angeles is now developing a plan to put iPads into the hands of 600,000 students.
In addition to expanding access and keeping costs down, another goal of ConnectED, a White House official said, would be to keep better track of student data.
But moves to digitize student records have increasingly drawn concern from parents. inBloom Inc, a non-profit that runs a K-12 student database, has seen several states distance themselves from the project as parents protested what they considered its infringement on student privacy. Louisiana's education chief John White withdrew from the program in April, according to reports, and has said he no longer sees a need for the service.
Mooresville, where Obama will speak Thursday, may seem an unlikely site for education tourism. But since 2009, the small district has given laptops to students in the fourth grade and above to foster digital learning. The district has reported a climbing graduation rate, from 73 to 90 percent since 2007, and an increase in academic performance, with students proficient at their grade level increasing from 73 to 89 percent.
Mooresville's superintendent has said improvements came about not because of the laptops, but thanks to the instructional changes they heralded.
UPDATE June 6, 4:15 p.m.: The plan depends on the support of the FCC, and the agency's acting chairwoman Mignon Clyburn has offered an initial boost.

"The FCC has been taking a hard look at ways to further modernize the E-Rate program to bring robust broadband to schools and libraries, especially those in low income and rural communities," she said in a statement provided to HuffPost. "So I applaud the President for his bold vision. I look forward to working with my fellow Commissioners and the many stakeholders as we answer the President's call to modernize this vital program."
Before You Go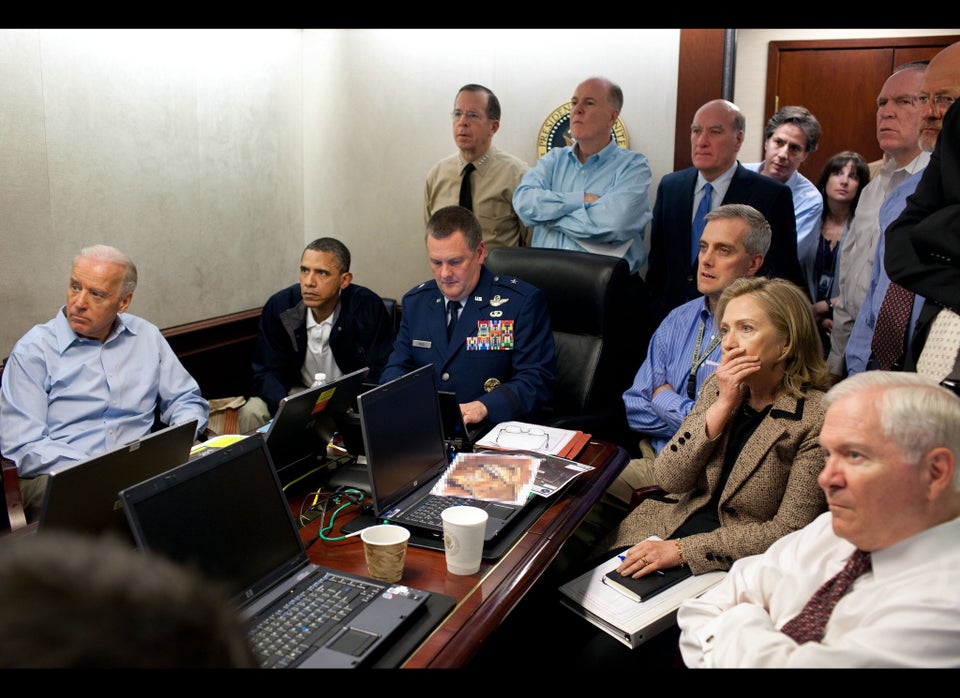 Most Iconic Photos Of Obama's First Term
Popular in the Community