WASHINGTON -- President Barack Obama became emotional on Friday addressing the shooting of students and teachers at Sandy Hook Elementary School in Newtown, Conn., earlier in the day and made a call for action to prevent such violence in the future.
"As a country we have been through this too many times. Whether it is an elementary school in Newtown, or a shopping mall in Oregon, or a temple in Wisconsin, or a movie theater in Aurora, or a street corner in Chicago -- these neighborhoods are our neighborhoods, and these children are our children," he said in a press briefing at the White House. "We're going to have to come together and take meaningful action to prevent more tragedies like this, regardless of the politics."
The suspected shooter in Newtown was originally identified by media outlets as Ryan Lanza, but an official later identified the suspected gunman as Adam Lanza, Ryan's 20-year-old brother, according to the Associated Press.
Obama shed tears while discussing those children, saying they "had their entire lives ahead of them, birthdays, graduations, weddings, kids of their own." He said he was also heartbroken for the parents of surviving children who were forced to live through the incident.
He said he and his wife, Michelle, would hug their two daughters even closer Friday evening and encouraged Americans to do what they could to help. "We've endured too many of these tragedies in the past few years, and each time I learn the news, I react not as a president but as anyone else would -- as a parent," he said.
"In the hard days to come, the community needs us to be at our best as Americans, and I will do everything in my power as president to help," he said. "Because while nothing can fill the space of a lost child or loved one, all of us can extend the hand to those in need, to remind them that we are there for them, that we are praying for them, that the love they felt for those they lost endures not just in their memories, but also in ours."
Obama ended his remarks with a quote from the Bible, as he often has in similar situations: "He heals the brokenhearted and binds up their wounds," a line from the Book of Psalms.
He delivered his remarks in the James S. Brady Press Briefing Room, which was named for former press secretary to President Ronald Reagan who was shot in an attempt on the then-president's life in 1981. He and his wife, Sarah, founded the Brady Center to Prevent Gun Violence and advocate for stricter gun control.
The White House announced shortly before Obama's remarks that flags will be flown at half-staff until Dec. 18.
He did not take questions after his briefing, and gave no details on the "action" he would pursue to prevent gun violence in the future.
Earlier in the day, White House Press Secretary Jay Carney told reporters it was not the day for a debate on gun control in an immediate reaction to the shooting.
"I think it's important, on a day like today, to view this -- as I know the president, as a father, does, and I, as a father, and others who are parents certainly do, which is to feel enormous sympathy for families that are affected and to do everything we can to support state and local law enforcement and support those who are enduring what appears to be a very tragic event," Carney said during the daily White House press briefing.
"There is, I am sure -- will be, rather -- a day for discussion of the usual Washington policy debates, but I do not think today is that day." Carney did say that Obama remains committed to renewing a ban on assault weapons.
The secretary noted that the president was first informed of the shooting by his counterterrorism adviser John Brennan, and will continue to be briefed throughout the day. The White House also confirmed that the president spoke with FBI Director Robert Mueller, as well as Connecticut Gov. Dan Malloy to extend his concern and condolences.
"I would rather not relay reactions at this point, because I don't have any confirmation to give to you about what exactly has happened there, or potential victims," Carney said, adding that the FBI is assisting both state and local law enforcement officials in Connecticut with response and investigation efforts. In light of the shooting, Carney also said he would keep the briefing free of the usual political debate in Washington.
It marks the third mass shooting in the United States in recent months, following the Aurora, Colo., theater massacre in July and the Wisconsin Sikh temple shooting in August. When asked by a reporter whether sufficient reflection had occurred since the shooting in Aurora, when Obama promised more action to combat gun violence, Carney reiterated that he did not think now was the time to discuss policy.
"I really encourage all of us to give a moment here to focus on what is an unfolding tragedy in Connecticut and not to engage in Washington policy battles of long running," Carney said. "We do that often and it's appropriate, and I'm sure the day for this will come, but today is not that day, in our mind. We're focused on what's happening in Connecticut."
At least five mass shootings have occurred since Obama took office in 2009. The president has been criticized for having made little progress on repeated pledges to make substantive reforms in gun control laws.
For more updates, follow The Huffington Post's live blog.
CORRECTION: A previous version of this story incorrectly quoted a portion of Obama's statement. It has been updated to reflect the full segment.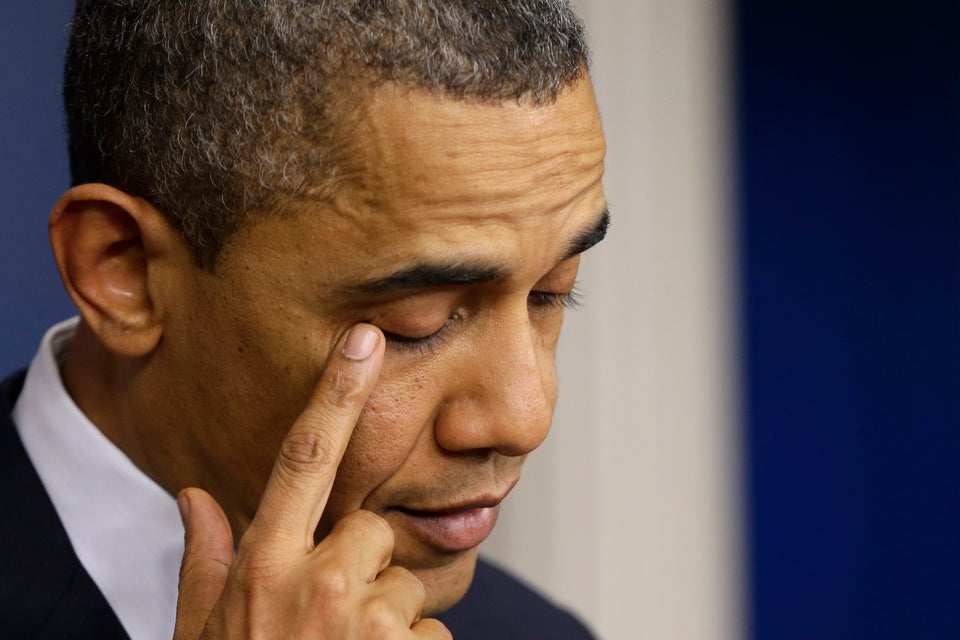 Five Years, 19 Mass Shootings, No Action