 WASHINGTON -- Daily tracking polls published over the weekend show President Barack Obama enjoying a modest boost in support following the Democratic party convention, though how long that polling "bounce" will last remains uncertain.
The latest results from two daily telephone tracking surveys conducted by Gallup and Rasmussen Reports show a very similar pattern. Both had found a roughly even race on interviews conducted in the month of August before the conventions, and both now show Obama leading Republican nominee Mitt Romney by similar margins (5 and 4 percentage points, respectively).
The latest Gallup Daily interviews spanned the full week, from September 2 to 8, with roughly half coming before the speeches by Presidents Clinton and Obama on Wednesday and Thursday nights. Rasmussen's recent interviews were conducted September 6 to 8, so two-thirds of their respondents were called after Obama's speech.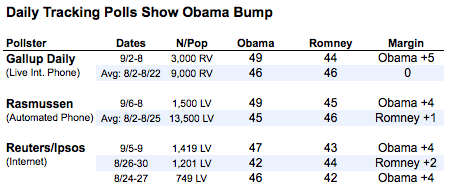 The Reuters/Ipsos Internet tracking survey, which like Gallup also spanned the full week from September 2 to 8, shows Obama leading Romney by a 4-point margin (47 to 43 percent). Ipsos had also shown Obama leading by a 4-point margin just before the Republican convention, though they showed Romney ahead by a 2 percentage points (44 to 42 percent) in interviews conducted during the Republican convention.
Comparing these results to the many other polls conducted before the conventions is challenging, since the Gallup and Rasmussen tracking surveys have typically produced results more favorable to Romney than most of the other national surveys. The HuffPost Pollster chart, which is designed to smooth out day-to-day statistical noise, currently shows a slightly narrower lead for Obama than it did in August, owing to the greater influence of the daily tracking polls.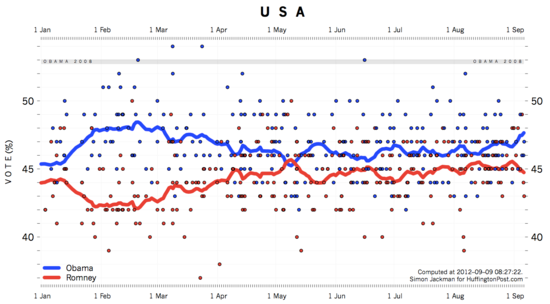 Both the Gallup and Rasmussen tracking surveys have also found boosts in Obama's job approval rating. As of Sunday, Gallup reported Obama's approval rating at 50 percent and Rasmussen put it at 52 percent, significantly higher than the average job approval ratings they reported in August (45 and 48 percent, respectively).
Historically, party conventions have produced a polling bounce for each party's candidate. While these changes are typically short-lived and offsetting, the net effect of the party conventions has sometimes produced big net shifts and lasting changes in vote preferences. For example, George H.W. Bush in 1988, Bill Clinton in 1992 and George W. Bush in 2004 all surged from behind during the convention period and went on to win the election. Many voters begin to pay attention to the campaign during the conventions, which helps explain why they produce big shifts in candidate preferences.
On Monday, Gallup also released results showing Americans reacting slightly more favorably to the Democratic convention than they did to the Republican convention a week earlier. More specifically, in interviews conducted over the weekend, Gallup found that 43 percent of Americans said the Democratic convention made them more likely to vote for Barack Obama, slightly higher than the 40 percent who had said a week earlier that the Republican convention made them more likely to support Romney.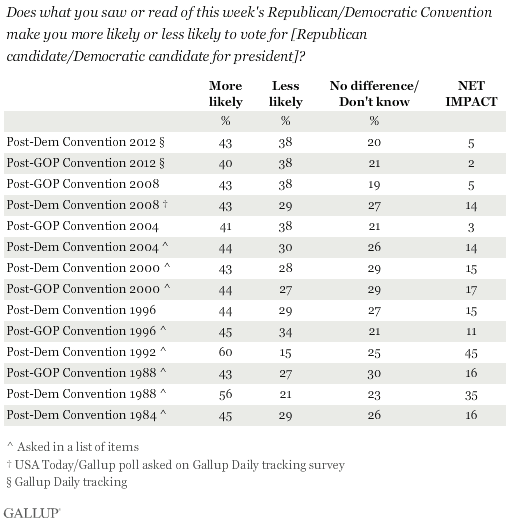 However, the results also suggest that the net impact of both conventions may be less than in years past. Gallup found 38 percent who said the Democratic convention made them less likely to support Obama, equal to those who said the same of Romney and the Republican gathering. These negative reactions were higher than for most previous conventions, especially those held prior to 2004. As such, the net impact of 2012 -- the positive reactions minus the negative reactions -- was "on the low-end of Gallup's historical comparisons."
Separately, Gallup also found that the number of Americans who said they watched at least some of the conventions this year -- 55 percent for the Democrats and 51 percent for the Republicans -- was down significantly from 2008 (from 60 and 71 percent, respectively).
Speculation has been swirling about the meaning of Obama's polling bump on the daily tracking polls, with some reading great significance into these initial shifts. It is worth remembering that most pollsters have opted not to interview during the party conventions precisely to avoid the fleeting bounces that they typically produce. Most will wait a few more days before attempting to gauge the effects of the conventions, and their next wave of national surveys will clarify whether the uptick in Obama's support will persist.
Before You Go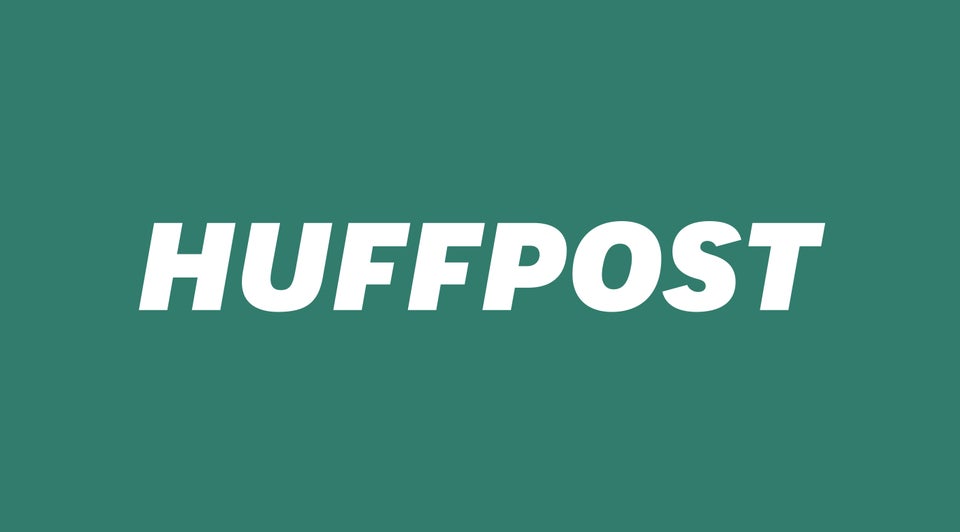 2012 Swing State Polls
Popular in the Community