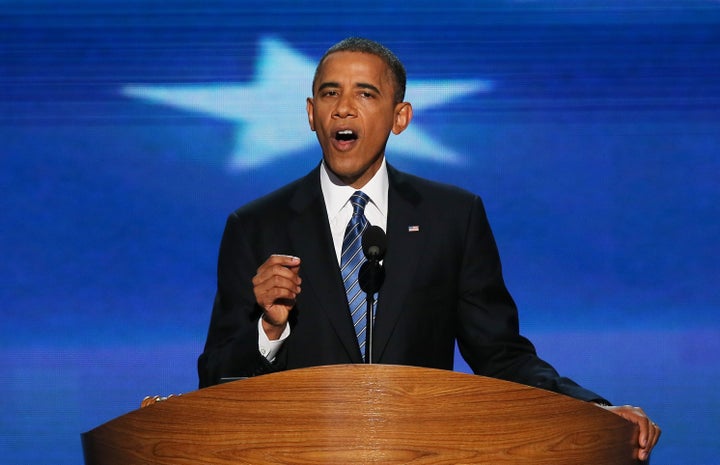 There were many reasons to be a proud Democrat this past week.
The video celebrating Teddy Kennedy's extraordinary career as the liberal lion, fighting for civil rights and health care. Brilliant speeches from Michelle Obama and Bill Clinton. Elizabeth Warren not mincing words, but calling out a rigged system that too often rewards cheaters. A newfound commitment to LGBTQ equality and an affirmation of our commitment to women's equality in every domain (as someone whose wife works at Planned Parenthood NYC, I thought the speeches by Cecile Richards and Sandra Fluke were especially strong).
President Obama's stirring evocation of citizenship, "a word at the very heart of our founding, at the very essence of our democracy, the idea that this country only works when we accept certain obligations to one another and to future generations."
As someone who has pushed in the past for Democrats to hold true to our core values, to stand up strong for opportunity, equality, and inclusion, I thought it was great to see our party willing to embrace its "base," which is, after all, just a word for the everyday Americans who make up the party.
Here's one more reason: Cities.
Democrats embrace and invest in cities. We recognize and value them as places of extraordinary vitality, where jobs are created, where diversity and tolerance are fostered, where immigrants are welcomed, and where those "obligations to one another" are addressed.
You could see it on display Tuesday night in speeches from Mayors Cory Booker (Newark), Rahm Emanuel (Chicago), and especially Julian Castro (San Antonio). You can see it in the Democratic platform as well, which recommits to creating livable cities, with investments in mass transit and bike and pedestrian infrastructure. The party believes in funding community development, job training, and affordable housing (as you might expect from a president who got his start "helping people in the shadow of a shuttered steel mill"). The Republican platform sees things differently, criticizing Democrats for pursuing "an exclusively urban vision of dense housing and government transit."
And you can see the Democratic commitment on the ground -- in the projects funded with stimulus dollars that continue to refurbish our parks, public transit, roads and bridges (including the Brooklyn Bridge, one of the great symbols of American cities). When cities were reeling from budget woes they didn't cause, federal dollars kept our teachers, police, and trash collectors on the job.
Of course, there is much more to do, if we really want to follow through on our commitment to cities. Over the next four years, I would like to see a visionary investment in our public realm and our economy. Economists across the political spectrum agree that direct investments in infrastructure are the best way for the government to create jobs, especially now with interest rates at historic lows. Like a New Deal for the 21st Century, we can build schools, parks, libraries, public housing, and mass transit, while tackling high unemployment across the country (in NYC, it is still above 10 percent).
So, if you love cities, if you see them as the places where -- at least in large measure -- the promise of America, the ideal of citizenship highlighted by the president, can be fulfilled... you have one more reason to get busy over the next two months and to keep pushing for real change for our country over the next four years.
Calling all HuffPost superfans!
Sign up for membership to become a founding member and help shape HuffPost's next chapter