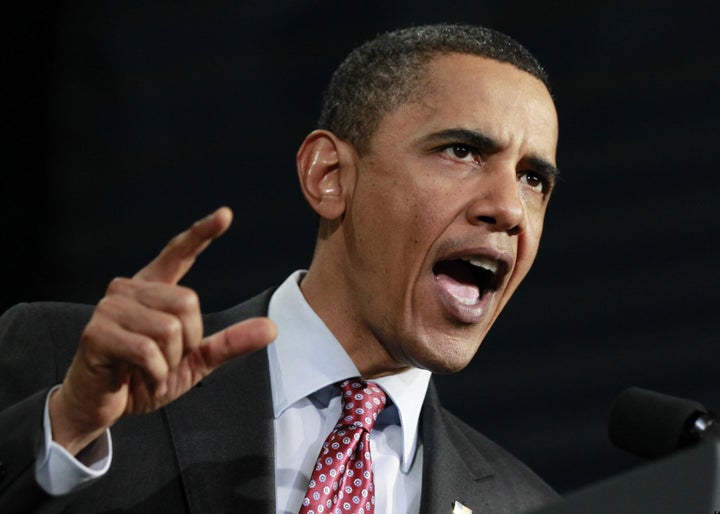 With Goldman Sachs's top leaders in attendance, President Barack Obama urged financial executives to work with him in passing the financial reform bill currently pending in the Senate.
"Ultimately, there is no dividing line between Main Street and Wall Street. We rise or we fall together as one nation. So I urge you to join me -- to join those who are seeking to pass these commonsense reforms," according to Obama's prepared remarks for a speech in New York City. "And I urge you to do so not only because it is in the interests of your industry, but because it is in the interests of our country."
Obama's call for a more cooperative relationship stands in sharp contrast to another presidential address to financial executives in New York a few years removed from a financial crisis.
"We had to struggle with the old enemies of peace -- business and financial monopoly, speculation, reckless banking, class antagonism, sectionalism, war profiteering," Franklin Delano Roosevelt said in a 1936 speech. "They had begun to consider the Government of the United States as a mere appendage to their own affairs. We know now that Government by organized money is just as dangerous as Government by organized mob. Never before in all our history have these forces been so united against one candidate as they stand today.
"They are unanimous in their hate for me -- and I welcome their hatred."
In his speech today, Obama tried to bolster support for the legislation pending in the U.S. Senate. Authored by Senate Banking Committee Chairman Christopher Dodd (D-Conn.), it's got the Democratic leadership and the full support of the Democratic machine. Party leadership is trying to push it for a vote as soon as possible, and get it on the president's desk by the summer. Republicans are fighting back, trying to delay passage while elements of the bill are massaged. Reformers in the Senate and others are pushing back for a different reason -- the bill doesn't go far enough.
Regional Federal Reserve bank presidents from Philadelphia to Kansas City argue the bill doesn't really end Too Big To Fail, and still leaves too much discretion to politicians to save failing firms the next time a crisis comes -- which will surely come again, experts agree. If the bill doesn't end that, then it will be for naught, some say. Nobel Prize winning economists say the bill doesn't go far enough on taking out the excessive risk that still hangs over the financial system. Others argue the bill doesn't rein in megabanks far enough -- the bill doesn't force them to shrink, nor does it compel financial actors from reducing their interconnectedness. If anything, experts say, the bill allows megabanks to continue to dominate the market.
But those criticisms weren't heard Thursday afternoon at Cooper Union. Instead, Obama praised the bill, arguing that if it's not passed, the country will have failed to learn the lessons from this most recent disaster.
"[I]t is essential that we learn the lessons of this crisis, so we don't doom ourselves to repeat it. And make no mistake, that is exactly what will happen if we allow this moment to pass - an outcome that is unacceptable to me and to the American people," Obama said in his prepared remarks.
"Unless your business model depends on bilking people, there is little to fear from these new rules," the president added.
Seated before Obama were top New York officials like Attorney General Andrew Cuomo, Governor David Patterson, New York City Mayor Michael Bloomberg and state banking supervisor Richard Neiman. Al Sharpton was there, as was Rep. Carolyn B. Maloney, a New York Congresswoman. So was former Federal Reserve Chairman Paul Volcker, who was seated in a front row.
Also in front rows were top labor leaders like Andy Stern and Anna Burger of the Service Employees International Union, and AFL-CIO President Richard Trumka. Arthur Levitt, former chairman of the Securities and Exchange Commission, was also in a front row.
Robert E. Diamond, Jr., president of Barclays Plc, the firm that absorbed much of failed investment bank Lehman Brothers, was seated in a front row. Behind him was famed investor Jim Chanos, the man who exposed the shenanigans at Enron and a Wall Streeter arguing for fundamental reform. Behind the two of them, seated in a third row, were the two top officials at Goldman Sachs: Lloyd C. Blankfein, chairman and CEO, and Gary D. Cohn, president and chief operating officer.
Facing an SEC lawsuit accusing the firm of defrauding investors -- and challenging the firm's claim of putting clients first -- the two were pleasant when approached by the Huffington Post.
"I think it's very simple," Cohn said when asked why he was in attendance. "The president invited us."
Blankfein added, "The president is talking about financial reform in New York City. Unless we had to be somewhere else, of course we'd be here."
Asked if the SEC charge played into his decision to attend, Blankfein smiled, saying, "I gave you my answer."
The speech Blankfein and Cohn heard, though, was less a criticism of Wall Street than a political challenge to Obama's opponents.
"But what is not legitimate is to suggest that we're enabling or encouraging future taxpayer bailouts, as some have claimed. That may make for a good sound bite, but it's not factually accurate," Obama said in a veiled criticism of Republican claims that Dodd's bill would lead to endless government bailouts. "A vote for reform is a vote to put a stop to taxpayer-funded bailouts. That's the truth.
"I have laid out a set of Wall Street reforms," Obama added. "These are reforms that would put an end to taxpayer bailouts."
Leading Federal Reserve officials say the bill doesn't go far enough to end Too Big To Fail.
Obama also praised a provision under consideration that would prevent banks from trading with their own money, popularly referred to as the Volcker Rule.
"And these changes have the added benefit of creating incentives within the industry to ensure that no one company can ever threaten to bring down the whole economy. To that end, the bill would also enact what's known as the Volcker Rule: which places some limits on the size of banks and the kinds of risks that banking institutions can take," Obama said.
The Volcker Rule, while in the bill, isn't really enacted in full. The bill instead calls for a study to be conducted on the rule, after which regulators would implement some version of it. It could end up being toothless.
Also, the bill doesn't force megabanks to break up, nor does it explicitly place any caps on size.
Related
Popular in the Community