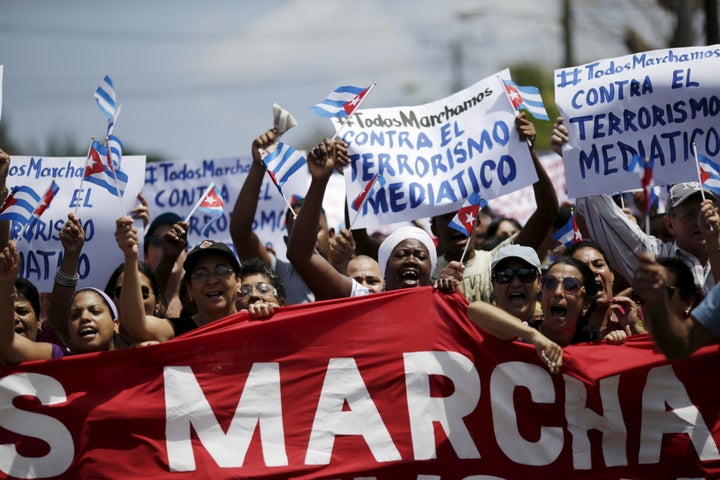 HAVANA -- Shortly before President Barack Obama became the first U.S. head of state to set foot on Cuban soil in nearly nine decades, police here detained several dozen civil rights activists during a peaceful march Sunday, after government supporters accused them of acting as U.S.-paid mercenaries.
The activists, who are aligned with the Ladies in White, a group originally formed in 2003 to protest the jailing of government opponents, are regularly detained. But the episode just hours before Obama's landing highlighted the nagging issue of Cuba's heavy-handed policies toward political opponents, who have in turn been praised by the White House.
Critics in the Republican Party, particularly those from the Cuban-American community of South Florida, have cited Cuba's repeated detention of opposition activists as evidence that Obama's policy of reengaging the Castro government is premature.
The activists carried one sign reading "Obama, traveling to Cuba isn't fun, No more human rights violations," a reference to a February comment from the president that visiting the country would "be fun."
At least one of the detained activists, Antonio Rodiles, said he had been invited to meet with Obama Tuesday at an event for civil society leaders. Another activist who was invited to meet with Obama, Elizardo Sánchez of the Cuban National Commission on Human Rights and Reconciliation, was detained at the airport by security forces Saturday for an unrelated event, according to Human Rights Watch. Others say they were told by police to stay in their homes over the course of Obama's visit.
"You only have human rights when you belong to groups affiliated with the government," Rodiles said in an interview ahead of the march.
The Cuban government has for years maintained that the Ladies in White and other opposition groups are paid creations of the United States launched as part of a strategy to unseat the Communist government.
But the traditional line, repeated Sunday by several government supporters, seemed increasingly contradictory at a time when the head of Cuba himself was meeting personally with the president of the United States.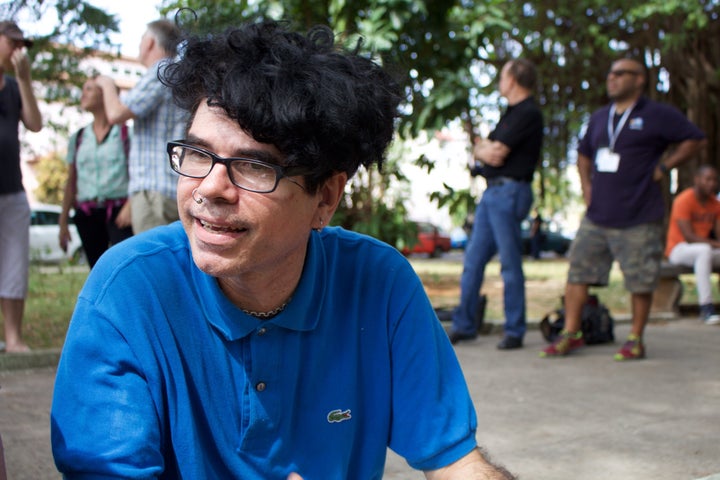 Another activist, Gorki Aguila, the frontman of the punk band Porno Para Ricardo, known for its irreverent jabs at the Castros, said the harsh reaction from security forces illustrated the government's authoritarianism.
"Why are they always trying to snuff out a peaceful march?" Aguila said in an interview with The WorldPost. "They always say, 'This is a small march. Nobody cares that you're doing this.' Ok, so if it's so small, why are you repressing it?"
After detaining some 50 people, according to Reuters, swarms of pro-government protesters took to the streets for a counter march, insisting that they were more numerous than the Ladies in White. Hundreds of government supporters, who opposition activists said had been brought in by buses lined up along nearby streets, set up a barbecue, handed out soft drinks and danced to a live salsa band that played on a stage set up for the occasion as they belted out pro-revolutionary slogans.
The Castro government has, in turned, bristled at criticism from the U.S., with state media often highlighting police shootings of black Americans and invasions in the Middle East, as well as accusing the American government of blackening Cuba's name through "media terrorism."
"The Ladies in White to me are mercenaries," Gilbert Rodiles, a 76-year-old former Lt. Colonel in the Cuban military, told WorldPost. He speculated that the CIA might fund the group, even as he praised Obama's historic visit.
Read more:
Support HuffPost
The Stakes Have Never Been Higher
Related
Before You Go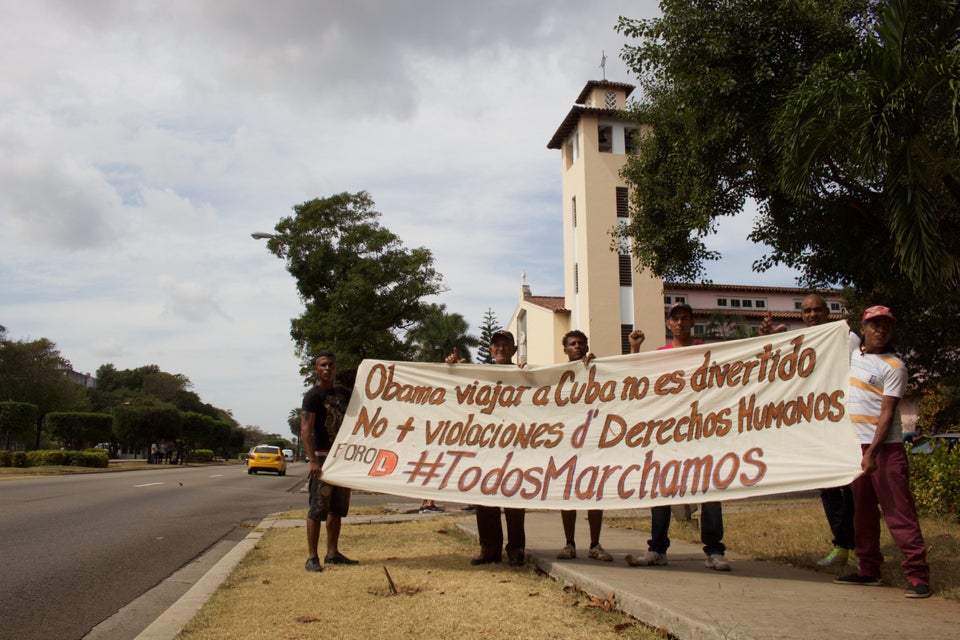 Cubans Protest During Obama Visit
Popular in the Community