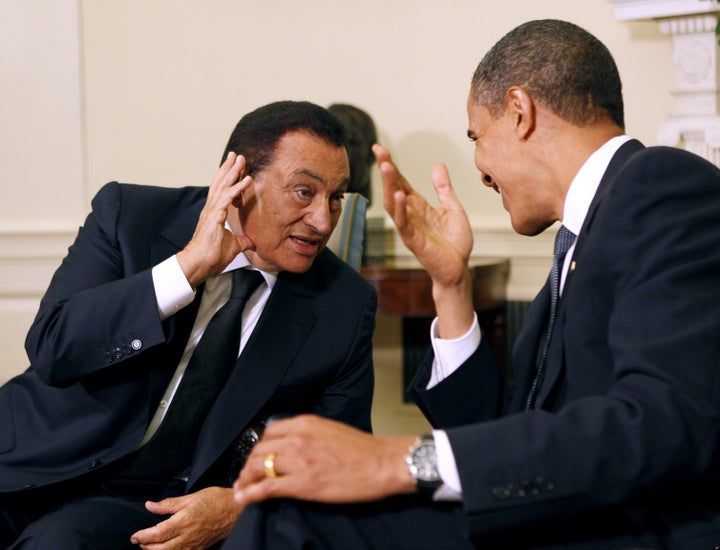 NEW YORK -- President Obama's historic speech at Cairo University galvanized millions of people across the Arab world with its inspiring message of peace and brotherhood among Muslims. And his stirring endorsement of democracy gave hope to many Egyptians that his words would ring in a new era, helping pressure their own government to hold free and fair elections and to adhere to the rule of law.
But when it comes to backing up the president's rhetoric since that speech in June 2009, the administration has a decidedly mixed record and has disappointed many Egyptians, foreign policy experts tell The Huffington Post. Though Secretary of State Hillary Clinton has championed human rights around the world and American diplomats have quietly encouraged political and legal reforms in Egypt, when it comes to promoting democracy in the riot-torn country, efforts have generally been less aggressive than the Bush administration's. On Friday, amidst violent protests, longtime leader Hosni Mubarak announced the resignation of Egypt's government.
In its first year, the Obama administration cut funding for democracy and governance programming in Egypt by more than half, from $50 million in 2008 to $20 million in 2009 (Congress later appropriated another $5 million). The level of funding for civil society programs and non-governmental organizations (NGOs) was cut disproportionately, from $32 million to only $7 million. Though funding levels for 2010 are not yet available, they are expected to show an increase to $14 million, says Stephen McInerny, the director of advocacy at the Project on Middle East Democracy. He notes that the Bush administration slashed economic aid to Egypt in the 2009 budget but kept the funding for democracy and governance programs constant, while Obama cut funding to those programs in an effort to make the cuts more proportional and under pressure from the American embassy in Cairo.
The White House and the State Department did not return emails for comment.
In addition, the administration limited funding only to NGOs registered with the Egyptian government, oversees such groups broadly and can dissolve them for violations like receiving foreign funding. Most human rights groups are not registered with the government, according to an Egyptian academic interviewed by the U.S. Embassy. The widely-criticized change,taken in the wake of intense pressure from Egyptian officials for the U.S. to stop funding non-registered groups, reversed a Bush-era policy of funding all NGOs and civil society programs.
"The speech in Cairo raised expectations a lot that a new era was near with sustained support for human rights and dignity" said Bruce K. Rutherford, the author of "Egypt After Mubarak: Liberalism, Islam and Democracy." "The administration chose not to follow through on thatfor a variety of reasons, cutting the support for civil society programs in half, etc. There was the perception that he did the opposite of what he said he would do and there is anger anddisillusionment at the U.S. and Obama in general among almost everyone I talk to in Egypt."
The new administration limited funding to human rights groups in an effort to repair its relationship with the Egyptian government, which was damaged during the Bush years, says McInerny. "There was a real priority to improve relations in the area after the tumult of theprevious eight years."
Former U.S. Ambassador to Egypt Nicholas Veliotes agreed with that assessment, noting that the failure of Bush's public pressure campaign was most evident in a State of the Union speech during which the former president explicitly called out Mubarak. "That backfired completely -- the only thing that Mubarak could do under those circumstances was to hunker down. If he did cave and do the right thing, he'd be accused of doing it for the wrong reasons," he said.
But the new administration started off on the wrong foot, says McInerny. "One of the big mistakes was adopting this policy of USAID (U.S. Agency for International Development) funding only going to organizations that were registered," he says. "Privately, the administration realizes that but they still have that policy." McInerny feels that the administration improved its policy on such issues in its second year. "They sent some really bad signals the first year and since then they've realized their mistakes and are doing a much better job on civil society issues."
The administration emphasized establishing warmer ties with Egypt to avoid the public "name and shame" tactics of Bush, while urging political reforms in private, according to diplomatic cables posted by WikiLeaks on Friday.
American efforts to promote democracy are viewed skeptically by Mubarak, the U.S. Embassy in Cairol told Clinton in a cable shortly before the Egyptian leader's visit to Washington in May 2009.
"We have heard him lament the results of earlier U.S. efforts to encourage reform in the Islamic world," says the cable. "He can harken back to the Shah of Iran: the U.S. encouraged him to accept reforms, only to watch the country fall into the hands of revolutionary religious extremists. Wherever he has seen these U.S. efforts, he can point to the chaos and loss of stability that ensued."
Former diplomats contacted by Huffington Post felt that the current administration is doing its best under difficult circumstances. They noted that Egypt is of vital importance and has been instrumental as a U.S. ally in the region on Israel-Palestinian issues, the Iraq War andcontaining Iranian ambitions. "It is the largest culturally important Arab country and our number one political ally in the region," said David Mack, the former Deputy Assistant Secretary of State for Near East Affairs from 1990 to 1993. "Egyptians have always been there and they are essential to US strategic concerns -- you deal with reality and you don't necessarily have the choice of who it is that you're talking to."
As for democracy and human rights, Mack says it's a matter of tactics, since the American position has always been clear. "Bush was very public in his human rights agenda, and he embraced this with regard to Egypt, and I don't fault Obama for trying to deal with this differently," he said. Calling it a difficult balance between regional stability and promoting democracy, Mack criticized those "who say we have to be absolutely consistent from country to country -- as they say, consistency is the hobgoblin of inferior minds."
The State Department's mission is not just the promotion of human rights but in protecting American interests, says Veliotes. "One of which is democracy, but that is by no means the only one -- they're also concerned about regional stability." Veliotes emphasizes that the current turmoil in Egypt is a complicated situation, recalling that when he served as ambassador from 1983 to 1986, Mubarak represented a hopeful future, holding free parliamentary elections and freeing many prisoners (one of whom, Muslim Brotherhood leader Ayman al-Zawahiri, went on to become the number-two in al-Qaeda). At the time, he says Mubarak told him that he only wanted to serve two terms. "Obviously things have changed a lot but you can't push too hard or you'll just piss them off. I happen to believe that Clinton and Obama are handling this as well as they can."
Egyptian-American Aladdin Elaasar, who says he has not been able to contact his sister in Cairo in recent days due to phone outages and the government's Internet shutdown, was much more critical of the White House for failing to "see the writing on the wall."
The author of "The Last Pharaoh: Mubarak and the Uncertain Future of Egypt in the Obama Age," Elaasar says that Obama's policy on the country is worse than Bush's. "At least Bush talked about the whole Middle East, winning hearts and minds. When Obama came and chose to deliver that speech in Cairo, that was great, but it sent a mixed message. They saw him shaking hands with Mubarak -- he talked about democracy and all that, but nothing has happened," he said, pointing out the country's huge youth population that remains alienated and often unemployed.
The cables also reveal new details about Egypt's judicial system and their government's defensiveness when questioned by American diplomats. When an embassy staffer asked top Egyptian security official General Abdel Rahman about police brutality and prison conditions, Rahman asserted that the Interior Ministry State Security (SSIS) "has not abused prisoners 'in the past ten years' and claimed "there are no problems with prison conditions."
Elsewhere, the cables upend that claim with widespread citations of abuse, including police officers assaulting and sodomizing prisoners. One of the cables describes the arrest of a government clerk for writing poetry that insulted Mubarak -- he was sentenced to three years in prison. One human rights activist said "unrelenting pressure" on police officers led to a climate where "to conduct murder investigations, police will round up 40 to 50 suspects from a neighborhood and hang them by their arms from the ceiling for weeks until someone confesses."
Often, Egyptian officials mocked U.S. pressure on human rights. Rahman complained that "communists and extremists" dominated the NGOs and human rights organizations. One ministry official "wondered whether the U.S. was under 'external pressure' to be more 'hawkish' on human rights in Egypt or whether the U.S. intervention was 'retribution' for U.S.-Egyptian differences over procedure" during the Israeli peace process, according to a cable sent in February 2009.
In meetings with Egyptian security officials in early 2009, Assistant Secretary of State for Human Rights and Labor Michael Posner "stressed that U.S. human rights policy is based on principled engagement, universal standards and a recognition that reform will come from internal actors." To demonstrate the new administration's commitment to human rights, Posner cited President Obama's announcement "on his second day in office to close Guantanamo."
Popular in the Community