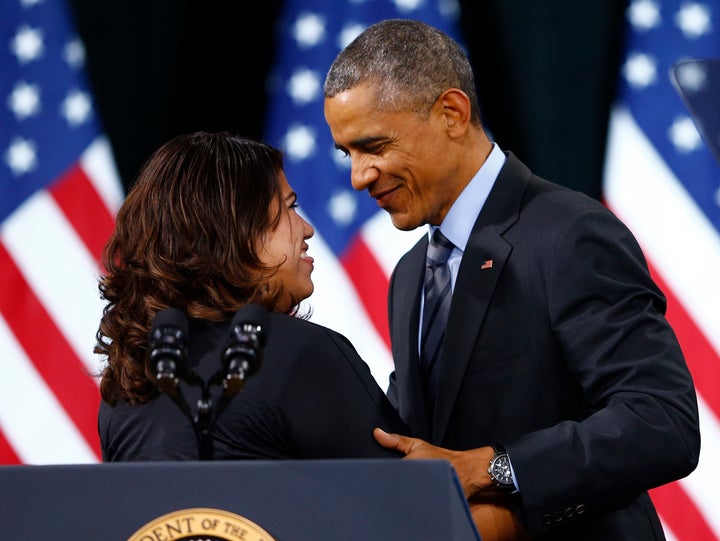 This piece is part of a series on Obama's legacy that The Huffington Post will be publishing over the next week.
WASHINGTON ― President Barack Obama's biggest policy change on immigration helped hundreds of thousands of undocumented young people who came to the U.S. as children stay here. But their fate will now be cast to the incoming Trump administration, unless Obama takes action in his final days to try to make the protection more permanent.
The Deferred Action for Childhood Arrivals program, or DACA, could cement Obama's legacy as an ally to undocumented immigrants. Or it may remember him as the president who promised safety to vulnerable people he urged to give personal information to the government, only to be succeeded by a president who made deporting undocumented immigrants the touchstone of his campaign.  
Obama's legacy on immigration is complicated. He oversaw more than 2 million deportations, a record number. His 2013 attempt to pass immigration reform in Congress failed, as did his 2014 attempt to provide relief to millions of undocumented immigrants through executive action.
Before DACA I think I was just in a holding period.

Hina Naveed
DACA was always vulnerable because it wasn't legislation passed by Congress. Obama fashioned the program using executive action, after multiple failed attempts at passing the Dream Act, a bill granting the same group of undocumented immigrants a path to citizenship. Obama said many times that he was limited in what he could do without congressional approval.
"We are doing everything we can administratively," he said at a roundtable in 2011. "And I think there's been a great disservice done to the cause of getting the Dream Act passed and getting comprehensive immigration passed by perpetrating the notion that somehow, by myself, I can go and do these things. It's just not true." 
Dreamers maintained pressure on the administration. They came out as undocumented to friends and family. They organized protests and appeared in news reports wearing graduation caps and talking about aspirations of joining the military or attending college.
Hina Naveed, co-director of the Dreamer advocacy group DRM Action, said the Dreamers deserve much of the credit for the president's action.
"DACA is more of a reflection on the communities and the Dreamers and the youth that organized and pushed for it," Naveed said. "President Obama followed through with it."
Naveed, 26, was granted a two-year DACA permit in 2013. She was 10 when her family came to the U.S. to seek medical treatment for her older sister. Her relatives overstayed their visas to continue the treatment, leaving Naveed undocumented and unable to work legally or even get a driver's license. After DACA, she was able to go to nursing school and became a registered nurse.
She said she doesn't regret applying for the program, even though she now faces an incoming president who may end it. "I was able to finally have a sense of relief," she said. "Before DACA, I think I was just in a holding period."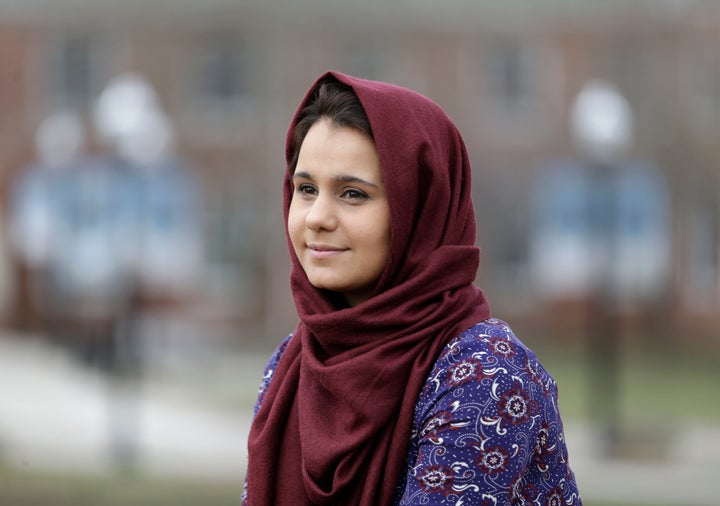 Donald Trump hasn't backed away from his campaign promise to end DACA, but said last month he would "work something out" for Dreamers. Immigration advocates are turning up the pressure on Obama make protections for Dreamers more permanent before leaving office.
"He's got to do something for them other than to simply say, 'Oh, I talked to the president-elect and told him it would be an unwise idea,'" Rep. Luis Gutierrez (D-Ill.), one of the House's most strident advocates for immigration reform, told HuffPost last month. "Do more. Gather them together. Use the bully pulpit to show who they are. Call them together. Do more. He's not doing enough."
The White House has insisted that Obama has done what he can, and rejected pleas that he grant pardons to all DACA recipients that would shield them from prosecution for the offense of unlawful presence in the U.S.
"Ultimately it wouldn't protect a single soul from deportation," Cecilia Muñoz, director of the White House Domestic Policy Council, said on a Center for Migration Studies podcast in late November. "I know people are hoping for an answer, but by its very nature, the use of executive authority in this way is subject to the will of the executive."
Homeland Security Secretary Jeh Johnson told Democrats in December he shares their concern that information Dreamers provided for DACA may be used for deportation, and urged the incoming administration to respect the privacy promise. But the fate of DACA, said Johnson and other Obama administration officials, will be in Trump's hands.
"When it comes to what he will do after Jan. 20th, even the current president of the United States is not sure exactly what the incoming president may decide to do," White House press secretary Josh Earnest said this month.
Naveed said Obama should be judged on what he has done ― not by whatever happens to DACA under Trump. "Yes, 700,000 of us have work authorization and are living a better quality of life and have been able to live normal lives for the last three years," Naveed said. "But over the last eight years, 2 million people have been deported. I think that's his legacy, too."
Dreamers' best hope could be Congress ― though many Republicans have repeatedly voted to end DACA. A bipartisan group of senators proposed a bill that would maintain protections and work authorization for current DACA recipients and others who are eligible for the program. But that bill doesn't provide them permanent protections.
"This is an awful choice for many of these young people. They're desperate to be part of America's future and they're being offered temporary responses," Sen. Dick Durbin (D-Ill.), the bill's co-sponsor, said in December. "But the alternative is disastrous, and that is to say you lose your work permit, you're subject to deportation, and information which you filed could be used against you."
Calling all HuffPost superfans!
Sign up for membership to become a founding member and help shape HuffPost's next chapter
BEFORE YOU GO
PHOTO GALLERY
How Donald Trump Talks About Undocumented Immigrants