"There has been a vicious, despicable, and calculated attack on law enforcement," he said. "Police were doing their jobs, keeping people safe during a protest."
The president said the shooting highlights the need for a new debate on gun control laws.
"When people are armed with powerful weapons, unfortunately, it makes attacks like these more deadly and more tragic," he said. "So, we're gonna have to consider these realities as well."
At least five officers were killed and seven more injured after snipers opened fire in an ambush-style attack on a protest over police brutality in downtown Dallas. Obama received word of the news of the attack while in Warsaw, Poland for a meeting with NATO officials. This is the third shooting he's had to address this week following the deaths of two African American men at the hands of police officers in Baton Rouge, Louisiana, and St. Paul, Minnesota.
Obama said that while there's reason to be concerned about racial inequality, Americans must also respect and honor law enforcement.
He spoke with Dallas Mayor Mike Rawlings and told him the federal government would provide any assistance needed.
"I think I speak for every single American when I say that we are horrified," he said.
Democrats staged a 25-hours-long sit-in on the House floor last month to protest the lack of progress on gun control. After weeks of more stalling from House Republicans, Democrats again took to the chamber floor on Thursday, holding the photos of gun violence victims and demanding a meaningful debate. Their requests were repeatedly rejected.
READ MORE ON THE DALLAS POLICE MASSACRE
At Least 5 Police Officers Killed By Snipers During Dallas Protest
What We Know About The Police Officers Slain In The Dallas Sniper Attack
Mark Hughes, Man Incorrectly Identified As Dallas Shooting Suspect, Speaks Out
Tyrese Gibson Calls On A 'Good' Cop To Talk About The Latest Violence
CORRECTION: An earlier version of this article misstated Dallas Mayor Mike Rawlings' first name.
Support HuffPost
The Stakes Have Never Been Higher
Before You Go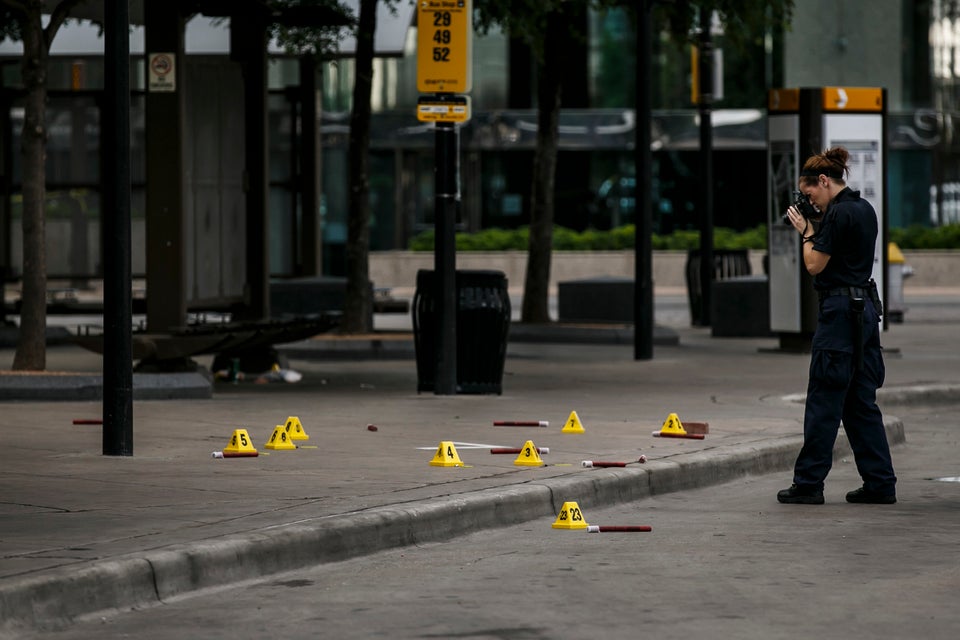 5 Officers Killed By Sniper Attack During Dallas Protest
Popular in the Community