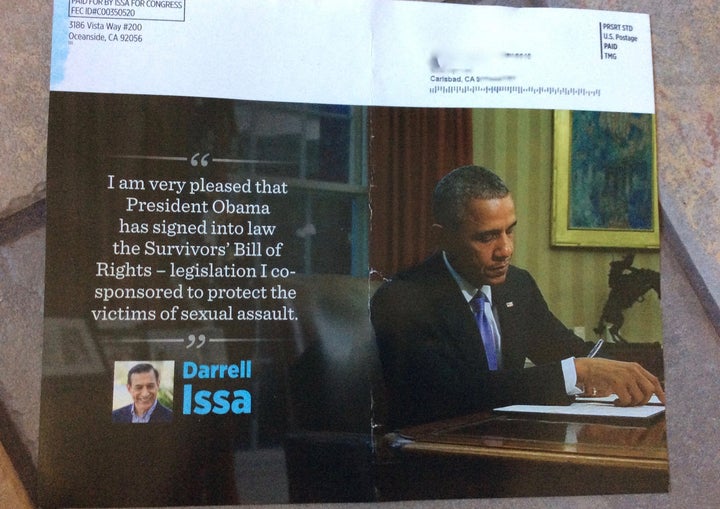 WASHINGTON ― President Barack Obama called Rep. Darrell Issa "shameless" on Sunday night, hitting the endangered Republican for referencing an alliance with him in a campaign mailer.
The mailer, which was first reported by The Huffington Post, shows a picture of Obama signing a bill that Issa co-sponsored. On top of the photo is a quote from Issa, saying he was "very pleased" the president signed legislation that established a bill of rights for survivors of sexual assault. It's a dramatic turnaround for the congressman, who rose to national fame as the administration's antagonist.
During a Democratic Congressional Campaign Committee event held next door to Issa's California district Sunday night, Obama tore into the incumbent for wasting taxpayer money on "trumped-up investigations that have led nowhere" and obstructing the administration at every turn. 
"And this is now a guy who, because poll numbers are bad, has sent out brochures with my picture on them touting his cooperation on issues with me," Obama said to laughter, according to remarks provided by the White House.
"Now, that is the definition of chutzpah," he continued. "Here's a guy who called my administration perhaps the most corrupt in history ― despite the fact that actually we have not had a major scandal in my administration."
Issa's adversarial stance with the administration, and contribution to furthering birtherism, are why Trump became the Republican nominee, Obama said.
"I think somebody called Darrell Issa ― was this you, Doug, who said Darrell Issa was Trump before Trump?" Obama said, referring to Issa's challenger retired Marine Col. Doug Applegate. "And now he's sending out brochures touting his cooperation with me. Now, that is shameless."
In fact, in the HuffPost story last week that touched on the mailer, Applegate's campaign spokesman, Robert Dempsey, had compared Issa to Trump.
Issa hit back on the president Monday, faulting Obama for the death of Americans abroad and at home. 
"I've worked with the administration on good legislation where it was possible, and called out wrongdoing wherever I saw it, and will continue to do so," Issa said in a statement.
Applegate's long-shot bid against Issa caught the Democratic Party's attention when he came within 5.3 percentage points of Issa in California's free-for-all primary. The race rating was changed to "toss-up" by the Cook Political Report ― a nonpartisan newsletter tracking elections ― earlier this month, a sign that Issa's re-election is in doubt. If Democrats do manage to take back the House or make a significant dent in Republicans' majority, it will happen because of races like Issa's.
HUFFPOST READERS: What's happening in your state or district? The Huffington Post wants to know about all the campaign ads, mailers, robocalls, candidate appearances and other interesting campaign news happening by you. Email any tips, videos, audio files or photos to scoops@huffingtonpost.com.
REAL LIFE. REAL NEWS. REAL VOICES.
Help us tell more of the stories that matter from voices that too often remain unheard.
BEFORE YOU GO
PHOTO GALLERY
Scenes From 114th Congress And Capitol Hill