WASHINGTON -- Senate Majority Leader Harry Reid (D-Nev.) has been signaling he may pick a fight on filibuster reform this summer, and a major litmus test will be whether Republicans block a handful of President Barack Obama's key nominees in the coming weeks. But for now, Republicans can't even agree on how to proceed.
The president on Tuesday nominated Patricia Millett, Nina Pillard and Robert Wilkins for three vacancies on the D.C. Circuit Court of Appeals, considered the second most important court in the country after the Supreme Court. Obama was unusually aggressive in his announcement; in addition to simultaneously putting all three nominees forward, he blasted Republicans for their "unprecedented" obstruction of prior nominees and urged them to give his latest picks a vote.
"What I am doing today is my job," Obama said. "I need the Senate to do its job."
HuffPost talked to nearly a dozen Republican senators to get their reactions, and they were all over the map. Some are holding firm in their argument that the court just isn't busy enough to warrant filling its three vacancies.
"You don't need any more in that circuit. It's the most underworked circuit in the country," said a visibly agitated Sen. Tom Coburn (R-Okla.). "I think we're playing politics."
"We all know that the D.C. court has too many judges on it. It's not a busy court," said Sen. Roy Blunt (R-Mo.). "I would think that the president is ill-advised to just immediately try to look for one other opportunity to establish confrontation, unless he's just trying to change the subject."
Sen. Lamar Alexander (R-Tenn.) fumed at Obama for creating a sense of urgency behind the three nominees and, more broadly, for criticizing Republicans for obstruction. He said his party has confirmed 19 of Obama's judges so far this year, compared to the four judges that Democrats had confirmed for President George W. Bush by this point in his second term.
"When you win an election, particularly when you win a second election, you should stop campaigning and start governing," Alexander said. "This business of threatening the Congress and inventing a crisis is unpresidential, unproductive and embarrassing for him to act that way."
Other Republicans were far less interested in waging war over the D.C. Circuit nominees.
"I've always thought that judges should get votes. Elections have consequences," said Sen. John McCain (R-Ariz.). "He wants to obviously get his nominees to the second most important court in America."
"I've been pretty good on voting for judges if I think they're qualified and not ideologues," said Sen. Lindsey Graham (R-S.C.). "Some of my colleagues feel that the D.C. Circuit is sort of overdone. I haven't made my mind up yet."
"I don't have any opinion," Sen. Mike Enzi (R-Wyo.) said as he walked away.
None of the Republican senators said flat-out that they were prepared to block any of the D.C. Circuit nominees, but some stayed vague when asked about the prospect of doing so.
"I'm not going to comment right now on what exactly I'm going to do," said Sen. Mike Lee (R-Utah), who is currently pushing a bill that would reallocate the vacant slots on the D.C. Circuit to other federal appellate courts.
"My concern is that every slot on this circuit does not need to be filled," said Sen. Jeff Sessions (R-Ala.), a member of the Senate Judiciary Committee. "I'll continue to look at the caseload and see where we are."
To be sure, in addition to the president having a constitutional requirement to fill court vacancies, there are plenty of people arguing that the 11-member D.C. Circuit needs all of its current vacancies filled. The court is tasked with particularly complex and time-consuming cases relating to air and water regulations, nuclear plant safety, health care reform and insider trading.
Patricia M. Wald, a retired judge who served on the court for 20 years, highlighted the court's unique caseload in a recent Washington Post op-ed and pointed out that the number of pending cases per judge has actually increased, from 119 in 2005 to 188 today. Sid Shapiro, an administrative law expert and Center for Progressive Reform member scholar, writes that the average number of cases pending before the court is also up, from 1,152 cases during the eight years of the Bush administration to 1,362 under the Obama administration.
It is also worth noting that several of the Republicans arguing against filling the current vacancies previously voted to fill those same slots under President George W. Bush. On June 14, 2005, Alexander, Coburn and Sessions were among those who voted to confirm Judge Thomas Griffith, giving the court 11 active judges at the time. A year later, on May 26, 2006, all three of those senators voted to confirm Judge Brett Kavanaugh to the D.C. Circuit. That vote put the court at 10 active judges.
Beyond scuffles over the D.C. Circuit, some Republicans are warning Democrats against changing Senate filibuster rules if Obama's latest nominees get held up. Reid has hinted that he's prepared to use the "nuclear option" to change the rules to require a simple majority, instead of the current 60-vote threshold, to advance nominees. And he's got his eye on Obama's D.C. Circuit nominees as a test run, along with three other executive nominees awaiting action: Gina McCarthy for the Environmental Protection Agency, Richard Cordray for the Consumer Financial Protection Bureau and Tom Perez for the Labor Department.
"They're talking about a nuclear option? If that happens, this place is going to blow up," said Sen. Orrin Hatch (R-Utah) "What's sauce for the goose is sauce for the gander. I mean, the Democrats will be sorry if they do something like that."
The 60-vote rule is "one of the things that has made the Senate actually the body that is is," said Sen. Richard Burr (R-N.C.). "Do away with it, you could make the argument that you lose the United States Senate ... I don't think it's healthy for either side to not have the rules that are in existence now."
Coburn stormed off when asked about the prospect of Reid changing filibuster rules.
"I'm not even going to go there," he said.
Before You Go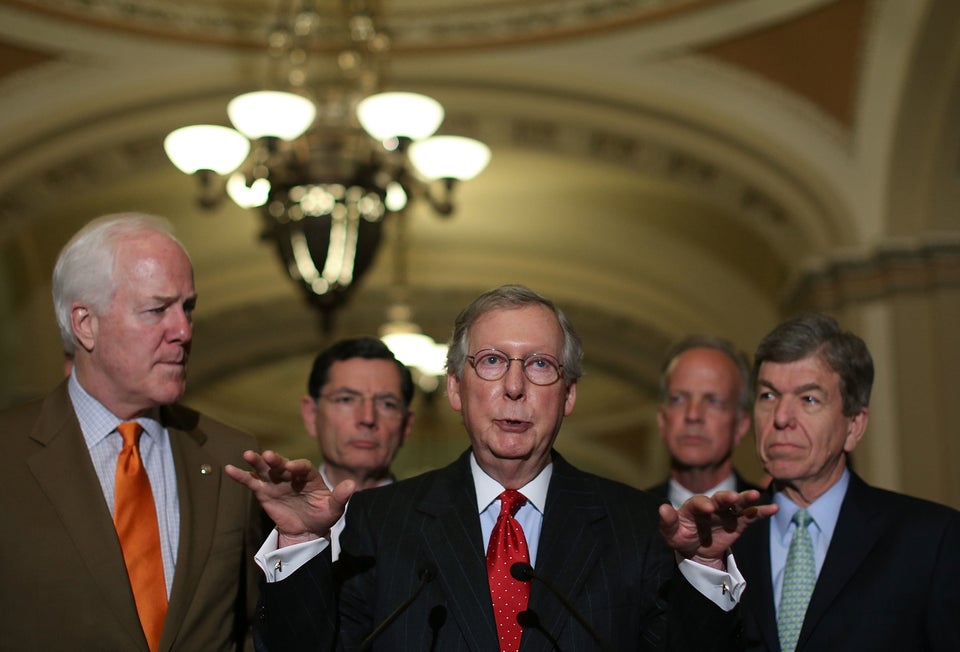 The Strongest Conservatives In Congress
Popular in the Community