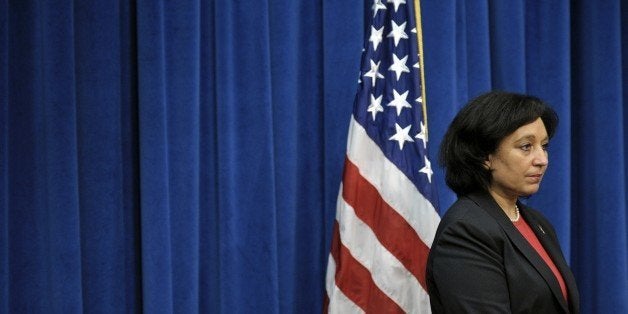 In a letter sent Friday, a group of lawmakers are urging President Barack Obama to select a more progressive head of the Drug Enforcement Administration, following the Department of Justice's announcement that the embattled current chief will resign in May.
"We encourage you to use this as an opportunity to reshape the DEA's direction to reflect your administration's enforcement priorities," the letter reads. The letter was signed by Reps. Jared Polis (D-Colo.), Steve Cohen (D-Tenn.), Earl Blumenauer (D-Ore.) and Democratic California Reps. Barbara Lee, Sam Farr, Zoe Lofgren and Eric Swalwell.
While the lawmakers say they appreciate the Obama administration's efforts to allow states to forge their own marijuana policies, they said that current DEA Administrator Michele Leonhart "leaves behind a legacy of strident opposition to efforts to reform our nation's drug policy." The letter urges the president to nominate a new DEA chief who will be willing to work with state and federal officials to craft more flexible marijuana policies.

"The DEA plays a critical role in promoting the health and safety of Americans," the letter continues. "But to succeed in its mission, it must refocus its efforts on cracking down on bad actors who seek to evade state laws rather than those who abide by them."
In March, the Justice Department's Office of the Inspector General released a startling report on how several federal law enforcement agencies have handled allegations of sexual harassment and misconduct. The report said that seven DEA agents had admitted to attending parties with prostitutes dating back to 2001.
Most of the implicated agents were disciplined for their actions, but only with suspensions of up to 10 days. None of the agents was fired, and some had even been promoted between the time the incidents occurred and the time they were fully investigated.
In a strong rebuke to her leadership, a bipartisan group of congressional lawmakers declared "no confidence" in Leonhart in April.
With just a little more than two weeks before Leonhart steps down, it remains unclear who the Obama administration could nominate who would both be approved by a Republican-controlled Senate and be a good fit for the DEA.
Leonhart came to head the DEA as acting administrator in 2007, under President George W. Bush. She was made administrator in 2010 during Obama's first term, but has long seemed out of step on drug policy, clashing with the administration over the legalization of recreational marijuana in Colorado and Washington and with efforts to lower the mandatory minimum sentences for those convicted of federal drug crimes.
In their letter, the lawmakers argue that under Leonhart the DEA placed "far too great an emphasis on prosecuting state-legal marijuana activity, as opposed to prioritizing more dangerous drug-related activity," adding that her "misplaced priorities" exacerbated problems with the criminal justice system and put a strain on "legitimate marijuana businesses operating under state law."
To date, 23 states have legalized marijuana for medical purposes. Four states and the District of Columbia have legalized recreational marijuana. Ten more states are expected to consider legalization of some form by 2016.
Calling all HuffPost superfans!
Sign up for membership to become a founding member and help shape HuffPost's next chapter
BEFORE YOU GO
PHOTO GALLERY
27 Reasons Why The U.S. Shouldn't Lead The War On Drugs