 MADISON, Wis. –- Don't take it from the pundits.
President Barack Obama's own supporters roundly panned his performance in Wednesday night's debate with Republican presidential candidate Mitt Romney, expressing surprise and confusion as to where their political champion disappeared to for 90 minutes in Denver.
"I love Obama. He's awesome. But he could have been a little bit better," said Sam Johnson, 18, an engineering student at the University of Wisconsin who attended a rally here Thursday afternoon with about other 30,000 supporters.
Karen Essex, a fifty-something who came to the rally with her husband Mark, was harsher.
"I watched the first ten minutes and then I had to turn it off, because I didn't really think Obama showed up to debate it," Essex said. "Romney did show up. I actually turned it off."
Essex said Obama won her over in 2008 with his debate performances against John McCain, the Republican candidate four years ago. But she said she was "surprised" and "disappointed" by Obama's performance on Wednesday night.
"I was like, 'I can't watch this,'" she said.
In Denver, Blaise Turner, a 29-year old painter and sculptor, said he saw the same contrast between the two men on the stage.
"As for Romney, I thought last night was the first time that he seemed like he really wanted to be the president, or really wanted the job. I was like, 'Oh that's what the big difference was,'" Turner said. "For the first time he showed that he really wants it, so people are taking him more seriously because of that."
Turner, like all the other Obama supporters who spoke with The Huffington Post, said he was still fully behind the president. But Dan Doeppers, a retired professor at UW who knocked on doors for Obama in 2008, said he thought the debate "may have had some impact on uncommitted people."
"The president seemed under-energized, and in particular, he didn't really go on attack mode, and we were looking, we the faithful, who worked very hard for him four years ago, for that," he said.
Carol Doeppers, his wife, and a former state chair for Common Cause, said she "missed [Obama's] fire in the belly."
"There wasn't that fire, and Mitt had it," she said. "We can only hope that he gets the real aggressive force behind him again. But last night was a down night."
Charlene Harjo, a 55-year-old kindergarten and first grade teacher in Denver, said "Obama didn't put his dukes on."
"Romney didn't do nothing but fidget around. Was he more fired up to attack? Yeah, he was. So in that regards I will give him the fact that he won, but he didn't say nothing about his plan," Harjo said.

Harjo had some advice for Obama.
"In the next debate I want him to put his gloves on. I want him not to be a gentleman no more, and fire back at him," she said. "It's time for you to fight back and say this is what you are and this is what you've done."
The only people who spoke with HuffPost and who did not rule the debate a Romney victory were a 13-year old boy and a 46-year old undecided voter, both of them at the Denver rally.
"I think that Mitt Romney just made a fool of himself. He danced around all the questions and he overstepped his two minute line," said Ryan Stevens, 13, of Denver. "He just says, 'Oh I have a plan.' He has no explanation."
Edward Choury, 46, a wastewater plant operator who came to the Denver rally with his college-age daughter, said he didn't think either candidate won.
"I thought they were pretty even," said Choury, who voted for Obama in 2008.
Choury said he wanted more specifics from both candidates on what they would do about the budget deficit and the tax code.
"Get rid of these deficits, handle these deficits ... whether it's cutting spending, you know, or increasing taxes. I have no problem with paying more taxes if that's what it goes for," Choury said. "And then just how the tax code, how each one of them's going to change the tax code to where I bring home more of my paycheck so I can afford gas, afford food, afford electricity."
Choury also said he is concerned about the rising cost of higher education. His oldest is in college, and he has two more children younger than her. Choury said he was undecided, but sounded like he was leaning toward voting for Obama again.
"I'm not disappointed with him but I just want to know more specifically how these next four years ... what he's going to do in order to keep it going," he said. "I think the last four years, when he was first elected, we were in bad shape as a country. I think he's done an all right job where we are today. But I want to know another four years what can we expect."

Before You Go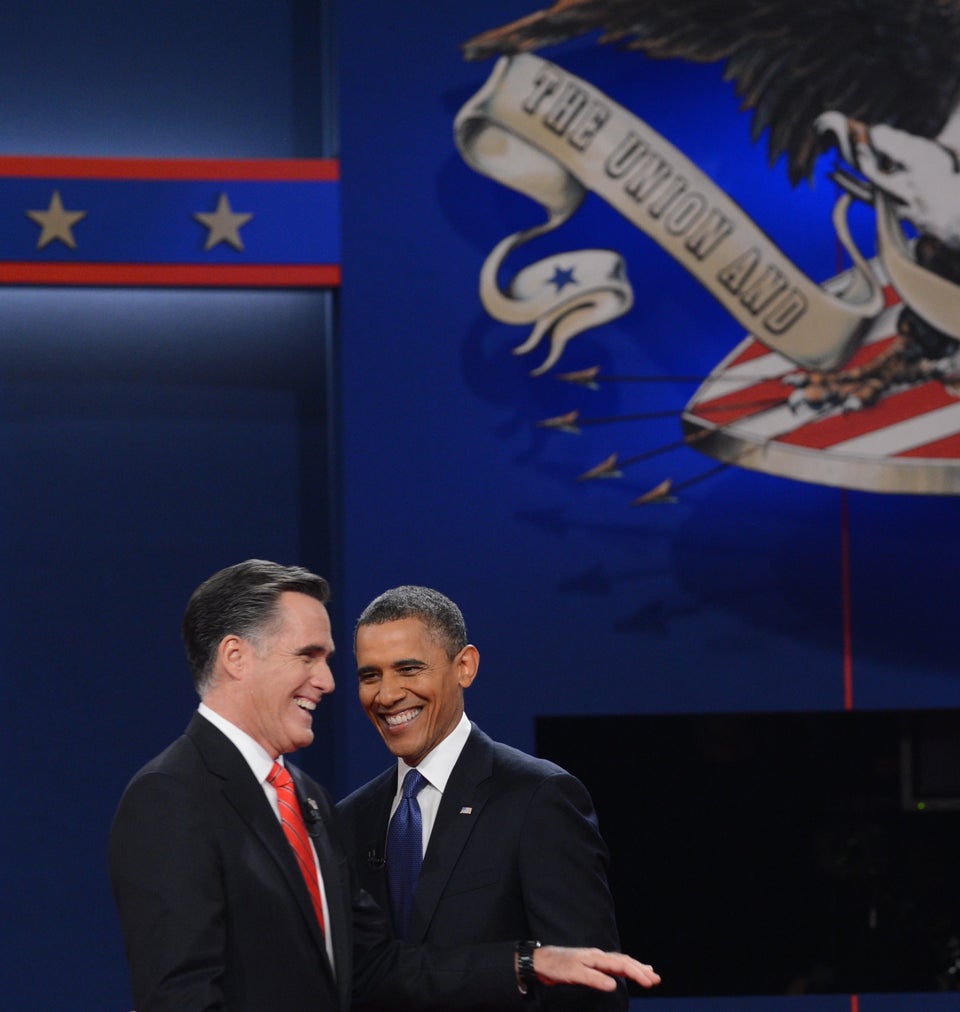 Presidential Debate
Popular in the Community