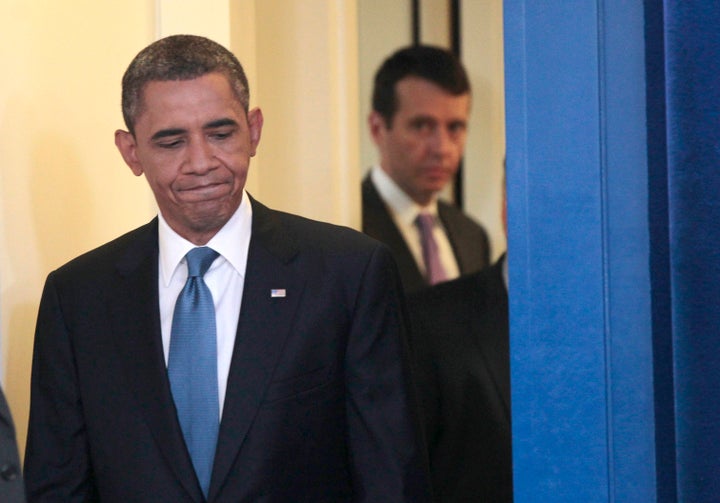 President Barack Obama walked out of a contentious meeting in ongoing talks to raise the nation's debt limit on Wednesday, an aide tells Reuters.
Politico reports that House Majority Leader Eric Cantor said the president stormed out of the negotiating session with top congressional lawmakers.
The Hill reports that House Minority Leader Nancy Pelosi disputed Cantor's account of what occurred at the end of the meeting.
"Cantor's account of tonight's meeting is completely overblown," a House Democratic aide told HuffPost. "For someone who knows how to walk out of a meeting, you'd think he['d] know it when he saw it. Cantor rudely interrupted the President three times to advocate for short-term debt ceiling increases while the President was wrapping the meeting. This is just more juvenile behavior from him and Boehner needs to rein him in, and let the grown-ups get to work."
HuffPost's Jen Bendery reported earlier in the day:
The White House on Wednesday closed the door a little more on the debt proposal being floated by Senate Minority Leader Mitch McConnell (R-Ky.), a measure already under siege by conservatives.

"This is not a preferred option," White House Press Secretary Jay Carney said of McConnell's proposal in his daily briefing.

McConnell's proposal for avoiding debt default -- to transfer full power to raise the debt ceiling to the White House for the remainder of Obama's current term, cutting Congress out of the process -- does nothing to address deficit reduction, Carney said. And Obama is set on making sizable cuts.
According to Reuters, House Speaker John Boehner regarded proposed budget cuts put forth by the White House as "gimmicks and accounting tricks" when lawmakers convened on Wednesday.
Politico reports that Cantor addressed the situation that unfolded following the meeting. "I know why he lost his temper," he said of the president in addressing the matter on Capitol Hill. "He's frustrated. We're all frustrated."
By the end of Wednesday, the market seemed fully aware of the debt ceiling debate. U.S. stock-index futures fell after Moody's Investors Services announced that it may cut America's AAA credit rating. An Associated Press report earlier on Wednesday that Speaker John Boehner (R-Ohio) had called the likelihood of raising the debt ceiling a "crapshoot" if a compromise between Democrats and Republicans wasn't reached caused a dive in the Dow Jones Industrial Average. The AP later updated the story to clarify that the speaker had said what would happen if a compromise isn't reached is a "crapshoot."
The AP reports on the state of discussions to lift the debt limit:
What's left is an assortment of contingencies and increasingly sour squabbling between intraparty factions deeply split over what to do as an Aug. 2 deadline ticks closer. No proposal has the critical mass to raise the limit and avoid default. The lack of clarity about just who is leading -- and to where -- has taken its toll in goodwill and trust.

That has liberated all sides from any urge to follow their leaders, freeing them to propose and oppose whatever they want on an issue that could frame the nation's economic fate and send ripples around the world for years.
A GOP aide told Reuters after Wednesday's meeting that the president would not renegotiate his bottom line as to what he would compromise in the ongoing discussions. According to the aide Obama said, "I have reached the point where I say enough." He reportedly added, "Would Ronald Reagan be sitting here? I've reached my limit. This may bring my presidency down, but I will not yield on this."
The AP reports that Federal Reserve Chairman Ben Bernanke issued a warning to lawmakers on Wednesday that failing to strike a deal and allowing the country to default on its debt would send "shock waves through the entire financial system."