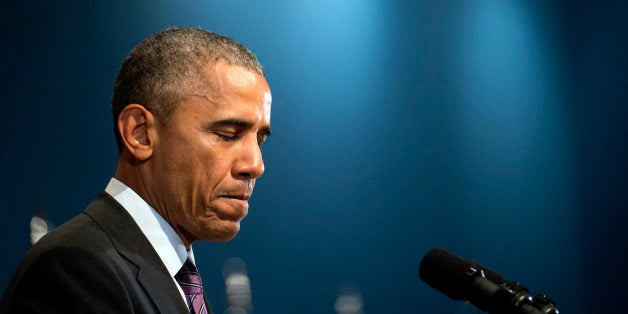 WASHINGTON -- As the Democratic Party feud over President Barack Obama's new trade deal intensifies, American labor unions are fighting another battle: getting Obama to do something about rampant trade violations taking place on his watch.

Obama is pressuring Democrats to support the Trans-Pacific Partnership, a major agreement the administration is close to finalizing with 11 other nations. Central to his sales pitch is the insistence that the deal will include robust, enforceable labor protections for the countries involved, mitigating the downward pressure on wages that similar trade deals have created in the past.

The trouble with Obama's promises to implement strong new labor standards for countries like Vietnam, according to the AFL-CIO labor federation, is that the administration doesn't really enforce the international labor agreements it already has at its disposal.

On Monday, the AFL-CIO filed a legal brief detailing widespread abuses in Guatemala, including the murders of several union leaders amid contract disputes. The AFL-CIO said the wage theft and outright violence were clear violations of the Central American Free Trade Agreement that the U.S. approved in 2006.

"Prolonged, widespread impunity has profoundly distorted the labor market in Guatemala, and taken an unconscionable toll on workers and their families," the document reads.
The brief was filed to an arbitration panel set up to adjudicate allegations that Guatemala is not abiding by CAFTA's terms. The panel was created when the Obama administration initiated its formal labor case against the country.
The administration says it takes labor issues in Guatemala seriously.

"The Obama Administration is taking unprecedented actions to promote and protect fundamental labor rights and ensure acceptable conditions of work," the administration said in a report issued earlier this year, including "bringing the first-ever labor dispute under a free trade agreement"-- in Guatemala.

But that, the AFL-CIO notes, is exactly the problem. The labor group has been pressing for action on Guatemalan violations for Obama's entire term in office, and the dispute has not been resolved. In 2013 and 2014, according to the labor federation, 17 labor activists were murdered in Guatemala while the Obama administration pursued diplomatic action. Three of the slain union workers were reportedly killed during a dispute with a local government over unpaid back wages.
"When the Administration initiated this case, we expressed our deep concerns with labor violence in Guatemala, in particular the effect of such violence on the ability of workers to realize their internationally recognized right of association and right to organize and bargain collectively," the United States Trade Representative told The Huffington Post in a statement Tuesday.

CAFTA was signed by former President George W. Bush, but unions cite similar problems with agreements Obama has shepherded into law himself. In 2011, Obama approved a labor action plan from the Colombian government intended to deal with widespread violence directed against union leaders. Congressional Democrats had demanded the move as a prerequisite for signing off on a free trade pact with the South American nation. But union organizers continue to be murdered with impunity in Colombia -- 105 have been killed in the years since, according to recent Congressional testimony from AFL-CIO President Richard Trumka.

"Excuse me if I'm not willing to accept that standard," Trumka said.
Obama and Republican leaders say his TPP deal will boost economic growth and expand U.S. exports. Most Democrats in Congress believe it will exacerbate income inequality and undermine key regulations. Obama has repeatedly said that he is pursuing a progressive deal that will help workers both at home and abroad. The disagreement has festered into a public spat, with Obama accusing Sen. Elizabeth Warren (D-Mass.) of giving "dishonest" criticism. Warren and Sen. Sherrod Brown (D-Ohio) defended their critique in a letter Saturday that suggested Obama's transparency record on trade is worse than that of Bush.

The TPP negotiation texts are treated as classified information, making it difficult for the public to judge the competing claims. But for organized labor, Obama's trade record is reason enough to be skeptical.

"Bottom line, over the past seven years, while this back and forth has taken place, harassment, violence and murder has continued," said AFL-CIO spokesman Sean Savett. "It really calls into question the effectiveness of the enforcement."

Calling all HuffPost superfans!
Sign up for membership to become a founding member and help shape HuffPost's next chapter
BEFORE YOU GO
PHOTO GALLERY
Scenes From 114th Congress And Capitol Hill