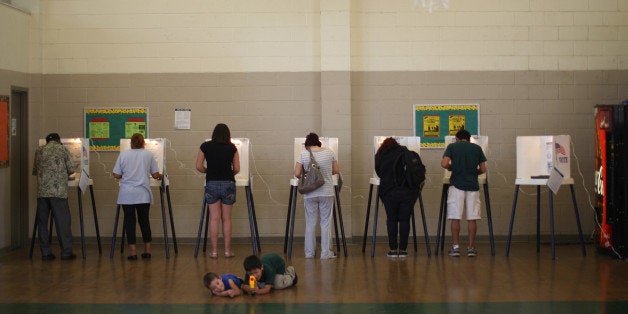 President Barack Obama's decision over the weekend to delay, for a second time, a promised change to his administration's record-setting deportation policy will likely dampen Latinos' enthusiasm for the Democratic Party, according to a polling firm.
The White House cited concerns about close Senate races in multiple states when explaining the reasoning behind delaying executive action on immigration until after November's midterm elections. But polling data by Latino Decisions indicates that the delay may decrease Hispanic interest in voting for either of the two major parties, at a time when both Republicans and Democrats are jockeying to mobilize the increasingly important Latino electorate.
A poll published in June by the pollster Latino Decisions and the Center for American Progress Action Fund, an advocacy group, found that 57 percent of Latino registered voters would feel less enthusiastic about voting Democrat if Obama declined to use his executive power to change deportation policy. Some 54 percent of Latino voters said they would, in fact, be less enthusiastic about voting at all under those circumstances.
When presented with the opposite scenario, in which the president used executive authority to change immigration policy ahead of the midterm elections, 87 percent of Latino voters said they would be more excited about voting for Democrats.
Latino Decisions' Matt Barreto and Gary Segura resurfaced these June findings in a blog post Monday, pointing out that Obama may have missed an opportunity to galvanize Latino voters with his announcement over the weekend.
Sylvia Manzano, a principal with Latino Decisions, told The Huffington Post that Obama also likely made the situation worse by publicly promising to act and then backing off.
"The thing that is peculiar is that he is the one that called press conferences saying he was going to do something this summer," Manzano told HuffPost on Tuesday. "The reason people are upset is because the White House manufactured this entire scenario ... It just feels like a trick, more than anything else, because had they not said anything, expectations would not have been so high."
Latinos don't account for a large share of the electorate in many of states with close U.S. Senate races, according to the Pew Research Center, which could make it easier for the Democratic Party not to factor the Latino vote into its calculations in those areas.
Manzano pointed out, however, that in states like Colorado and North Carolina, the growing Latino vote may yet play an important role in the midterms.
"I do think there are places where it's going to be close, and they did themselves no favors by squandering this opportunity," Manzano said of the Democrats. "They could have rallied Latino voters around this."
Manzano added that the GOP has likewise wasted opportunities to build credibility among Latino voters. Republicans, especially in the U.S. House of Representatives, have repeatedly blocked efforts at reform. In August, House Republicans voted for a second time to deport people illegally brought to the U.S. as children, who are currently exempted from deportation under the president's 2012 Deferred Action for Childhood Arrivals program, or DACA.

Calling all HuffPost superfans!
Sign up for membership to become a founding member and help shape HuffPost's next chapter
BEFORE YOU GO
PHOTO GALLERY
6 Misconceptions About The Border