Obama said future presidents could, of course, try to end the programs. But stripping protections and deporting those who applied is "not politically likely," he said at a town hall meeting at the Casa Azafrán community center in Nashville, Tennessee.
"Any future administration that tried to punish people for doing the right thing, I think would not have the support of the American people," the president said.
Obama's visit to Nashville was part of a broad effort to sell and defend his new administrative actions on immigration, the largest of which will allow some undocumented parents of U.S. citizens and legal permanent residents to stay in the U.S. and work legally. He also will expand the Deferred Action for Childhood Arrivals policy, or DACA, which gives similar relief to undocumented immigrants who came to the U.S. as children, along with other policy changes. In total, the executive actions may give relief to up to 5 million people.
But that's only if undocumented immigrants come forward to apply. Advocates said they worry that some who would be eligible will be too fearful to do so. The deportation policies will grant relief for three years, extending into the next presidency. But the next president could undo them at any time. In the meantime, congressional Republicans are fighting against the new policies, including a vote by the House last week to block Obama's executive actions on immigration.
Should Republicans succeed in killing the programs, undocumented immigrants fear the application lists could be used to find and deport them. Obama was asked multiple times about that possibility, and sought to reassure would-be applicants that coming forward would be safe.
He said, however, that the threat of that possibility should encourage advocates to continue pushing for immigration reform.
"Without an actual law, an actual statute passed by Congress, it's true that theoretically a future administration could do something that I think would be very damaging," Obama said. "It's not likely politically that they reverse everything that we've done, but it could be that some people then end up being in a disadvantageous position, and nobody is going to have a path to actual citizenship until we get a law passed."
Along with saying that applying would not put them at risk for deportation, the president stressed that work authorization would significantly help undocumented immigrants who now often work under the table. Should Congress eventually pass a bill to create a path to citizenship, those who have already applied for deportation relief could be at an advantage, since they would have already gone through some of the screening process, he said.
Obama has gotten some pushback from the immigrant rights community for the people left out of his executive actions, and he answered to that as well. He said that parents of DACA recipients weren't included because the administration determined that including them wouldn't be legally defensible. Those who are ineligible for relief, though, could still benefit from the administration's new deportation priorities, Obama said.
The president asked opponents of his policies to think back to how their families came to the U.S., and to put themselves in other people's shoes. He also implored them to remember the current system has problems that make it difficult for undocumented immigrants to gain legal status.
"Does that mean everybody is going to listen to me on the other side? Not necessarily," he said. "They're pretty sure I'm an illegal immigrant. That was a joke. There are going to be some that just disagree with you."
UPDATE: 6:30 p.m. -- Obama also spoke in Nashville with Telemundo's José Díaz-Balart for the show "Enfoque," which will air in full on Sunday. The president said he wanted viewers to know that the new relief does not apply to everyone, and that deportations will continue for those immigrants deemed high-priority, such as convicted criminals and recent border-crossers. But those eligible for relief, or who are ineligible but are not high priority for removal, will be at less risk for deportation, he said.
"More broadly, we are going to make sure that families, people who are working and responsible in their communities are not prioritized for deportations so the likelihood of their deportation is going to be much lower, but at the border regions, as when it comes to criminals we're still going to be making sure that we enforce those laws," Obama told Díaz-Balart, according to a transcript released by Telemundo.
Before You Go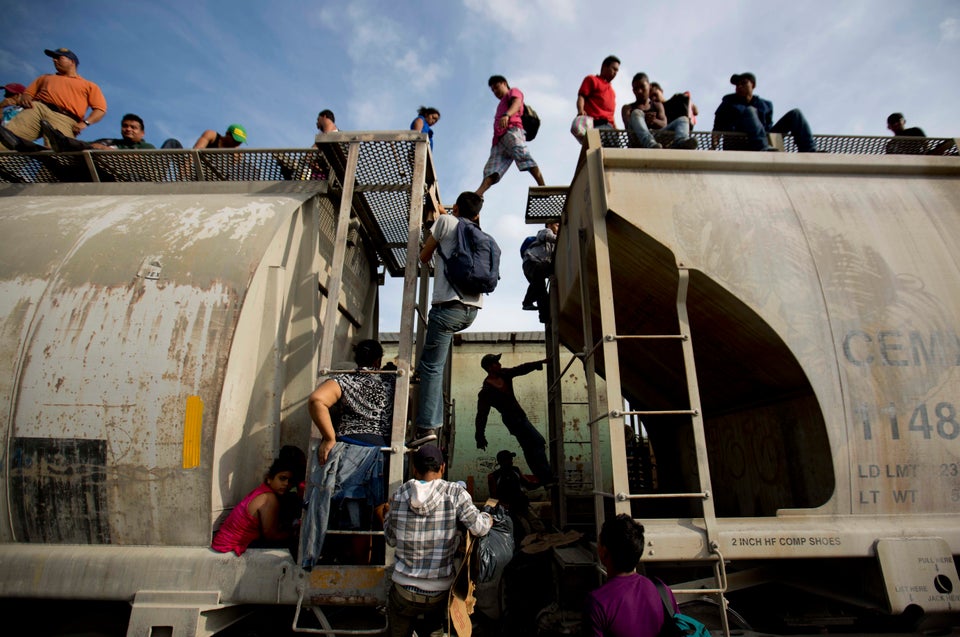 Why Latin Americans Really Come To The U.S.
Popular in the Community