WASHINGTON -- As Republicans blame President Barack Obama's executive actions for the crisis along the border, the president assured members of his own party Wednesday that he won't back down from his plans to ease deportations.
Members of the Congressional Hispanic Caucus, meeting at the White House with Obama and Vice President Joe Biden amid the intensifying debate over unaccompanied minors surging across the southern U.S. border, made a two-prong political push, according to attendees. The first was to protect a law that keeps many unaccompanied minors from being rapidly deported. The second was to ensure that the administration doesn't waver from its pledge to get relief for millions of undocumented immigrants who have lived in the U.S. for years.
A few weeks ago, these two Hispanic Caucus priorities seemed well protected. But both have been imperiled in recent days as Republicans have ratcheted up their argument that the wave of unaccompanied minors -- more than 57,000 have crossed the border this fiscal year -- has been due in part to Obama's 2012 policy allowing young people who entered the U.S. as children years ago to remain here.
Some, such as Sen. Jeff Sessions (R-Ala.), have said Congress should withhold money to handle the crisis until Obama vows not to grant more deportation relief to those already here. Sen. Ted Cruz (R-Texas) made a major splash on Wednesday night, demanding that Obama entirely dismantle his policy on undocumented young people in exchange for funding to deal with the unaccompanied minors.
A Cruz spokesperson told The Huffington Post it was "premature" to say whether the senator would lead a filibuster over any funding bill without a repeal of the administration's Deferred Action for Childhood Arrivals program, or DACA.
"The Senator wants to work with his colleagues on legislation that includes measures to stop DACA as part of any legislation considered," Cruz' spokesperson added.
Recognizing the White House's tenuous political position, members of the Hispanic Caucus urged Obama not to back away from his vow to use his executive authority to make the immigration enforcement process more humane.
They said they were pleased with the response. Obama reiterated his commitment to finding ways he can work within the law to improve the immigration system, caucus members said.
"The president had told us last time we met with him to give him time to work this out with Republicans. ... The moment has come for him to act, and he agrees," Rep. Joe Garcia (D-Fla.) said.
Rep. Luis Gutierrez (D-Ill.) paraphrased Obama as saying, "I want to be as broad as I can be. I want to be as generous as the law will allow me to be."
Obama said he was "moving rapidly," though he didn't estimate how many undocumented immigrants may be affected or an exact time frame, said Rep. Raul Grijalva (D-Ariz.). The president has asked that the secretary of homeland security finish a review of deportation policy by the end of the summer.
Hispanic Caucus members have been critical of Obama's immigration record, and previous meetings have been tense. The president in the past has responded to members' pleas to slow deportations by asking for time to win approval of reform legislation in the House. But the House never acted, and Obama announced plans last month to do what he can on his own.
Gutierrez said Wednesday's meeting was free of the uneasiness that colored past gatherings.
"Even though we were raising the issue in the form of a plea-slash-demand-slash 'We love you, help us, you're all we've got' -- really, it was all of those things -- he was not defensive at all," Gutierrez said. "We didn't talk about the past, about differences, about the protests, none of that. It was about [how] we're going to go forward."
Lawmakers expressed to Obama their opposition to changing a 2008 law meant to protect unaccompanied minors from countries other than Mexico and Canada from being rapidly deported without presenting their case to a judge. Nearly all Republicans and some Democrats have said the law must be changed so that all unaccompanied minors face the hearing process more quickly. The majority of the Hispanic Caucus is adamantly opposed.
There was one exception in the meeting: Rep. Henry Cuellar (D-Texas), a member of the Hispanic Caucus who has partnered with Sen. John Cornyn (R-Texas) on a bill that would change the law. Gutierrez said there was no discussion of that specific proposal with the president.
Other members of the Hispanic Caucus told Obama they would not support funding to deal with the border crisis if it undermined protections now in place for minors. The president has expressed openness to changing the law, but also said due process should remain in place. Grijalva said Obama "made no commitment outright ... to say, 'We're going to be with you in resisting the changing of that law.'"
Sam Stein contributed reporting.
Before You Go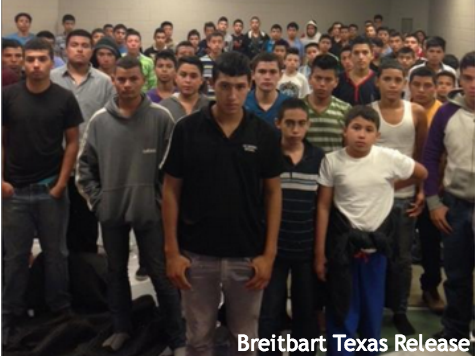 Overwhelmed Border Patrol
Popular in the Community