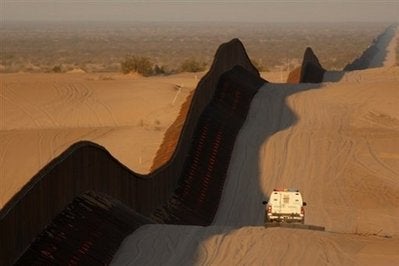 In September 2008, Hurricanes Ike and Gustav ravaged cities along the Texas coast. Ambitious contractors and those just eager to help went looking for laborers ready to do the clean up work.
Josue Diaz was one of several who responded. But when Diaz and about 20 other immigrant workers asked for the same wages and safety gear given to American-born workers doing the same job, they wound up in police custody.
Diaz, an undocumented employee, was arrested while working for the clean-up company, on charges of theft that were later dropped. On Tuesday, an immigration court in New Orleans will decide whether Diaz and three co-workers may be ordered deported. The court could also give the men permission to remain in the United States because they acted as whistleblowers who stood up against workplace abuses.
Immigrant advocates argue that the case is but one of hundreds like it around the country. It brings into sharp relief the difference between the Obama administration's promises and what Immigration and Customs Enforcement (ICE) offices scattered around the country are actually doing each day. Nearly a year ago, the administration announced that ICE would protect workplace and civil rights whistleblowers such as Diaz, and focus more attention on problem employers and undocumented immigrants with serious criminal records. Authorities were directed to emphasize "prosecutorial discretion" in the cases of whistleblowers, the elderly and people who are the parents of young U.S. citizen children and do not have a criminal record. In essence, ICE officials were encouraged to place deportation cases against these individuals on indefinite hold. These cases were deemed "low priority," and an unwise use of resources.
"Unfortunately, we have gotten some great talk from the administration," said David Leopold, past president of the trade group American Immigration Lawyers Association, "but very little on-the-ground difference. ICE is still going after what we call the low hanging fruit, people who are washing dishes and picking lettuce and changing bed sheets."
ICE did not respond to a request for comment Monday about the administration's deportation priorities nor the number of immigrants deported last year with criminal records. A review of about 300,000 pending deportation cases that originated in 69 different cities around the country resulted in 2,609 men and women being allowed to stay in the U.S. because the government considers them low priority, according to ICE data analyzed by the Transactional Records Clearinghouse at Syracuse University. The labor union that represents most ICE officers has balked at the changes in the nation's deportation policy, taken complaints to Republican members of Congress and slowed down the number of ICE agents who have undergone the training needed to identify low priority deportation cases, The New York Times reported in January.
What is clear is that the number of cases put on hold under the Obama administration's policy on prosecutorial discretion has grown far slower than immigration advocates would like, according to ICE data. And the total number of people deported from the United States has reached record highs during the Obama administration.
In some parts of the country, ICE and the threat of attention from immigration authorities is regularly used as a bludgeon to keep undocumented workers away from state and federal agencies where they might report workplace abuses or civil rights violations, said Jacinta Gonzalez, the lead organizer behind the "Stand Up 2012: Make Justice Real Campaign." The campaign is a project of the New Orleans Workers Center for Racial Justice.
Nowhere is that problem worse that in Southern states that have been traditionally hostile to worker efforts to organize or rally around workplace rights, advocates say.
"Immigrants in the South are facing egregious civil and labor right violations," said Jennifer Rosenbaum, legal director at the New Orleans Workers' Center for Racial Justice. The center is a nonprofit agency working to defend immigrant workers who drew attention to alleged workplace abuses and civil rights violations by law enforcement agencies and, as a result, face deportation.
This week, the center issued a report card evaluating how ICE has performed against the goals and priorities outlined in the Obama administration's deportation policy. The nonprofit gave the government agency failing grades in several areas, including protecting whistleblowers such as Diaz. And, it identified ICE's New Orleans division -- which oversees deportations and enforcement actions involving individuals living in Alabama, Arkansas, Tennessee and Louisiana -- as the worst in the country.
ICE has reviewed an estimated 3,000 pending deportation cases involving individuals who lived or worked in the New Orleans district, said Rosenbaum, but the agency has not released its findings. Yet, none of the 32 whistleblower cases that the center is tracking closely -- and for which formal requests for a prosecutorial discretion hold have been made -- were approved for such treatment, she said. The center's "Stand Up 2012" campaign sometimes refers to these individuals -- a group of undocumented immigrants that the organization believes should be eligible for suspended deportation actions because they reported wrong doing by police or employers at extreme personal risk -- as "The Southern 32."
"The truth is that this didn't just happen to us," said Diaz, who spoke to reporters in Spanish during a conference call. "The things I'm telling you about didn't just happen to me in my own skin, in front of my own eyes. They are happening to hundreds of workers. It happens so often that people think it is normal."
In October 2008, All Dry Water Damage Experts, with the help of an outside recruiter, brought about 20 immigrant workers from a well-known day laborer pick-up site in New Orleans to the Texas Gulf Coast. The area needed workers to gut hurricane-damaged houses. One refinery near Bridge City, Texas, wanted the company to do that work at the damaged homes of its employees.
But when Diaz and others arrived they found that the hotel rooms they had been promised were instead air conditioned tents pitched at the refinery. Because the disaster workers were not allowed to leave the site after dark, their movements were tightly controlled and their meals were provided, Diaz said. And when working in damaged houses filled with water, dead animals and potentially toxic materials, the immigrant workers weren't given the boots, masks and gloves issued to other gutting crews, he said. Some of the houses had taken in as much as 7 feet of water and become tombs for multiple dead animals and strains of mold, he said.
"When we complained, we asked for the same gloves, boots and masks that the other workers had, that the supervisors had," Diaz said "We were told that, 'we brought you here to work, so do it. Get back to work.'"
Later when immigrant workers threatened to strike, someone called the police. The immigrant workers were arrested and charged with stealing items out of the homes they gutted -- even though some men were able to produce receipts for the items in question or prove that they owned them before they arrived in Bridge City. The charges were ultimately dropped. But by that time, Diaz and three other workers had been identified as undocumented workers and were held for three months. Diaz and others were not paid the wages they had been promised, he said. The police, and ultimately ICE, he said, were used to settle a workplace dispute over wages and work conditions.
Paul Christiana, owner of Metairie, La.-based All Dry, disputes Diaz's account. Christiana insists that immigrant workers at the Bridge City job were given the same living and working conditions as American-born laborers. Things initially went fine until one immigrant worker was accused of stealing, he said. A fight broke out at the refinery campsite. Refinery officials called police, said Christiana.
Once the workers were arrested, All Dry could not reach the workers to pay them their wages until the National Labor Relations Board intervened and suggested the settlement, Christiana said. The company paid about $5,400 in wages to the workers and another $6,600 in restitution to the homeowner who said his property was stolen, Christiana said. The refinery also asked All Dry to leave, costing the company a job worth at least $500,000, he said. Christina denies that he or other All Dry officials used local law enforcement and ICE to avoid paying workers.
Popular in the Community