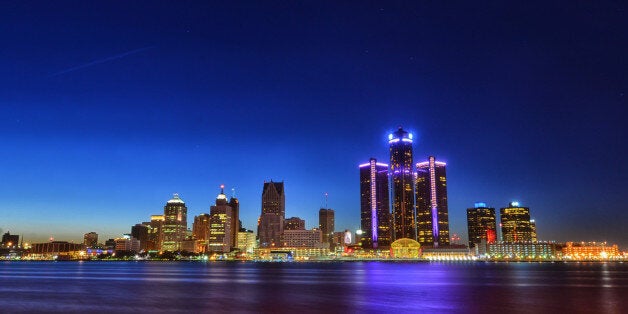 President Barack Obama is reportedly trying to free up $100 million to send to bankrupt Detroit in an effort to reduce pension cuts to retired city workers.
The $100 million wouldn't go straight to the pensions of retirees. Instead, it would be slated for blight remediation funds needed to knock down the city's 60,000 vacant structures. The city's emergency manager, Kevyn Orr, has already submitted a plan that calls for $500 million to remove blighted structures over the next 10 years. The federal money from the White House would free up funds that Orr would then direct to reduce pension cuts.
"As we've said, there is no bailout coming from Washington, but we continue to support the efforts by state and local officials as they work on Detroit's revitalization," an official said.
The city, which declared itself broke last July, reached deals with two pension funds late Tuesday night that could hasten the end of its historic tenure in U.S. Bankruptcy Court. Despite fears of creditors only receiving "pennies on the dollar," the pension fund representing general employees agreed to take a 4.5 percent overall cut and lose their annual cost of living adjustment (COLA). Police officers and firefighters, who do not receive Social Security, wouldn't see a pension cut, but their future COLA will decreased by 1 percent.
Many conservatives don't seem to be embracing the plan. The right-wing Daily Caller blog called the aid package a "stealth bailout." And several news reports cite political danger for Michigan Gov. Rick Snyder (R), who is running for re-election, if he supports a plan that would send federal dollars to Detroit.
Snyder has been one of the public officials touting a deal known locally as the "Grand Bargain," which would protect art from the city-owned collection from being sold. It also asks the Michigan legislature to approve sending $350 million in tobacco settlement money the state currently receives to help shore up the pension funds. Foundations and other private actors have pledged another $466 million.
The White House already announced an aid package worth $300 million for Detroit last September. Much of the money consisted of previously awarded grant funds that, for one reason or another, never made it to the city.
Another Michigan Republican, state House Speaker Jase Bolger, R-Marshall, is pushing the state legislature to approve the plan and send state money to Detroit's pensions, but says Detroit's unions should also contribute cash, and not just take concessions.
"They have profited from these contracts. They have collected union dues. They should step forward and join in mitigating the effects of the bankruptcy," he told the Associated Press.
Harvey Santana, a state representative and Detroit Democrat, told the Detroit Free Press that sweetening the deal for pensioners will help.
"If the retirees are comfortable with the deal, it makes the Legislature's job easier," Santana said. "This deal sounds a lot better than what was originally proposed. They've got to be looking at it and saying, 'Thank God.'"
Calling all HuffPost superfans!
Sign up for membership to become a founding member and help shape HuffPost's next chapter
BEFORE YOU GO
PHOTO GALLERY
The Ruins Of Detroit