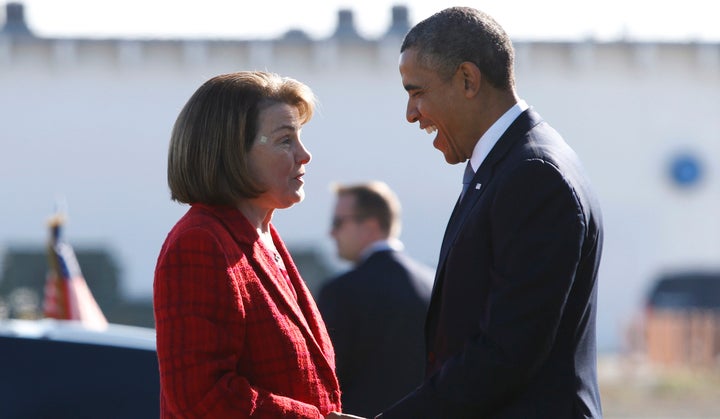 It's Obama's first endorsement in a Senate race this year.
"I'm proud to give Dianne Feinstein my strong endorsement for her reelection to the United States Senate," Obama said in a statement. "She's always been an indispensable leader for California, and we became dear friends and partners in the fight to guarantee affordable healthcare and economic opportunity for everybody; to protect our planet from climate change, and our kids from gun violence." 
"President Obama had the grace, wisdom and even-handedness that we quickly came to expect from a president ― and that we're now so sorely disappointed by its absence," said Feinstein of the former president's endorsement. "I'll do my level best every day to build on President Obama's accomplishments and carry his torch forward, no matter the obstacles that stand in our way." 
Obama is the latest high-profile Democrat to back Feinstein in her first serious challenge from a member of her own party. While the longtime senator has won support from former Vice President Joe Biden, California Gov. Jerry Brown (D) and fellow Sen. Kamala Harris (D-Calif.), Feinstein's most competitive Democratic opponent, state Sen. Kevin de León, has garnered support from some of the state's leading progressive groups and activists. He boasts endorsements from powerful labor groups, including the Service Employees International Union and the California Nurses Association, as well as progressive PAC Democracy for America and many of his colleagues in the California State Legislature. 
"We have a great deal of respect for President Obama. His endorsement of Sen. Feinstein is likely a reflection of the time they spent working together while he was in the White House," said de León spokesman Jonathan Underland. "Luckily, the deciding votes in this race are in the hands of the people of California, not Washington D.C."
Due to California's primary system, in which the top two vote recipients advance to the general election regardless of party affiliation, there's a strong possibility that Feinstein and de León will face off in November. 
Feinstein, who was elected to the Senate in 1992 and is the top Democrat on the Senate Judiciary Committee, currently leads de León in the polls by 26 points. Her campaign coffer has also eclipsed de León's — at the end of March, Feinstein had $10.4 million in the bank, compared with de León's total of $672,000. 
Despite trailing in the polls and funds, de León, who until recently served as president pro tempore of the California Senate, hopes to seize on growing progressive frustration with Feinstein, arguing that the senator's views no longer represent those of her constituents. Feinstein has faced some criticism from the left for not standing up to President Donald Trump enough and for being too moderate. Protesters frequently pop up at her public events as well as outside her San Francisco home, and in February she failed to secure her own party's endorsement at the California Democratic Party convention. No candidate received a high enough percentage of the convention's vote to warrant an endorsement.
De León has raised his own political profile by spending much of the last 18 months publicly opposing Trump's political agenda. Last year he helped pass legislation to make California a "sanctuary" state and has introduced a bill to protect the state from the rollbacks of environmental regulations pursued by the Trump administration.
Feinstein, perhaps pressured by de León's challenge, has inched to the left on several issues in recent months. In March, she said she was "very wary" of Gina Haspel, Trump's nominee for CIA director, after initially praising Haspel's career. (Haspel has faced scrutiny for her ties to brutal interrogation tactics used by the CIA on terrorism suspects.) 
And earlier this week, Feinstein said she opposed federal crackdowns on California's legal marijuana market. It marked a major reversal for the senator who has long opposed legalizing pot for recreational use. 
Calling all HuffPost superfans!
Sign up for membership to become a founding member and help shape HuffPost's next chapter