NEW YORK -- When President Barack Obama sits down for dinner Wednesday night with a number of Republican senators at the posh Jefferson Hotel, just up the street from the White House, administration officials hope it will mark the beginning an era of increased political comity between the parties.
Expectations are tempered over what can be accomplished over white tablecloths and fancy food and wine. But regardless, the administration feels as though they have entered "a different environment" now that the deadline to avert sequestration has passed, as one top official put it.
"For the first time in a while there is not a terrible looming budget deadline or a looming election," the administration official said, speaking on condition of anonymity to explain the strategic thinking behind the new approach to congressional outreach. "There is no countdown clock on MSNBC, no one wondering how much time there is on a legislative calendar to pass a fix."
The hope, it seems, is that the absence of a potentially cataclysmic deadline will increase the odds of reaching a deal to reduce the deficit. (The White House believes, at this juncture, that there won't be too many fireworks at the end of the month over a continuing resolution to fund the government through the end of this fiscal year.) After all, when lawmakers faced impending massive tax hikes or huge spending cuts in the past few months, they were tasked with hammering out major pieces of legislation relatively quickly. In that climate, Republicans were less likely to buck leadership ranks. Certainly, there was less time to lure them away.
Still, it requires a certain amount of unbalanced optimism to predict that a charm offensive can now work. After all, the White House had two years to wine and dine Republicans over a health care bill. They ended up voting en masse against the measure.
All of which is not to say that the effort is hopeless or without merit. On a public relations level, it will likely placate those pundits who have bemoaned the president's lack of "leadership," his frosty relations with fellow lawmakers and his direct negotiation skills. In a more politically strategic sense, it could further open fissures within the GOP ranks. Several Republican lawmakers, for instance, have already expressed openness to the concept of a grand bargain on deficit reduction, including Sen. Lindsey Graham (R-S.C.), who said he'd be fine with $600 billion in new revenues in exchange for entitlement cuts.
"A bunch of them are out there saying the right things," said the White House official. What Graham said, the official added, "is exactly what we are proposing. And ostensibly it is not unreasonable to think there are other Republicans who think the right thing too."
What's worrisome for the administration are reports that the Republican rank-and-file aren't even aware of the deal the president has offered. The official pointed to an article by The Washington Post's Ezra Klein, which quoted an unnamed GOP lawmaker who was caught off guard-that the administration was ready to reduce Social Security benefits as part of a big deal.
"There are a lot of Republicans who probably don't know what we have put on the table," the White House official said. "I don't know if the White House website isn't loading properly or if they are not reading the AP … but if we need to sit down with these folks over a fancy sea bass to educate them about what we are offering, we are willing to do it."
The senators being wooed by the president Wednesday night include Graham, John McCain (R-Ariz.), Kelly Ayotte (R-N.H.), Pat Toomey (R-Pa.), Rob Portman (R-Ohio), Bob Corker (R-Tenn.) Ron Johnson (R-Wis.), Dan Coats (R-Ind.), Tom Coburn (R-Okla.), Richard Burr (R-N.C.), John Hoeven (R-N.D.) and Mike Johanns (R-Neb.), according to press reports.
Notably absent from the list is a member of the Senate GOP leadership.
"We are not tangibly going around the leadership," said the White House official. "I do think we can engage other members a bit though and have a constructive conversation."
On Tuesday, Senate Minority Leader Mitch McConnell (R-Ky.) was asked if he was concerned that Obama might be trying to work around him.
"Well, I expect the president to talk to various members," he responded. "Frankly, I wish he'd done more of that over the years. We've had, all of us, very limited interaction with the president. And he certainly doesn't have to go through me to call my members, and I'm sure he will, and I encourage him to do so."

The charming isn't limited to the Senate. The president has reached out to House Budget Committee Chairman Paul Ryan (R-Wis.) as well. Nor are the topics of discussion limited to debt and deficit reduction. When the president addresses congressional Republicans during a scheduled Hill visit next week, he is likely to discuss guns, immigration reform and cyber security, the White House official said.
"You can expect to see more of this kind of thing," the official added.
Correction: Citing press reports, an earlier version of this article said that Sen. Roy Blunt (R-MO) was attending Wednesday night's dinner. Amber Marchand, a spokesman for the Senator, said he would not be there.
Before You Go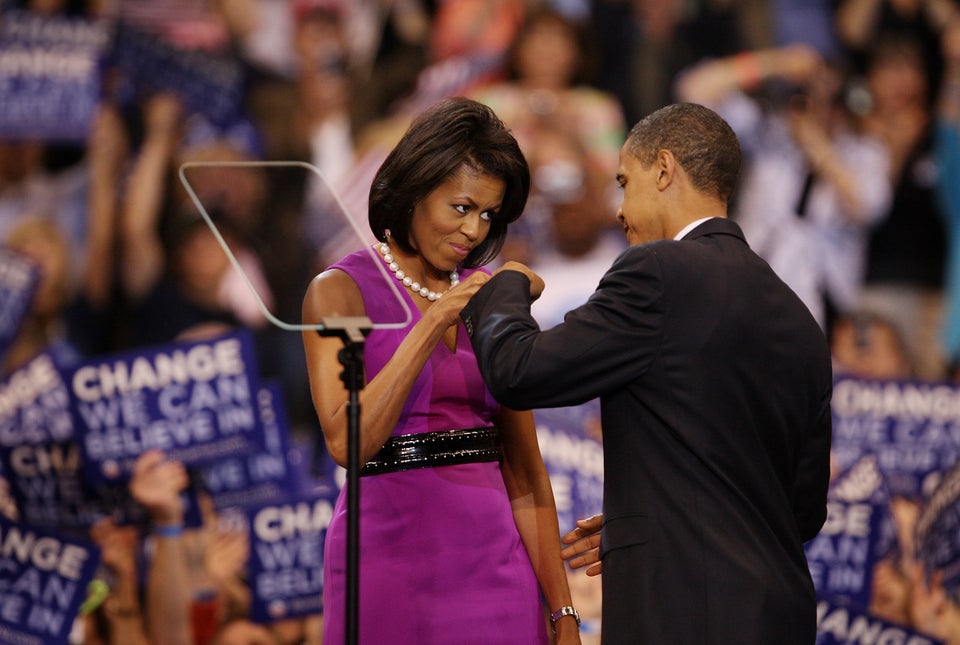 Obama's Fist Bumps
Popular in the Community