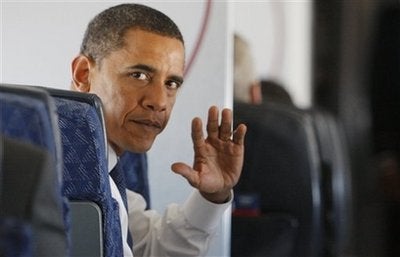 Democratic officials confirm that Barack Obama is sending aides to help with the runoff senatorial campaign in Georgia, putting his post-election coattails to an immediate test.
Organizers who worked on behalf of the Illinois Democrat are heading to the Peach State to offer similar assistance to Jim Martin, the Democratic challenger who is facing a second-round contest against incumbent Saxby Chambliss after neither candidate received 50 percent of the initial vote.
The investment by Obama, confirmed by an official working on behalf of the Senate campaign, apparently includes "ground team" members as well as "online specialists and bloggers," and represents one of the earliest tests of the influence he can wield on the political landscape. A Daily Kos diarist first heard about the move from the Martin team.
It remains unclear whether Obama himself will appear in the state. His campaign put limited paid resources into Georgia during the general election, mainly during the waning weeks of the campaign, though Obama's registration efforts there were lauded for making the presidential contest in that state much closer than the historical norm.
Martin's race to replace Chambliss was even closer. The longtime Georgian Democrat finished with just under 47 percent of the vote to Chambliss' 49.8 percent. Because neither candidate was able to win a majority of the vote, the two will square off again on December 2.
While Martin will be assisted in the effort by the Obama campaign, Chambliss will be banking on GOP star-power to help propel him into office for a second term. Already it has been reported that Mitt Romney, Mike Huckabee, Sarah Palin and John McCain will be either making campaign stops on the Georgian's behalf or providing volunteers and aide.
Popular in the Community