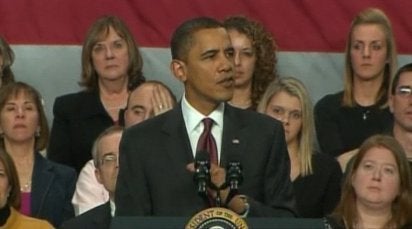 WASHINGTON -- President Barack Obama, defending his economic stimulus plan on its first anniversary, is dispatching his Cabinet across the country to try to calm an anxious public.
At the same time, Democratic operatives on Tuesday highlighted a series of instances of Republican officials praising or taking credit for stimulus programs despite criticizing the legislation when it was being debated last year.
Minn. Gov. Tim Pawlenty: "Nearly one-third of Minnesota Gov. Tim Pawlenty's (R) final budget proposal would rely on $387 million in federal stimulus money... according to the Minneapolis Star Tribune. Pawlenty opposed passage of the economic stimulus legislation early last year telling Bloomberg it was 'largely wasted' and 'misdirected.'"

-- Virginia Gov. Bob McDonnell: "Virginia Gov. Bob McDonnell is now offering effusive praise for $24 million in federal funds that allowed him to establish an office of Health Information Technology and to fund a program helping Virginia doctors transition to electronic medical records. Just one problem - he thinks the government shouldn't have spent that money to begin with."

-- Republican Members of Congress: "Democrats, stung by criticism of their $787 billion economic-stimulus plan, are targeting Republicans who have attacked the program and then lobbied to get money for their districts. More than a dozen Republican lawmakers supported stimulus-funding requests submitted to the Department of Labor, the Environmental Protection Agency and the Forest Service, in letters obtained by The Wall Street Journal through the Freedom of Information Act."
A weeklong push to highlight the stimulus program's first year was starting with a Tuesday trip by Vice President Joe Biden to hard-hit Saginaw, Mich., to tour a small business, a jobs training program and a solar factory that all received Recovery Act dollars. The vice president, who has led the administration's efforts to implement the stimulus plan, is expected to again push Congress to pass a jobs bill to help some of the 8.4 million people who have lost their jobs since this recession began.
Obama's fellow Democrats planned to tout programs putting people back to work under the $787 billion spending bill. Health and Human Services Secretary Kathleen Sebelius was touring a medical center in Atlanta on Tuesday; Homeland Security Secretary Janet Napolitano was promoting stimulus projects in Virginia and Texas the same day.
In all, senior administration officials are scheduled to visit 35 communities before Friday to counter Republican claims the massive deficit-spending program has failed. Obama plans to surround himself at the White House on Wednesday with people who have jobs because of the stimulus plan, then travel to Colorado and Nevada.
House Democrats are also launching a coordinated campaign to highlight the projects begun or completed and jobs saved or created district by district. Speaker Nancy Pelosi (D-Calif.) will hold an event on Wednesday, and her office is encouraging members to be aggressive in taking credit for the spending, which is popular at home in the specific, if opposed in Washington in general.
"The Recovery Act has pulled America back from the brink of economic disaster and has helped create or save about 2 million jobs while providing a tax cut to 95 percent of Americans," said Pelosi spokesman Nadeam Elshami. "Even Republicans, who continue to publicly oppose the Recovery Act while in Washington, proclaim its success in their congressional districts."
Obama's political team believes the bricks-and-mortar projects across the country could help Democrats stave off emboldened Republicans and their attempts to reclaim majorities in Congress. Although voters have soured on the stimulus spending, individual components have fans across party lines.
The tax cuts Democrats included in their bill have the backing of 70 percent of the public, according to a CNN poll last month. Another 80 percent support the infrastructure investments, such as the water projects Environmental Protection Agency chief Lisa Jackson plans to tout in Columbus, Ohio, on Thursday.
Even so, 56 percent of the public opposes the broad plan, according to the CNN poll.
Biden is expected to give Obama a report Wednesday assessing the stimulus' effects.
Popular in the Community