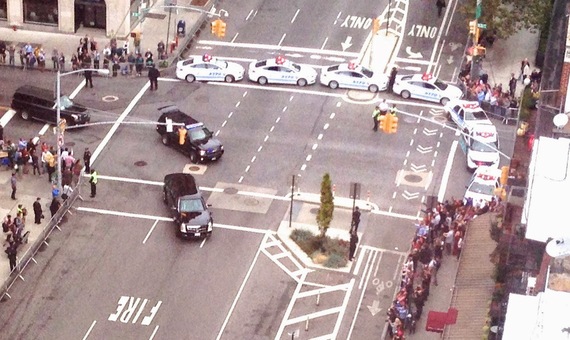 President Obama is visiting the Chelsea neighborhood of New York City today and is expected to descend upon a $16 million historic brownstone. A birds-eye view from local resident John Tepper Marlin shows that the usually quiet block was quiet no more.
On Tuesday morning, canceled delivery trucks, barricades blocking all of 9th Avenue, "No Parking" signs and a fleet of federal, state and local police and sanitation workers all alluded to a high-profile visitor in the near future.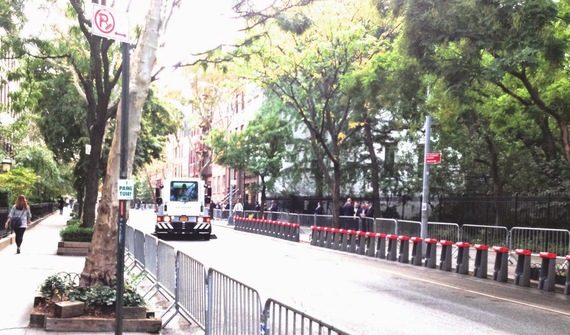 The destination, a 5,000 square-foot, four-bedroom, four-and-a-half bathroom brownstone at 460 W. 22nd St., was constructed in 1840 and has landmark status. It is owned by Bryan Eure and Bill White, the former president of Intrepid Sea, Air and Space Museum and chairman of business development firm Constellation Group and is currently for sale by Douglas Elliman for $16.25 million.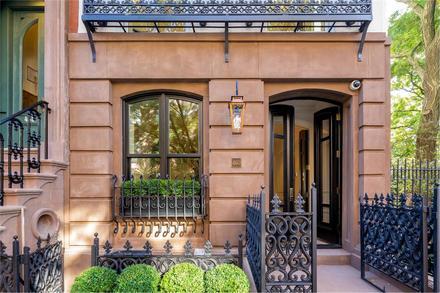 The newcomers to the neighborhood are rumored to have spent $10 million to renovate the six-floor property, equipped with an elevator, four gas fireplaces and garden -- a justified price tag when your expected house guest is the leader of the free world.
So, what's he doing in town?
Obama plans to raise money for Democratic candidates in the midterm elections. Famous guests like Aretha Franklin, Rosie O'Donnell and Mark Wahlberg plan to attend the $25,000-per-seat fundraiser.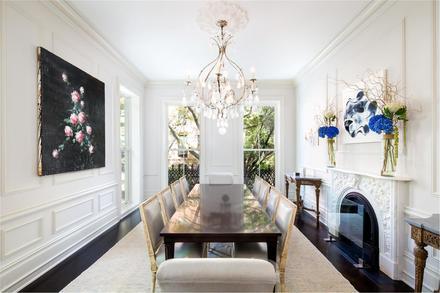 All the fuss may have something to do with the heavy criticism the Secret Service has received in recent news. Security detail even took over the basement of the house to install temporary ballistic shielding, a source not authorized to speak publicly told the New York Times.
Caterers from Cipriani wandered in and out of the house throughout the day, but the CitiBike stand next to the house that White had previously tried to remove had mysteriously disappeared.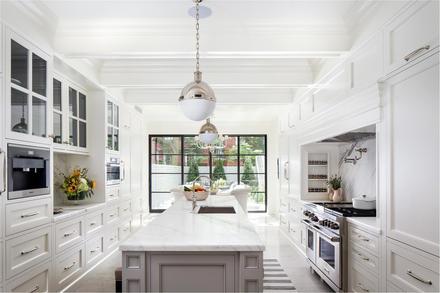 "The block is closed!" an officer shouted to a confused bicyclist as he pedaled past the barriers, seeking to park his bike before he rode away, the New York Times reported.
Residents who often spend their days enjoying the neighborhood expressed disappointed at the day's restrictions, because, who actually takes their ID with them to walk the dog?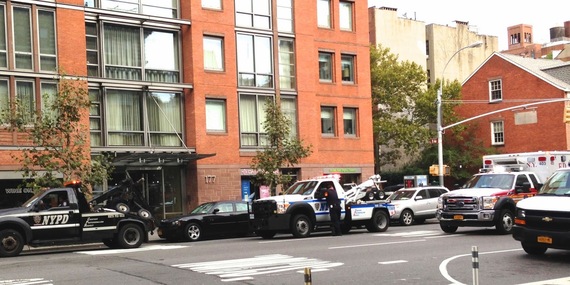 The neighborhood has history of political organizing. Saul Alinsky, who saw early success organizing in the "Back of the Yards" neighborhood of Chicago made famous by Upton Sinclair's 1906 classic The Jungle, successfully organized in Chelsea at the time when development of Penn Station was creating disruptions in the area, Marlin, an NYU professor and author of a dozen books, wrote in his blog.
Serendipitously enough, Hillary Clinton wrote her honors thesis at Wellesley on Alinsky, saying that his methods were, in fact, not always successful. It earned her an A.
The power couple also coincidentally named their only daughter 'Chelsea.'
It must be political fate.
REAL LIFE. REAL NEWS. REAL VOICES.
Help us tell more of the stories that matter from voices that too often remain unheard.