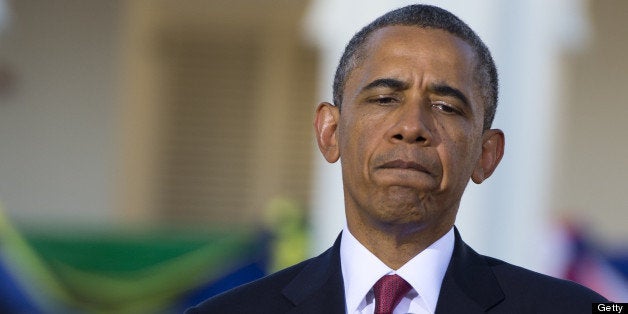 WASHINGTON -- Vacancies at district courts are so high right now that they're "breaking with historical patterns" and burdening the judicial system like never before, according to a report released Tuesday by the nonpartisan Brennan Center for Justice at NYU School of Law.
The report, which analyzed data on district court vacancies and judicial workloads since 1992, spotlights differences in the pattern of judicial vacancies under President Barack Obama and under other recent presidents. Typically, a district court sees a brief peak in vacancies after a presidential election, followed by a sharp decline in later years, the report states. But under Obama, those vacancies never returned to their previous level after a spike in 2009, and they have even increased.
There are currently 65 district court vacancies out of 677 judgeships, or a 10 percent vacancy rate, the report found. By contrast, former President George W. Bush averaged a 4.4 percent district court vacancy rate during his fifth year in office.
"For the first time in 20 years, judicial vacancies averaged more than 60 vacant seats for five straight years from 2009-2013, breaking historic patterns and delaying the resolution of critical legal disputes in civil and criminal trials," reads the report.
It also found that the average per-judge caseload in 2009-2012 was 13 percent higher than it was during the preceding four years. On top of that, the report found that judicial emergencies -- a designation of districts with an acute need for judges -- were higher from 2010 to 2012 than at any other point since 2002.
"Our trial courts are in trouble," Alicia Bannon, author of the report and counsel at the Brennan Center for Justice, said in a statement. "As seats remain unfilled, millions of Americans who rely on district courts are being denied the justice they deserve ... The president and the Senate must find a way to fill these crucial seats."
Obama has become noticeably more aggressive in pushing the Senate to get moving on his nominees, recently chiding Republicans for obstructionism and telling the Senate to "do its job." Senate Majority Leader Harry Reid (D-Nev.) has warned Republicans that he's prepared for a filibuster reform fight this summer if they don't stop blocking nominees, while Senate Minority Leader Mitch McConnell (R-Ky.) insists Republicans have been fair in their treatment of Obama's picks.
To that end, McConnell spokesman Don Stewart pushed back on Tuesday's report, saying it glosses over the fact that "the overwhelming majority of the vacancies exist because the President hasn't nominated anyone for those vacancies."
Stewart added that the Senate has confirmed 61 nominations already this year, including 26 federal judges, "despite the constant refrain of 'obstruction' from liberal groups." After next week, he said, only three nominees will be pending before the Senate.
The reality, though, is that a major reason for the district court vacancies is that senators -- namely Republican senators -- simply aren't making recommendations to the president in the first place. Per longstanding tradition, a senator kickstarts the process by passing along recommendations from their home states, and the president works with them to get at least some of those nominees confirmed. The White House may look at other nominees on its own, but typically won't move forward without input from the corresponding senators.
A Senate Democratic aide also points out that while Republicans may tout the speed with which certain nominees are being confirmed this year, the pace only quickened after the Senate worked through the backlog of nominees caused by GOP hold-ups over the past few years. In May 2012, for example, the Senate was still considering nominees from the prior year, the aide said. Similarly, in February 2013, the Senate Judiciary Committee reported out a slate of judicial nominees who had been returned to the White House last year because the Senate failed to act.
Reid has said he'll be watching to see if Republicans block a handful of key nominees in the coming weeks as a litmus test for whether he may try to change filibuster rules. Obama's three nominees for the D.C. Circuit Court are among them, as are Tom Perez, Richard Cordray and Gina McCarthy, Obama's nominees to lead the Labor Department, the Consumer Financial Protection Bureau and the Environmental Protection Agency, respectively.
Calling all HuffPost superfans!
Sign up for membership to become a founding member and help shape HuffPost's next chapter
BEFORE YOU GO
PHOTO GALLERY
Most Iconic Photos Of Obama's First Term