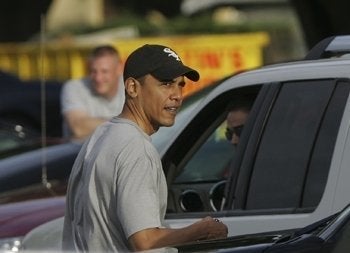 More from the Obama press pool:

Dec. 26, 2008
Waimanalo, Hawaii
Pool Report No. 5

President-elect Barack Obama arrived at Sea Life Park, a marine amusement
park in Waimanalo, about 12:10 p.m. He is apparently inside the park with
daughters Malia and Sasha. He left their Kailua vacation home without the
protective press pool.

Your pool arrived at the park about 1:10 p.m. and are holding outside the
park to await instructions on whether we will have access to the Obamas.

Obama spokesman Ben LaBolt issued the following statement to your pool:
"With no further scheduled events for the day, a lid was called until
further notice. The President-elect decided to take the girls to a water
park and we assembled the pool as quickly as possible."

The park is nestled along the shoreline in the sparsely populated and
scenic Waimanalo area, with soaring volcanic mountains nearby.
For the first time on his Hawaii vacation, it appears Obama gave the press pool that follows him the slip. From the Obama press pool report:
Dec. 26, 2008
Pool report No. 4
Kailua, Hawaii

President-elect Barack Obama left his vacation home with daughters Malia
and Sasha about 11:45 a.m. His motorcade left without the pool, the first
time he has done so on this Hawaiian vacation. Your pool, which had a lid,
was not informed in time and is now en route to the Kailua home to be swept
by Secret Service. Pool will attempt to meet up with the Obamas shortly.

The Obamas are apparently at Sea Life Park, a marine amusement park near
Waimanalo and Bellows Air Force Station.

Updates to come once the pool is taken to the park.
Popular in the Community